After four long years of waiting, fans of Buckethead finally have the chance to see him live once again.
The man who sports the white mask and bucket on his head is coming to the Westcott Theater this Tuesday, May 3. Tickets are on sale for $25 and are available on the Westcott Theater website and at the door.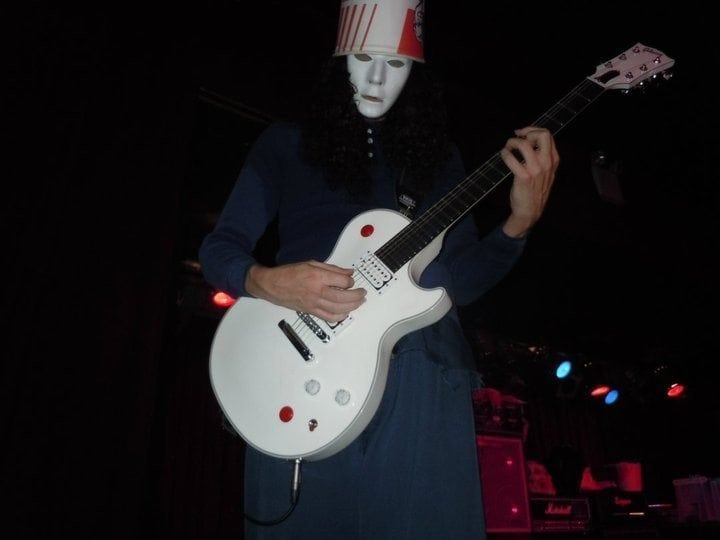 For those who may not know who Buckethead is, he's a guitarist who can practically play anything. Buckethead is a guitar virtuoso who covers many different genres including metal, funk, classical and more. Starting in the late '80s and learning from the great Paul Gilbert, Buckethead has been attached to his guitar ever since. Bucket's first solo album, Bucketheadland, came out in 1992, and that's where the journey began.
Since 1992, Buckethead has released 264 studio albums. The lineup of musicians that Bucket has worked with is extensive as well. That list includes Bootsy Collins, Iggy Pop, Les Claypool, Serj Tankian of System of a Down, Mike Patton and many more. Buckethead was also the lead guitar player for Guns N' Roses from 2000 to 2004. The long-awaited Guns N' Roses album Chinese Democracy features Buckethead on all but two tracks.
Not only does Buckethead play guitar, but he is also a fantastic bass player, a talent which he displays at his live shows as well. Watching Buckethead play live will certainly leave everyone in the audience in a daze. For those who think watching a guy play guitar for over an hour straight may be boring, Buckethead will certainly prove them wrong. Complete with dance moves, nunchucks and toy giveaways, Tuesday's show is sure to be one to remember from Buckethead.
Although his official website hasn't been updated, Buckethead has an entire tour planned for the next few months. For those interested in seeing Bucket's show, the Westcott Theater is the only place to see him in New York except for his show at B.B. King Blues Club & Grill on May 7. The rest of the dates can be found at this link.
To purchase tickets to the show this Tuesday, visit the Westcott Theater website.