Lucid, for those of you who don't already know-is one of the North country's well-known and hardest working bands, originating from Plattsburgh and the Adirondacks and playing a hiatus show at The Strand Theater. Lucid's sound is vast, but is known to be termed as "Wood Rock". In all of the years of live music that I have experienced thus far, Lucid is the one band that has continuously stood out as one who has maintained a unique, lustrous sound that touches the depths of the senses in their own, powerful way.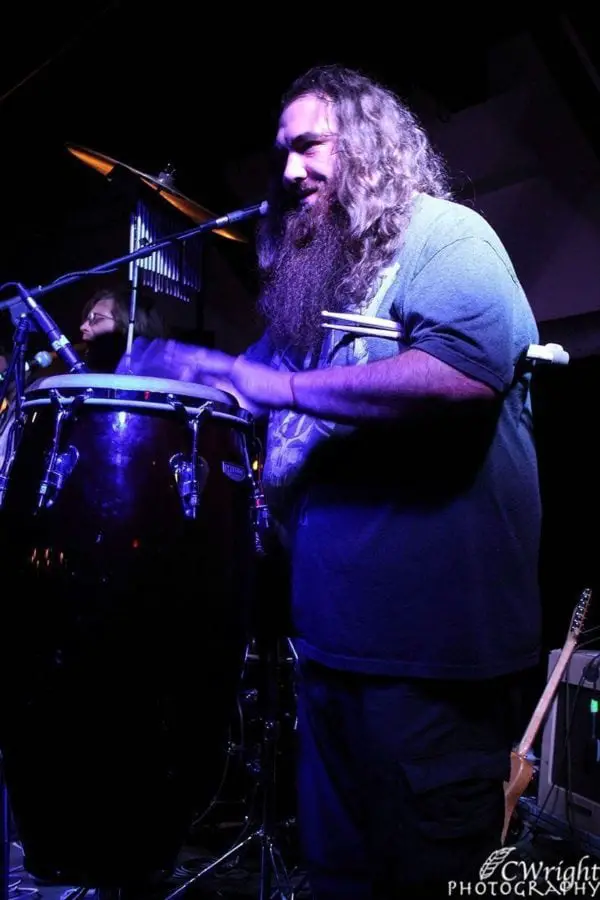 The complexity of this group consists of Kevin Sabourin on guitar & lead vocals, Lowell Wurster on percussion, harp & lead vocals, Jamie Armstrong on saxophones & vocals, Chris Shacklett on bass & vocals, Andy Deller on keys & vocals, Meadow Eliz on vocals and Josh West on drums & vocals. One of my personal favorite dynamics of Lucid, is the variety of vocal expressions that exist within their music. Their sound is reflective of such a broad spectrum of genres, ranging from blues, funk, hip-hop and reggae-to folk, rock and country.
They have released four albums since the beginning of their formation, the first album being 'Miles Deep' released in 2004. Lucid spent many years heavily touring, playing countless live shows up until the release of their second album, 'Dewdmanwah' in 2009. Then came 'Home Is Where We Wanna Grow' in 2013, and 'Dirt' in 2015. The release of 'Bonsai Zen' will be the marking of a very special moment for many, including all of their long time followers & friends.
Lucid has been the host band at Backwoods Pondfest – a two-day music festival at Twin Ponds Resort Campsite in Peru, NY since 2007. After the third year, 'Backwood Promotions' formed, which consists of Lowell Wurster, Katie Bazzano and Chris Boire. This has given Lucid the opportunity to play alongside such renowned acts as Chali 2na, Break Science, Ivan Neville's Dumpstaphunk, Bernie Worrell, Particle and more. Lucid got to share their stage with local and regional favorites such as Twiddle, Mister F, Sophistafunk, The Blind Owl Band, and Spiritual Rez.
Lucid has been together since 2003, putting them at thirteen beautiful years of creating together. Their music has touched the lives of many, including myself. I was introduced to their music 10 years ago, at the age of 16-my uncle hand delivered me a copy of 'Dewdmanwah' and I couldn't stop listening. All it took was this one encounter, for the doorway into the live music world to open up for me on a personal level. It was at this time that I decided that I wanted to photograph live music. This choice was directly intertwined with all of the many ways that their music made me feel. I have been fully walking that path and hold much gratitude for the impact that Lucid has had in my story. I can only imagine all of the imprints, paths and doorways that they have created for others. In speaking with Lowell Wurster, I gained some insight upon his reflection of their need to take a hiatus:
"We've been on the road for 13 years, we just need to step back and take a breath for ourselves and our families.
We want to spend time with loved ones and take some time to do us. Whatever that may be".
"For 13 years we have all been totally focused on one thing. We have all passed up different life opportunities and given everything we had to our music. We aren't breaking up. We are still Lucid, we love each other and are brothers. We get along great. We fight like brothers, we love like brothers. We have no idea what the future holds. We could take a break for a year, or 2 or 10…and want to come back. Or we may move on and discover other life paths. We don't know, we have no idea. But for me, I'm excited to see what the future holds. We are all going to continue playing music, we can't stop. It's a huge part of who we all are. For all of us, since birth music has helped define and create our personalities-whether it's with each other or with others, we will keep playing. If it's immediate or takes some time we will always play music".
"We know it's a bit unconventional to have a CD release on the same date as our last show. But we really wanted to get this music into the world…to get it to our fans. And we still have a lot of music-I think we may get back in the studio in the next year and do another album. We have so much music that we want to record and put into the universe".
It's clear that these guys have been dedicated on many levels and so much has come to fruition because of that. The drive-the obvious love that they have all put into the creation of what we know as Lucid-has allowed for years of transformation, growth and open flow of creative energy to course through their lives in great abundance. Lucid's music will live on, and the future of their creation together will remain to be seen. They will be hosting an album release party for 'Bonsai Zen', as the last show before their hiatus from playing live. This show will be held at The Strand Theater in their hometown of Plattsburgh, NY on April 16th, 2016. The Strand Theater was built in 1924 at the end of the Vaudeville Era, and after years of crumbling into the ground closed down. It has been newly renovated and just recently reopened with nearly 6 million dollars in grants for restoration. It has state of the art lights and sound-not to mention the beauty of the structure itself-providing for an all-encompassing sensual experience. If you have a chance, you should be sure to catch this evening of music!
You can find Lucid's music on Spotify, CD Baby and Bandcamp. Learn more about their journey here:
www.rulucid.com