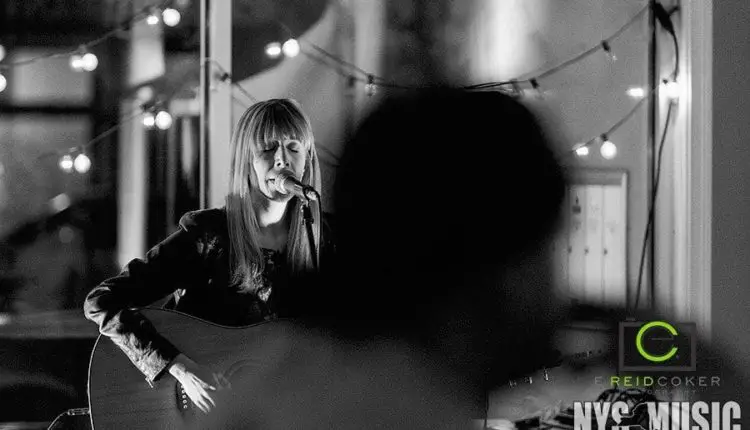 Lindsay Ellyn with Buckeye Rooster trek to the North Country
Best described as a "band of back-porch musicians, with a collective passion for American music, formed along the icy banks of the Hudson River", Buckeye Rooster ruled the streets of Glens Falls Saturday, March 24, 2016 along with Nashville based singer-songwriter Lindsay Ellyn. It was a rare treat for the crowd at Mean Max Brew Works in a town that that offers a handful of small music venues that seem to be on the verge of breaking through with shows promoting original live music.
The six-person filled Buckeye Rooster led off the night in true Americana form with sharp harmonica and banjo driven tune, "Uncle Willy". Throughout the fifteen plus set list the band held in classic form and succinct vocal prowess. The vocal combination of Bryan Lynch, Mike Colucci, Lynn Reno and Big Jon Randazzo flowed perfectly throughout the evening without one overpowering another. Perhaps the evening's high point was a break into The Police classic, "Every Breath You Take". Rooster provided Ellyn a hard act to follow but she quickly captured the crowds attention with her knack for storytelling and strong stage presence. Her set was beautifully highlighted by the haunting, "Somebody Love Those Girls", a heartbreaking but optimistic song which can be found on her 2012 EP, Shores. Ellyn notes that the song "has connected with people in different ways—I guess that's the beauty of music being so subjective, people can align their personal stories with stories I share. As I wrote it, the song is about what happens when we relinquish accountability for our own happiness. The relationship between our attitude and our actions. And who we're left with when the dust settles". Her latest EP, Out of Road, was named EP of the year in 2015 by Queens of Country  Produced by Dean Miller, the project features famed musicians including Chad Cromwell, Dan Dugmore, Steve Nathan and others.
[embedyt] http://www.youtube.com/watch?v=lk7xhJh6r8U[/embedyt]
[FinalTilesGallery id='710′]