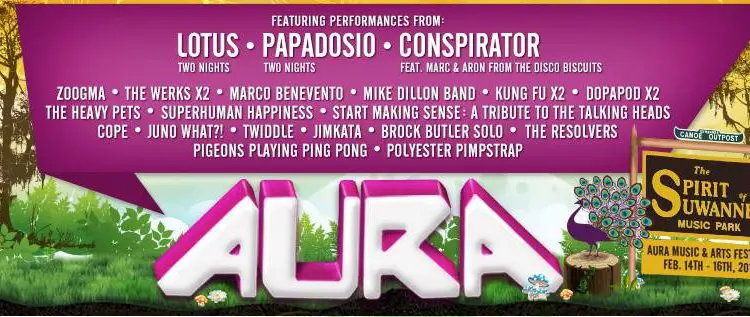 Although festivals are scheduled all year round, if you're from New York, you typically kick things off in May or June. But, if you're willing to travel south to a magical place called the Spirit of Suwannee Music Park, festival season starts early – this year with The Disco Biscuits and Thievery Corporation as headliners at Aura Music and Arts Festival.
Aura drew us in on March 3-5 with its incredibly stacked lineup, sunshine and rumors of perhaps something bigger to be discovered. Everything seemed to fall in place throughout the trip, from something as small as a free burrito bowl at Tijuana Flats to a chance encounter that would lead to a dozen new best friends. This festival's namesake is vibrant, full of light and overwhelmingly positive.
Like most festivals, the first day of Aura brings a heightened sense of excitement. Guests find the perfect spot to camp under draping live oaks, walk the more than 500 acres of festival grounds and plan their strategy for attending their favorite sets. The park feels like an enchanted forest out of a fairy tale and the guests as happy as royalty attending a special kind of ball.

We kicked off Thursday with a passionate set from Florida's own Greenhouse Lounge at the Amphitheater Stage. The electronic trio gave it their all for their last performance as a band, while welcoming their former drummers Jason Hunnicut who now runs the 1904 Music Hall in Jacksonville and Scotty Zwang, now of Dopapod who came to Aura as an "artist at large" (AAL).
Fusik of Jacksonville delivered an upbeat and funky set in the vibe tent, covering The Talking Heads' "Born Under Punches" and preparing the crowd for ultimate cover band Pink Talking Fish. PTF is the perfect night-one band by seamlessly blending favorites from each beloved group.
The Werks were a major draw for us, having only seen them once before, but making appearances in our earbuds on the regular. Unfortunately, the only rain of the whole weekend decided to come down mid-way through a powerful "Duck Farm," After only three songs, the Werks were forced to call it quits as fans ran for cover.
By late morning on Friday, the Florida sun dried things out. Georgia natives Dank delivered a hard-rocking set, reminiscent of the progressive rock style of Umphrey's McGee. Crazy Fingers provided the familiar and beloved sounds of the Grateful Dead, while welcoming guitarist Ben Sparco for the later half of the set, who was clearly still feeling the adrenaline from his own set earlier that afternoon.
Mike Dillon brings a wild stage presence during his bands set, preceding an incredible show from Animal Liberation Orchestra (ALO). They are joined by Carly Meyers and Adam Gertner of ROAR for one of the best sets of the weekend just in time to release their new album Follow the Yarn.
Particle delivered a stellar performance keeping the tempo of Escort's "Cocaine Blues" throughout the majority of the set. At the same time, a special project called Nunchuck!, consisting of Mike Dillon, Craig Brodhead of Turkuaz and again Chuck Jones and Scotty Zwang of Dopapod, did something unique in the Vibe Tent. The "psychedelic punk rock" set was more quirky than it was tight leaving the crowd giggling, and blushing when Dillon "tea bagged" his own drum. (Yes, this happened.)
The New Deal and Thievery Corporation both had beautiful stage presence with lasers and lights for days. However it was Turkuaz that stole the show Friday night. The nine-piece funk outfit from Brooklyn, NY filled the Porch Stage with a powerful and truly fun set. Artists at large Jennifer Hartswick and trombone player Natalie Cressman of Trey Anastasio Band brought the brass to the party.
On Saturday, Broccoli Samurai of Ohio welcomed artists at large Chuck Jones and Scotty Zwang of Dopapod adding to the delight of fans. The Heavy Pets brought us back to the 80's covering Paul Simon, David Bowie, Thomas Dolby and R.E.M. Jennifer Hartswick and Natalie Cressman sat in as well.
Tom Hamilton's American Babies welcomed Aaron Magner of the Disco Biscuits on the keys for a rendition of "The Wheel" into their own "Joelene" and back to "The Wheel."
Two-time Grammy-award winners Snarky Puppy was an experience in itself. The 13-member jazz/funk group is more of an orchestra than it is a band. Keeping with the guest appearances, they welcomed Dillon on percussion and again Hartswick and Cressman for an outstanding version of "Quartermaster."
The festival culminated with two sets of jamtronica giants The Disco Biscuits. Tom Hamilton helped them kick off the first set with "Scarlet Begonias" and "I Know You Rider." "Pimp Blue Rikki" was a surprise to many leading into the ending of "Morph Dusseldorf." Hartswick and Cressman joined tDB for "Funky Town" before taking a set break. The second set was geared towards the masses picking up again with "Morph Dusseldorf" and weaving in and out of Caterpillar with "A Fifth of Beethoven." The laser light show was out of this world reflecting off the woodsy amphitheater.
Throughout the weekend, both on stage and off, collaboration seemed to be a key theme. We ended our experience gathered around our own campfire we collectively built with a family who just days before were complete strangers. We came for the music, but we left so much, much more.
[FinalTilesGallery id='673′]
[FinalTilesGallery id='674′]
[FinalTilesGallery id='675′]
[FinalTilesGallery id='676′]
[FinalTilesGallery id='677′]