As Brantley Gilbert's Blackout Tour rolled into the Turning Stone Casino this past week, Central New Yorkers came out in droves to see the hard core country rocker perform.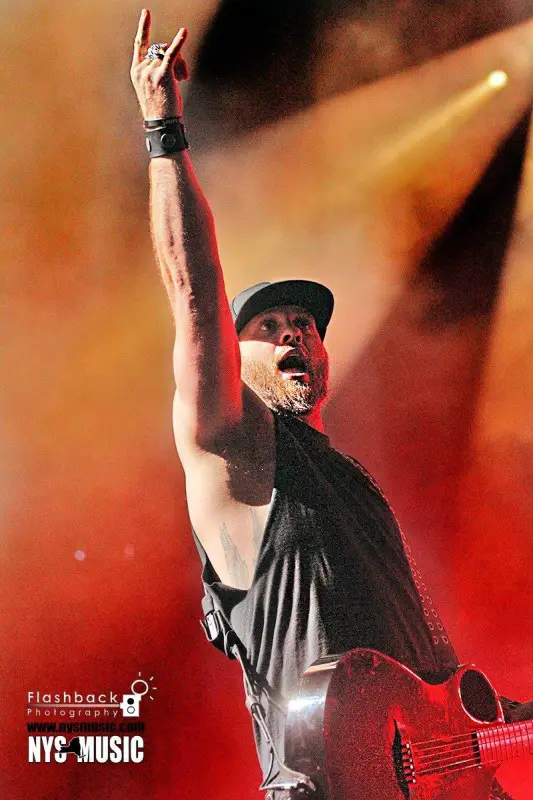 Starting promptly at 7pm, the Event Center at The Turning Stone was packed to the gills with rowdy fans. It was a pleasure to see the center utilized to it's fullest capacity, confirming the importance of the venue to the area and the musical acts that bring them out. Brantley Gilbert is not your every day run of the mill act though. On the road with Brian Davis, Michael Ray, and Canaan Smith for the Blackout Tour, the opening acts definitely set the momentum for the night.
Brian Davis, a relative newcomer to the crowd set up his acoustic set front and center with a stool, guitar, and red solo cup. Thanking everyone for welcoming him, he proceeded to share a few songs, a few cheers, and few sips with the crowd. Although the set was short, it was sweet, and a taste of what is to come from this performer in the near future.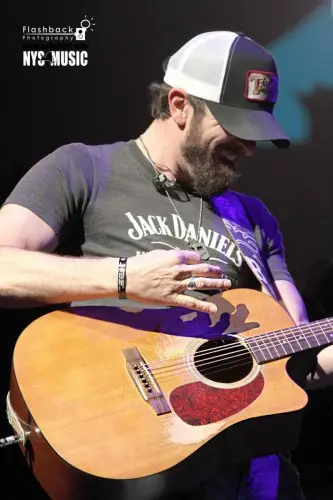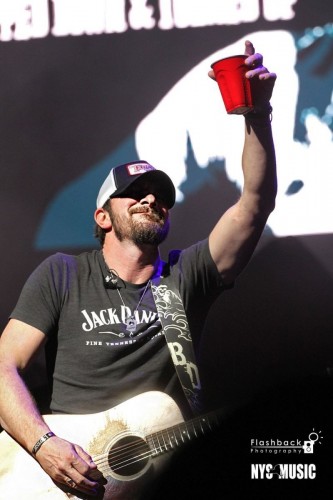 Michael Ray who Central New Yorker's may recall opened for Carrie Underwood in 2014 at the Great New York State Fair, took the stage next. Wowing them that night with Underwood, he has since climbed the charts and made a lasting impression on everyone who has had a chance to see him over the last few years. A definite crowd favorite, Michael Ray and his entire band know how to crank it up and get the party started. Most impressive to me about this young man was his willingness to connect with fans spending a good deal of time signing hats, taking selfies, and shaking hands. Artists that take the time with their fans are class acts in my book, and puts them head and shoulders above the rest.
Next up was Canaan Smith. Never seeing Canaan Smith before, he can definitely be described as one ramped up, knee buckling, country boy, that has a special knack for reaching his audiences through his music and dynamic stage presence. Whether it's a sultry ballad or hair raising boot scooting medley, Canaan has a way of reaching inside you and touching a part of you while he's singing. Watching him on stage was like watching a thunderstorm roll in with it's quiet lighting in the distance, turning into a thundering and lightening induced downpour. His apparent respect for those in the service was saluted through a full size flag being waved through the air, and the storm only ended when the final drum beat rang out and the storm flew off the stage in the form of a full sized drum. If you haven't heard of this young man yet, mark my words, this rock star cowboy will definitely grab your attention.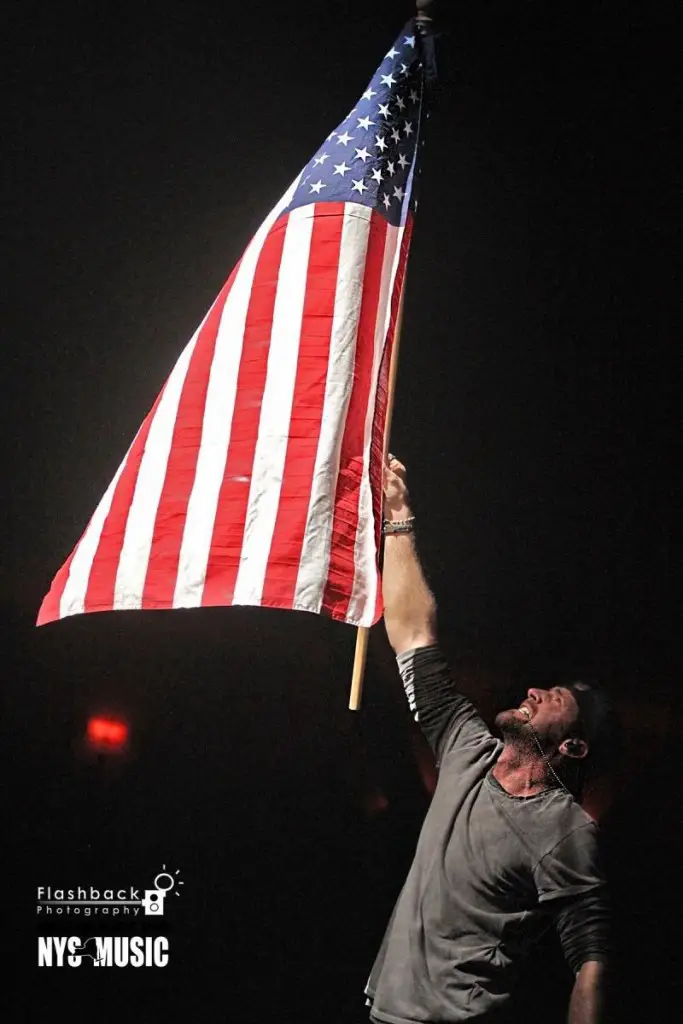 As the lights went down, and the video began tor roll, Brantley Gilbert takes you along on a ride throughout the countryside on the back of his motorcycle.  Amped up attendees went crazy as the momentum built for the band and Brantley to take the stage, and rightly so.  Brantley Gilbert isn't your every day normal country musician.  He has a clear vision for what he wants his music to be.  This no holds bar entertainer spoke to the crowd about not giving in to business politics, staying true to himself and his vision.  Only thing he gave was the finger, and a song called "Grown Ass Man" that demonstrates his true character and strength and not caving to business expectations.  To him, it's about the music.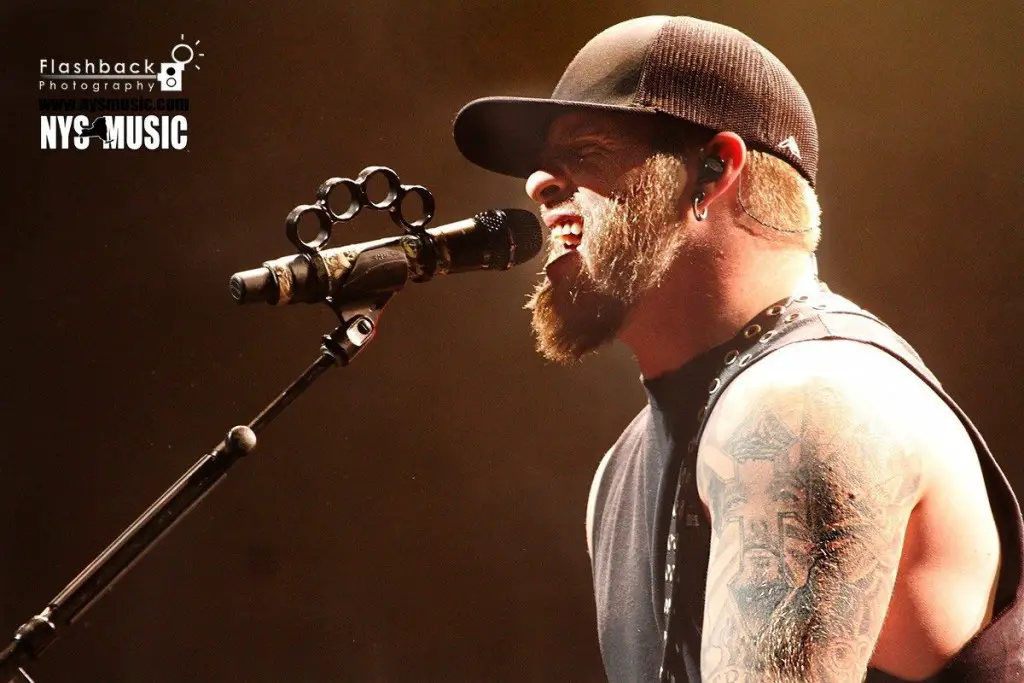 Brantley doesn't follow the crowd by any means, he lives in his hometown in Georgia with his new wife, Amber, making a life for them outside of the spot light.  As he began to sing "You Don't Know Her Like I Do", a song inspired by his wife, he told the audience "that was the best day of my life" as a the video clip began to roll and a glimpse inside the personal lives of Brantley and Amber were shared on the screen behind him. It's this personal peek into who Brantley is, that tells you he's a modern day Merle Haggard or Hank Williams Jr.  He's man that believes wholeheartedly in personal rights, family, friends, and faith and he doesn't care if you agree because that just how he rolls.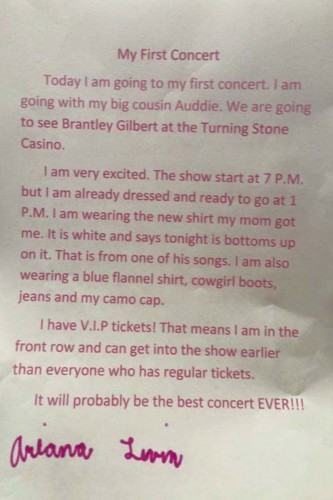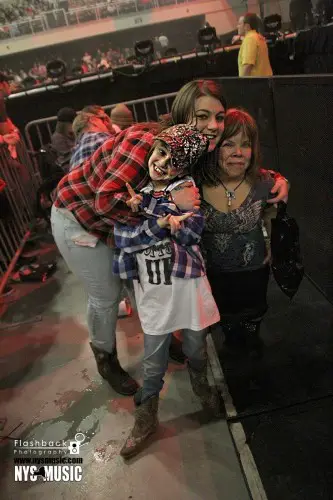 Don't get me wrong though, he's a softy too.  As the show came to a close he had his security guard bring a young Ariana Star Levin on stage.  Little did Brantley know that this was the first concert for this young lady (well first that she remembered if you don't count seeing Willie Nelson at the age of two) and he was one of her all time favorite country musicians.
Ariana's Aunt Audreanna had been given two VIP ticket's as a gift and was going to bring Ariana's mom, Christina Trainham, but knowing that her daughter was huge fan, she gave up her ticket to the sold out show and decked Ariana out in a Brantley Gilbert t-shirt that said "Bottoms Up" and sent her off to see her hero.  Before the end of the night, Ariana would be on stage singing along with Brantley to "Bottoms Up" and rocking it like a true rock star she is.
I would be remiss if I didn't give a shout out to Brantley's band.  Surrounding himself on stage with the best musicians out there you'll find Noah Henson (of Pillar) on guitar, Ben Sims on drums, Jess Franklin ( the bandleader) on lead guitar, slide guitar, banjo, keyboard, and background vocals, Stephen Lewis on bass guitar and background vocals, and Mr. B.J. Golden a multi-instrumentalist on keyboards, mandolin, guitar, etc . etc. These men do not appear to be what you anticipate a country band to look or sound like.  Metal describes them better with the dreadlocks, spiked hair, and a bandleader that can pass as Tommy Shaw's doppelganger.  Had to seriously do a double take a few times.  One of my favorite moments of the evening thought was B.J. Golden playing opposite of Noah Henson and shaking his beard back and forth like Noah does his dreads.  Epic moment.  The fun they have on stage performing for the audience is apparent and definitely deserves mentioning.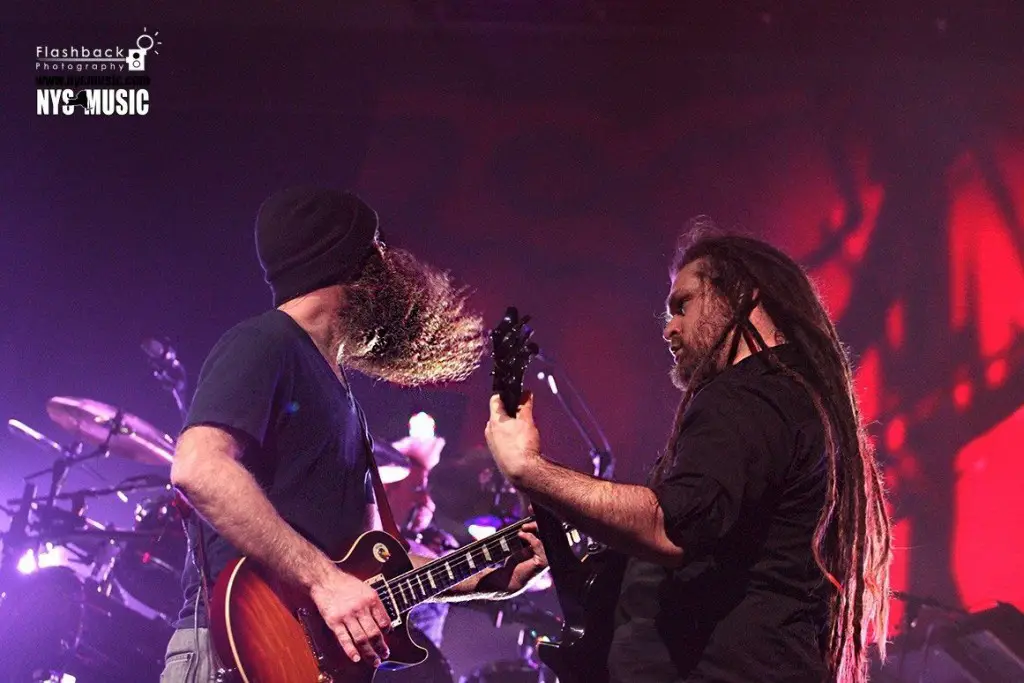 All in all this was definitely not your run of the mill country show.  The performances of the evening were sure electric, and were sure to win over any skeptics.  Brantley Gilbert's Blackout Tour is not your momma's country music folks.  It's a true rocking event that is a must see to appreciate.
---
Brian Davis Set List: Hurt Like Hell Yeah, You And Me Against The World, and I Earned This Beer
Michael Ray Set List: Another Girl, Run Away With You (Big & Rich cover), Look Like This, Kiss You in the Morning. Everything In Between, This Love, Dust on the Bottle (David Lee Murphy cover), Drivin' All Night (Jake Owen cover),and  Real Men Love Jesus
[FinalTilesGallery id='639′]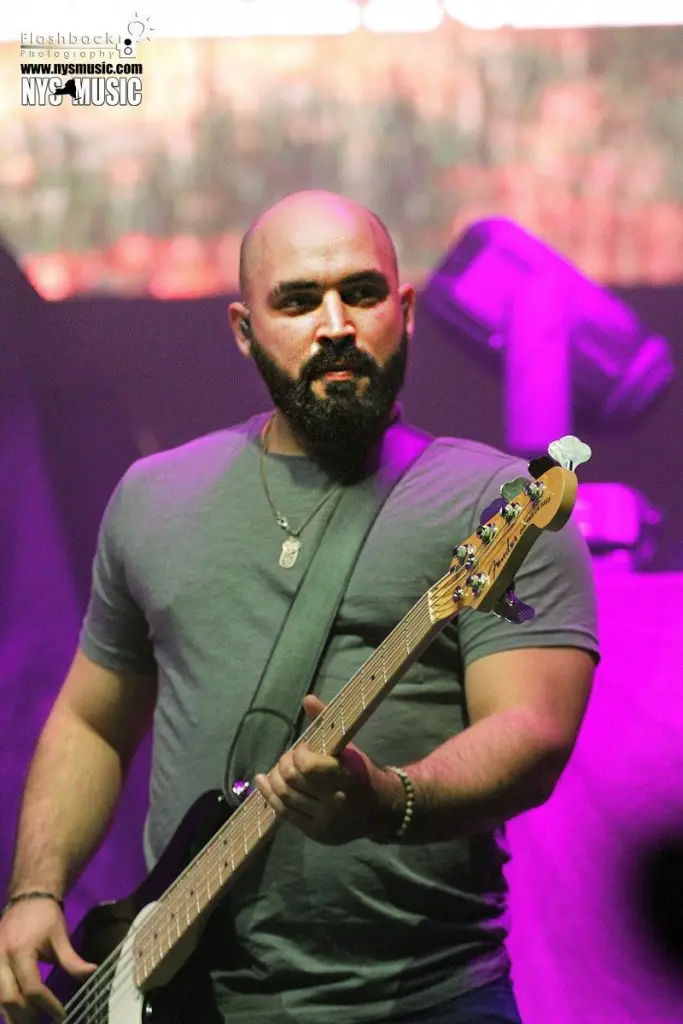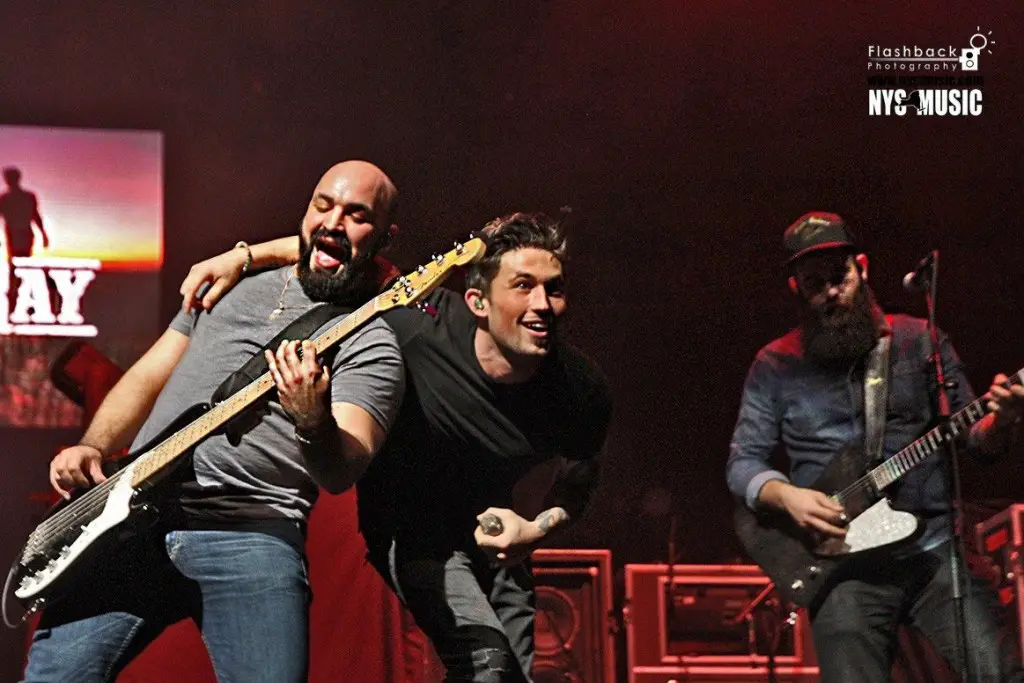 Canaan Smith Set List : Getting Into, Two Lane Road, Hole In a Bottle, Love At First, One of Those, Fire/Iris(Goo Goo Dolls cover), American Muscle, and Love You Like That
[FinalTilesGallery id='640′]
Brantley Gilbert Set List: Read Me My Rights, Hell on Wheels, If You Want A Bad Boy, Dirt Road Anthem (Colt Ford cover), Stone Cold Sober, My Kinda Party, That Was Us, My Baby's Guns N' Roses, You Don't Know Her Like I Do, Country Must Be Country Wide, Grown Ass Man (Acoustic), Them Boys (Acoustic), Outlaw Women (Hank Williams, Jr. cover), Small Town Throwdown (With Canaan Smith and Michael Ray), One Hell of an Amen, Take It Outside, and Kick It in the Sticks
[FinalTilesGallery id='641′]