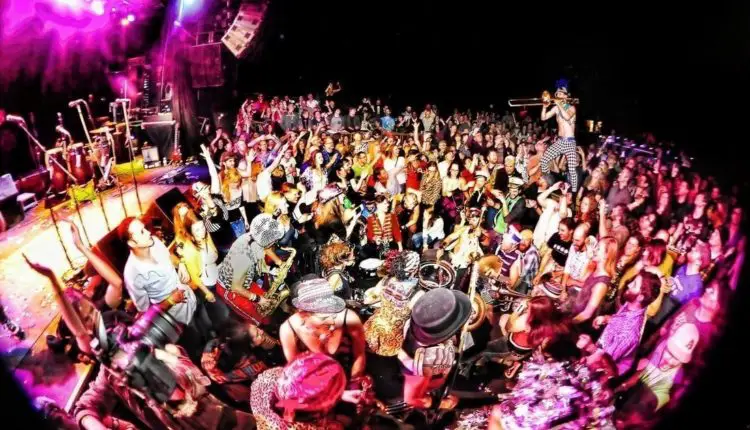 March Fourth! & Diego's Umbrella Blaze Boulder's Fox Theatre
Last year about this time, March Fourth! played a show so raucous that the capacity crowd started chanting, "Holy Shit!" for several minutes. Moments before their return to the Fox Theatre in Boulder, CO last week, another capacity crowd greeted M4 band members with the same chant. It's all that the band needed to deliver another explosive carnie steamfunk performance that included stilt walkers, acrobatics, and some of the brawniest, live music ever in the state.
Before March Fourth! took the stage, one of their percussionists lit the audience as a member of a gypsy punk band called Diego's Umbrella. Their lively, "ants-in-their-pants" style lit up the cold, Colorado crowd with bonfire intensity. Their performance was just a precursor of things to come.
In part, the March Fourth! act has always been part vaudeville/burlesque stage show. To their benefit, however, this time around, when the band took the stage, they focused more on blistering melodies and percussive jams that launched the crowd into a booty-shaking frenzy. During the encore, members of M4 could barely contain themselves, and the entire band jumped and body surfed their way into the crowd. The Fox show marked their first stop in their winter tour, and they performed with unbridled passion and energy. In the words of one concert-goer, "That was one hellava spicy meatball of a show!"
[FinalTilesGallery id='614′]