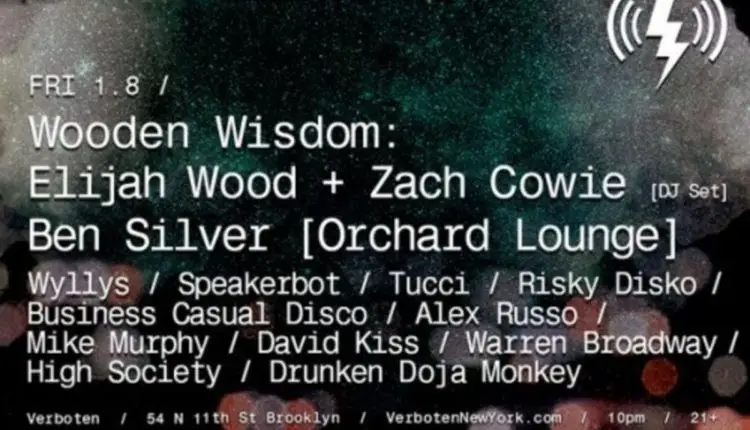 This Friday at Verboten in Brooklyn, the electronic duo of Elijah Wood and Zach Cowie, aka Wooden Wisdom take the stage with a stellar lineup of DJs in tow. Wood and Cowie's project demonstrates stylistic range, but still maintains a distinct harmonic impression that's unique to Wooden Wisdom alone. Known for spinning vinyl that ranges in style and sound from African funk and acid rock to bass driven funky 70's classics, they weave a range of artists and beats into smooth, energetic, sophisticated mixes.

Wood and Cowie's music bears a certain reflection to it's stylistic influences, which are American DJs and producers with deep footprints in the hiphop and electronic music scenes. Wood recently did an interview with promoter Harrison Waxenberg, who also produces for Brooklyn based electronic duo Horizon Wireless. When asked about his musical influences, Wood said "The DJs that inspired me to want to spin records would probably have to be Cut Chemist and DJ Shadow."
Other performers include Ben Silver from Chicago based live production act Orchard Lounge , Callie Reiff, Philadelphia based producers Wyllys and Risky Disko, Business Casual Disco, Tucci, and many more.
The event is an all night affair, filled with music from talented DJs and producers from throughout the country. Wooden Wisdom will perform in the early hours after midnight with the first act of the evening starting at 10 pm, and music ending at 6 am.
Tickets for Wooden Wisdom at Verboten are still available online for $40. Verboten is located at 54 N. 11th Street in Brooklyn, New York. The show is 21+.