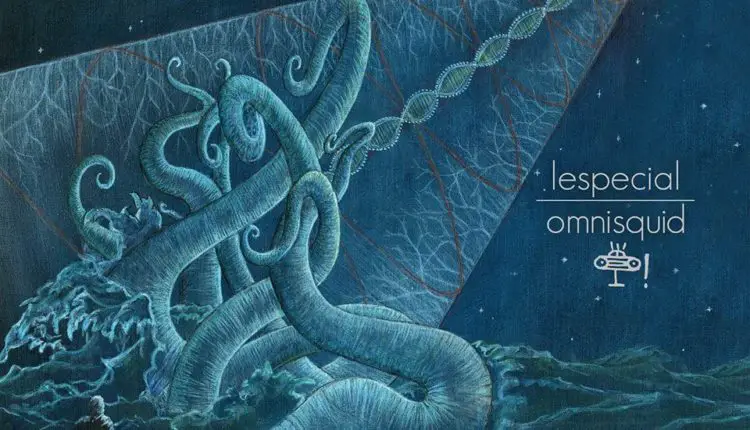 Boston-based death-funk trio lespecial released their first, full-length studio album titled Omnisquid on November 20. It invites listeners to follow on a sonic voyage of nautical proportions. lespecial is Luke Bemand (bass, vocals, synth) Rory Dolan (drums, percussion, sampler) and Jonathan Grusauskas (guitar, vocals, sampler, synth).
The album tells a story of extra-terrestrial beings commandeering the minds of giant squids which rise from the ocean to wreak havoc and destruction upon the populace. This storyline plays out through a heavy soundscape with, at times, playful, nautical inspired riffs and beats that make the listener feel like they're in an underwater dancehall. lespecial has created a world with this album and it's oceanic inspirations are evident.
The first track on the album, "Fruit Wolf Dance," opens with a haunting, aquatic groove building into a driving onslaught of the trio's instrumental talents. This driving force has moments of respite allowing for each instrument to shine yet remain cohesive. Halfway through, the track takes a turn showcasing their electronic sample proficiency with bubble-like pops and the live-trap drumming lespecial has become known for. The live-trap and sample sounds coalesce into the heavier tone found earlier in the song making for a seamless display of the genre bending this band is capable of. Bemand has stated previously that this album is a return to their musical roots, showcasing "a heavier vibe throughout."
The second number, "Squid Rising," introduces the listener to the story of the giant squids with noticeable seafaring compositions and Bemand's thick basslines amidst the recordings of news reports of the squid's destruction. Following up the tale's intro is the title track, "Omnisquid," a frenetic serenade of layered guitar riffs and polyrhythmic drumming. "Optimus Prime Slot" features some industrial-heavy drum programming by fellow Boston-based music-maker, Rob Uslan aka Supersillyus, and make for an excellent juxtapose to Grusauskas' pinching guitar riffs and eerie vocals.
"Sugaboi" is a jamtronica laden track, again displaying the bands diverse and ample capability of playing different styles which they seem to be poking fun at with the overlay of a recording stating "see there's some question about my identity/ let me put it to ya this way/ I'm not sure who I am." Possibly answering that question is the following, "Leaps Evil," where Dolan's drumming keeps an excellent, relentless pace amongst Grusauskas' soaring vocals and Bemand's standout bass riffs. "Ships in the Night" feels like a reprieve from the repetitive build and crash that previous tracks include, giving way to the album's first pre-release single, "New Fish." Sliding bass and a wonky guitar vibe swell to a powerful, double-bass filled barrage fading out unrelenting. Like "Leaps Evil," "Pressed for Time" conveys lespecial's distinct command of differentiating time signatures and penchant for high-pitched vocal harmonies.
Closing out the journey is the track "Absolutely Stunning," recounting a fisherman's tale of what he may or may not have seen. There's a very cinematic, "end-of-times" vibe to this track with the addition of a cello arrangement by Julian Lenz. The cello amplifies another build and release to the heaviness that lespecial has been touting the whole album.  Whilst weaving a tale of cephalopods taken over by aliens, Omnisquid most definitely exemplifies a return to form of contrasting time signatures and dark, heavy grooves. If you're in need of a cinematic auditory experience, lespecial's first full length has it.
All songs on the album were written and performed by lespecial and all tracks recorded and mixed by Andrew Greacen at More Sound Recording Studio in Syracuse, NY except "Ships in the Night," recorded and mixed at the Music Cellar in Millerton NY, and the Morrison Gallery in Kent, CT. All of the tracks were mastered by Jocko at More Sound Recording Studio in Syracuse, NY.
Omnisquid is available for direct download at http://lespecial.bandcamp.com/album/omnisquid and also on iTunes, Spotify, Amazon Music and CD Baby.
[soundcloud url="https://api.soundcloud.com/tracks/231877901″ params="auto_play=false&hide_related=false&show_comments=true&show_user=true&show_reposts=false&visual=true" width="100%" height="200″ iframe="true" /]