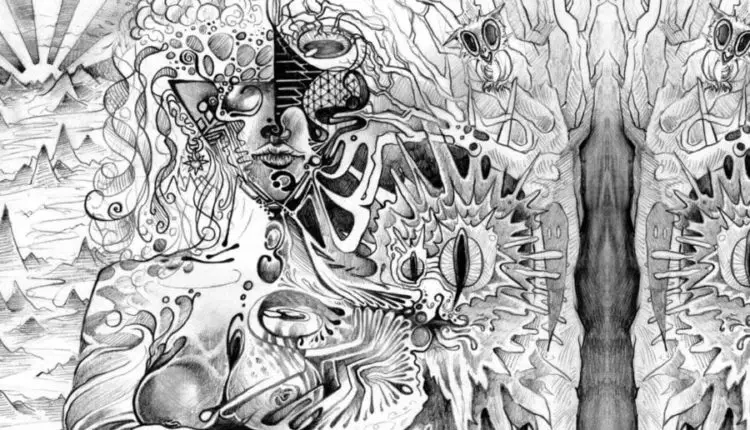 Syracuse experimental group Vaporeyes released their fifth studio album titled Swell on November 11, offering listeners a reservoir of jazz-infused jams to meditatively contemplate. Vaporeyes is composed of Jonas Reddy-Nicholson (Warp Drive Operator), Shannon Zory (Groovemaster), Sean "Chid Law" Cadley (Keeper of the Beats) and Jamie "Jyms" Tynan (Facemelter). Two songs feature Stephanie Donato on saxophone. Swell was recorded and mastered by William Nicholson at JoBop Records in Syracuse. Released in combination with the new album is a live recording titled An Evening with Vaporeyes from their July 8, 2015, show at Funk 'N' Waffles Downtown. Included with the recording are extra downloads displaying video footage from a September 5 performance at the same venue shot by Jason Vincent.
Swell unfurls the opening song, "Precipice," with a short spoken word quandary uttered by album cover artist Yegor Mikushkin. The final line feeds into the dreamlike opening of "Precipice," postulating, "This tense suspense has driven me insane/This glance, this trance, must all just be a dream." The tense suspense of the first half of the song mirrors that sensation some feel in anticipation of large family gatherings before flutes of champagne and goblets of wine douse the initial discomfort in an avalanche of warm fuzzies. Midway through, "Precipice" serenely eases into a savory instrumental jazz piece. It's ambient qualities could melt into the background of an indulgent holiday party as drunken family members adorned in matching knit sweaters lounge lazily around a fire guzzling mulled wine and gorging on an array of delicate cheeses.
If "Precipice" is the anthem for that all-too-familiar holiday party progression, then "Exo Robot" could thematically epitomize the angsty mission-driven mischievousness of the dreaded holiday shopping season. It calls to mind scenes similar to Arnold Schwarzenegger's bloodthirsty hunt to locate a Turbo Man action figure for his beloved son in the 1996 thriller, Jingle All the Way.
"Spirutine's" mid-album playfulness embodies that happy-go-lucky sense of wonder coursing through young spirits on Christmas morning. "Retrograde" imparts a cathartic effect, winding down the sequence of energetic jams with a melody fit to doze off under the comfort of cozy blankets, sheltered from winter's chill.
Key Tracks: Precipice, Spirutine, Retrograde