Making its debut at Hulaween was Atlanta based Incendia. Built by Cory Glenn, Incendia started as a backyard project that has blossomed into a tour de force of fire, music, and performance art and has been on a tour of music festivals, Burning Man, and regional burns all over the U.S., including festivals such as Mysteryland and Creatures of the Night. NYSMusic was able to get an exclusive interview with Cory regarding Incendia, it's origins and future.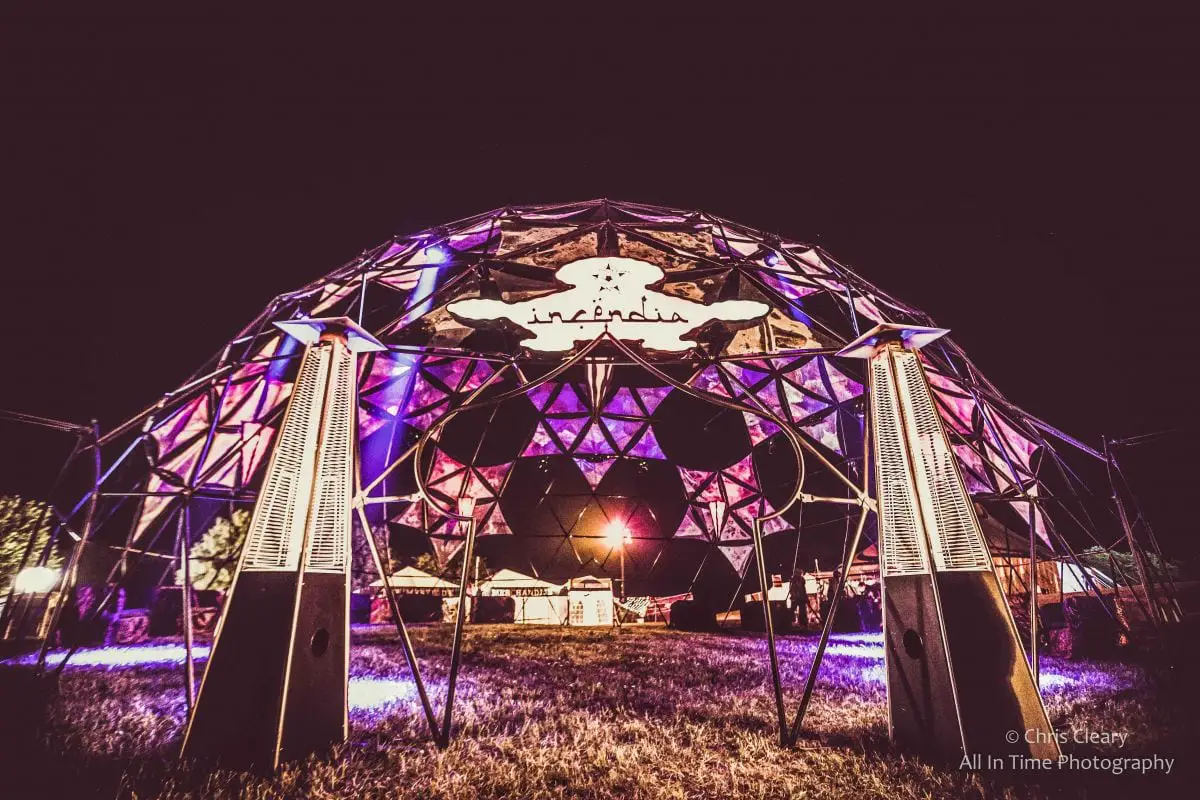 Chris McMullen: How long have you been a burner/going to Burning Man?
Cory Glenn: I've been attending burns since 2009, when I stumbled across the incredibly passionate, creative, and resourceful community that is the Georgia burn scene, which is centered around an annual event called Alchemy.
CM: How many Burns have you been to, both main and regional?
CG: I lost count of how many burns I've been after around a dozen, but I can definitely remember that I've been to Burning Man twice.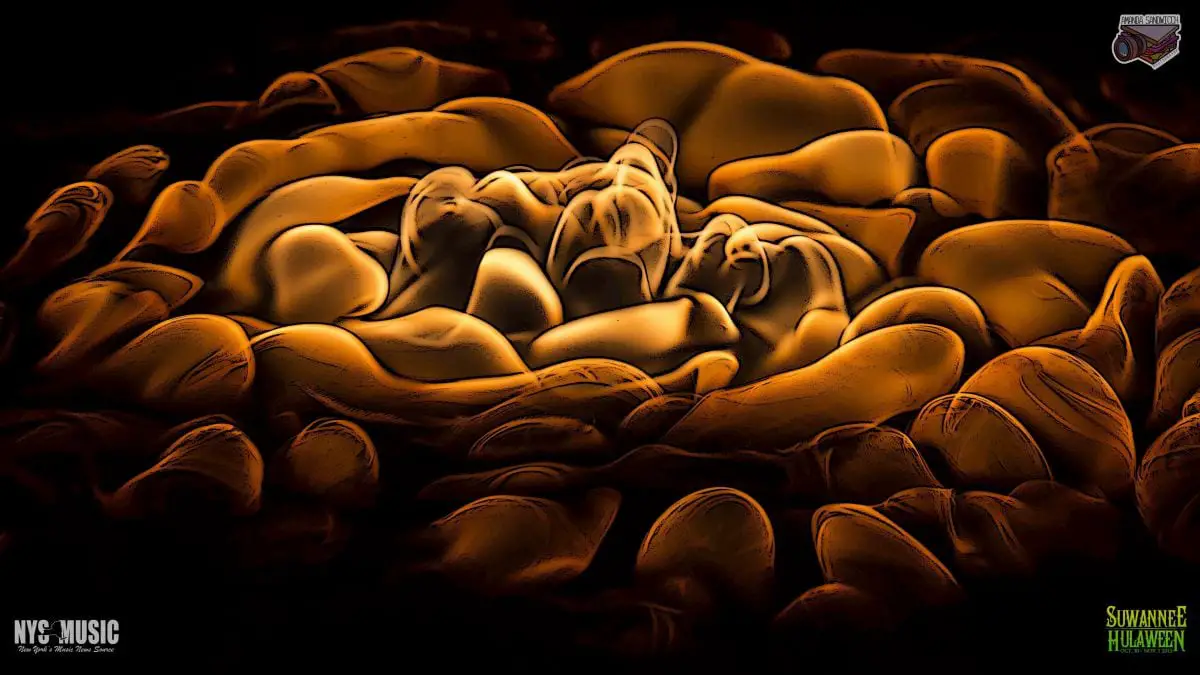 CM: What inspired you to start making domes? And add fire to them?
CG: This is definitely a case of the chicken coming before the egg; I discovered our awesome flame effect whilst fooling around with fire in my backyard. Geodesic domes are just a simple, safe, and ultimately aesthetically sound way of framing this fire effect we've grown to call 'fire inversion'. The more I began to work with, and learn about geodesic structures, the more amazed I became at their elegance, symmetry, and geometric majesty. They're just so damn beautiful to me in their simplicity, and the more I studied them the more layers I found, and potential possibilities to expand and complement their inherent grace kept becoming apparent.
CM: Did you plan on taking Incendia to music festivals? Had you attended music festivals previously?
CG: I definitely expanded Incendia from a small prototype 'proof of concept' dome into the larger, more logistically challenging, and time-consuming behemoth it is today with the intention of turning it into a business. Music festivals were, and continue to be, the primary source of revenue for us. We are however endeavoring to expand our services into different markets such as private events, corporate showcases, pop-up restaurants, and the like. I had never really attended for-profit and musically-motivated festivals before, being too focused on large-scale projects within the burn scene. However in 2015 we've done close to 15 festivals, ranging from small mom-and-pop bluegrass jams to internationally-renowned events such as Mysteryland and Hulaween, and I've lead the build on all but two of them.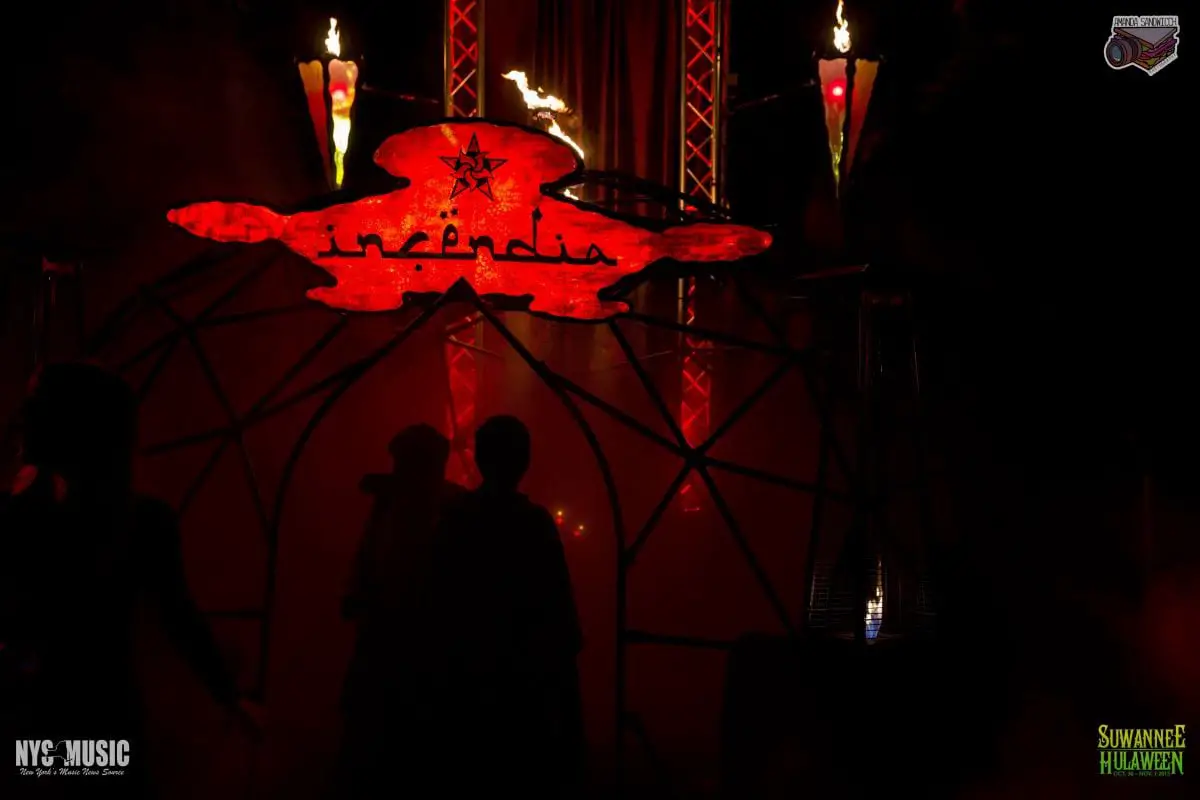 CM: What are your thoughts on Hulaween in particular in regards to the crossover of burns and music festivals?
CG: I wouldn't consider Hulaween to be a crossover between a burn and a music festival in too many ways, as Hulaween does not uphold nor espouse the Ten Principles of Burning Man, which are tenets that play an integral role in creating the unique environment of a burn versus a commercial festival. However, I will say that Hulaween was excellently curated art-wise. Spirit Lake contained a greater density of incredible art projects than I've seen at any non-burn event, and definitely reminded me of the experience of wandering the open desert at Burning Man in search of art with which to interact. Furthermore, many of the experiences I witnessed people sharing in and creating together were very reminiscent of those at a burn. Oh, and radical self-expression. Hulaween's attendees had that in spades, bunch of goofballs… the ultimate campsite contest too, to me that was a great way to encourage teamwork á la the burner principal of communal effort. I guess Hula's doing more than I realized, I hope they keep it up!
CM: Is this a good thing for the future of Burning Man?
CG: It is no secret that American pop culture and mainstream commercial festivals have seen a greater influence from 'burner' culture. Unfortunately I think this is most apparent in the things that these separate entities previously shared; love of music, style and fashion, and technology. Whilst now I see a subtle permeation of burner fashions, musical sub-genres, and gadgetry and art into the greater American consumption machine, what would make me far happier to witness is the adoption of some of the tenets such as leave no trace, decommodification, and civic responsibility.
Is this 'good' for Burning Man? Depends on who you ask! Depends on how you define 'good'! Whom exactly is influencing whom? One of the most striking things that has kept me going back to burns is this intangible and ethereal experience of human connection and personal fulfillment that I get. Imagine summiting Mt. Everest, only instead you're summiting Maslow's Hierarchy of Needs. THAT feeling. Can people reach this state at a commercial music festival? Undoubtedly so, given the right circumstances. Can this euphoric state be recreated in the day-to-day? It's been a goal of burners everywhere since we started tracking playa dust back into our living rooms years ago. So if the permeation of burner culture into greater society results in this positive influence, then yes, I'd say it's 'good' for Burning Man. If it results in the commercialization, dilution, and bastardization of our culture and it's values, then no, I'd say it's not good. Only time will tell.