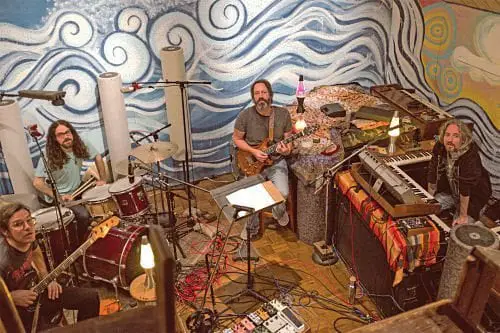 Fare Thee Well Setbreak Music to be Released as 'Interludes for the Dead'
Those lucky enough to have attended or watched a stream of the Fare Thee Well concerts this summer, celebrating 50 years of the Grateful Dead, will remember the psychedelic jams played during the intermissions. The band behind the music is called Circles Around the Sun, and they have compiled those songs into an album to be released on Rhino as Interludes for the Dead.
Neal Casal, lead guitarist and co-songwriter for the Chris Robinson Brotherhood and part-time member of Phil Lesh & Friends, convened a group of musicians as Circles Around the Sun specifically for creation of music for the Fare Thee Well intermissions. The new band composed and recorded the songs over the course of a two-day jam session.
According to a press release announcing the forthcoming album:
The project began when Casal was asked by video director Justin Kreutzmann to compose and record more than five hours of original music to be played along with the visuals Kreutzmann was preparing for the Fare Thee Well intermissions. "The idea was to not only show reverence for the past but to ultimately, move it forward. If there's anything to be learned from the Grateful Dead, it is to dissolve your boundaries, push your limits, and discover your own voice in this world," explains Casal.
Circles Around the Sun consists of Casal on guitar, Adam MacDougall (Chris Robinson Brotherhood, Phil Lesh & Friends) on keyboards, Dan Horne (Beachwood Sparks, Jonathan Wilson) on bass and Mark Levy (The Congress) on drums. All the music was written collectively with nothing prepared prior to the band's formation.
Interludes for the Dead will be available on Nov. 27. It will be released digitally as well as in a two-CD package. Additionally, a 180-gram vinyl version will be available on the same day in a limited edition of 5,000 as part of Record Store Day's Black Friday event.
Interludes for the Dead track listing:
Disc One
Hallucinate A Solution
Gilbert's Groove
Kasey's Bones
Space Wheel
Disc Two
Ginger Says
Farewell Franklins
Saturday's Children
Scarlotta's Magnolias
Hate And Cane
Mountains Of The Moon