Entertainer of the year Luke Bryan showed fans there was more than One Direction to go Thursday night for an evening great music. Luke Bryan brought his Kick The Dust Up tour and friends to Darien Lake Performing Arts Center, as one of the final concerts of their season. Bryan, clad in a tight-fitting T-shirt and black jeans and shook his hips like a reincarnated Elvis. He was constantly taking in every bit of energy from his fans all across the venue.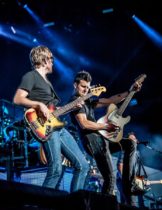 While plenty of artists put on a strong show, how many of them toss beers into the crowd as they sing? Or catch a fan's cellphone mid-song, snap a selfie and toss it back without missing a note? Bryan did it all, including rounding up his talented band and pouring tequila shots on top of his piano to toast the crowd.
Opening up the show was Dustin Lynch. The stage chemistry between Lynch and his band is one of a kind — delivering a breathtaking performance every time. While Dustin performed "Halo" and "Mindreader" off his iTunes #1 debut sophomore album Where It's At. He kept the energy high straight through to the end, and finished things up with his hit "Cowboys and Angels" inspiring a sing along, making all the young women in the room swoon. This talented young man has charisma coming out of his ears and he really knows how to work a crowd.
After a short intermission, it was time to "Go Out With My Boots On" as Randy Houser fiercely entered the stage belting the party tune. Title track from his sophomore album "How Country Feels" stole the show as Randy cleverly performed it as a sing along, involving an eager crowd. Beginning with an acoustic version of the chorus, the #1 single "Goodnight Kiss" permeated the venue as his wildly talented band joined in and kicked it into high gear. He closed out with his latest hit single, "Like A Cowboy."
From the lawn seats to the pit of the stage, every seat in the house for Luke Bryan and Friends Darien Lake was provided a unique view with a custom concert experience. With three of country music's most adept stars on one ticket, you will definitely want to catch a ride on the final leg of Kick the Dust Up Tour.