Life is good for Mike Gordon these days, with Phish coming off arguably one of the most creative years in its 32-year history and his solo band gaining steam across the country.
On top of that professional success, the 50-year-old bassist says he has a wonderful family life, one that allows his wife and daughter to travel with him when he's on tour. This time spent with his 6-year-old daughter has changed his perspective on a bevy of things.
"I waited until I was older to have a child," Gordon said. "And I was so ready for it. I spend time with her every day and I don't tour as much as I used to. It's cliché, but I get to see the world through young eyes. It's a unique and whimsical perspective."
Gordon, who is in the middle of a tour with his band, treks through New York this week, stopping in Buffalo on Tuesday and Syracuse on Thursday, before stopping at the Egg on Friday in Albany. Accompanying Gordon is Max Creek guitarist Scott Murawski, Craig Myers on percussion, Robert Walter on keyboards and John Kimock on drums. This is the second tour Gordon has done since he released Overstep, an 11-song LP featuring songs such as "Say Something," "Yarmouth Road" and "Tiny Little World." Gordon and Murawski wrote all the songs over a handful of trips to places in New England, such as North Adams, Mass., where Gordon's mother, Marjorie Minkin, owns a loft.
"With Overstep, our goal was to rock and display a lot of raw energy," Gordon said. "Moving forward, we don't want to stop that, but we want to be more experimental, maybe a bit thrashy. We're exploring all sorts of themes."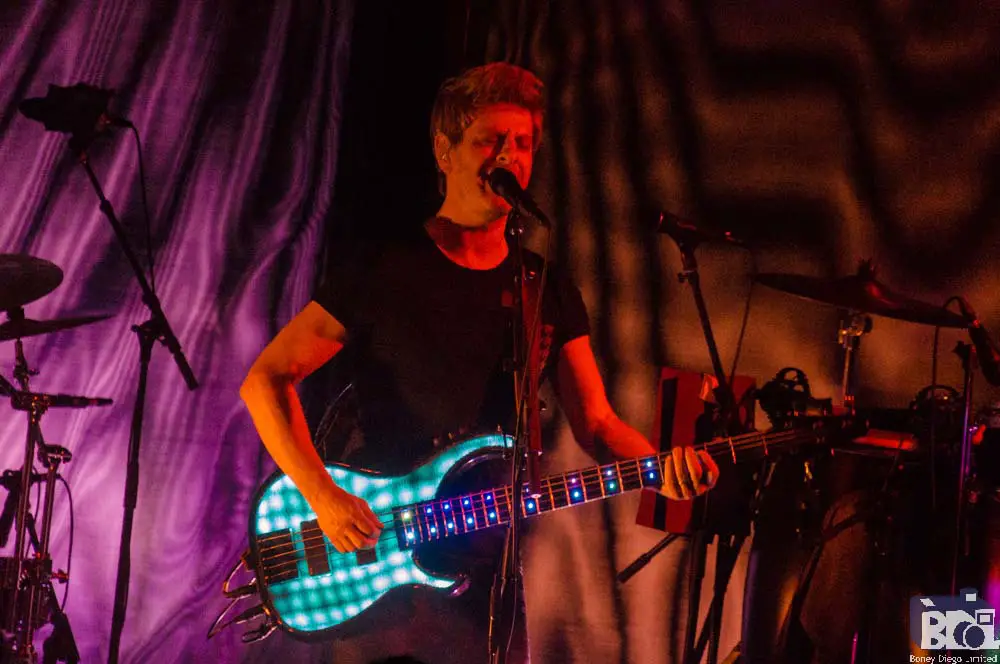 Gordon added that his daughter has been a big inspiration for a lot of the lyrics he's written lately, and added that Tessa also influenced some of the writing on Phish's most recent album, Fuego.
This band has become Gordon's personal artistic outlet. Trey Anastasio and Tom Marshall are the "chief" songwriters in Phish, and this band gives Gordon the ability to do what he wants. Full creative control, if you will. He spoke of seeing the Trey Anastasio Band recently.
"Trey is great about running a tight outfit and I admire it a lot," Gordon said. "I saw them recently and the horns really work great in the band."
Seeing as how Phish fans are highly critical of just about everything anyone in the band does, it's easy to draw comparisons between Gordon's band and TAB, but none of that seems to affect the bassist.
"I want to be edgy, to push the limits further," he said. "I love it when we're tight and loose at the same time. I don't have much to prove — we take chances, especially with the strange, angular parts. We try to just live in the moment."
Gordon has been a fan of Max Creek for many years, and recalled the first time he saw Murawski and the band.
"It's pretty cool," he said. "Not just his playing, but his whole vibe. Seeing Max Creek play a long time ago – people say they sound a lot like the (Grateful) Dead. I see them as a tweaked version of country rock. Scott smiles so much and is always in control, yet he's humble at the same time. Before I knew him, I noticed that he always looked so comfy (on stage) and I really like that influence."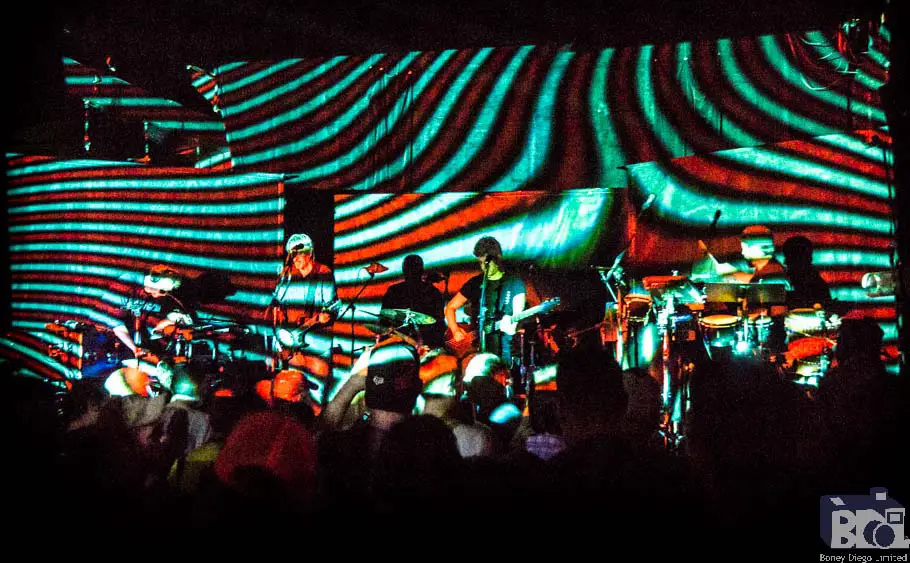 So in his two bands, Gordon plays with two different guitar monsters in the jam band scene in Murawski and Anastasio. On the surface, both guitarists share some similar themes and styles in their playing, but Gordon did his best to explain the differences between the two.
"Scott is very clever about outlining chord changes as they happen," he said. "Trey is the opposite. He's good at flowing over the changes, creating textures. Sometimes he sounds like a movie soundtrack in the way he flows. But I definitely think there is some cross influencing going on between them.
"One week after I met Trey, we went and saw Max Creek. Not long after, Trey got his Ibanez. Maybe it was just a coincidence. And Scott now owns a Languedoc. Trey is great at melody, and I've noticed Scott bring some of that in. Every connection is based on another connection."
Gordon went on to conclude the topic: "Scott and I spend so much time together, it's just organic. Scott is the one who wants to jam as long as possible and stretch things out. So I guess it's apples and oranges."
While Phish is lauded for the light show that accompanies its marathon concerts, Gordon's band takes stage production to the next level. He and Murawski had special guitars built for last year's tour, and they are all black with sensors on them that reflect the light, making them appear luminescent.
Gordon also revealed that he is going to debut another new bass sometime soon, which he dubbed it the "2.0 version" of the bass he had been playing in his solo band. The concept was designed by Gordon, who said it looks like a Modulus, but is a hollow body, which gives the appearance of a 3D effect. He said it has an EMG/Modulus sound. The guitar was built by Ben Lewry of Visionary Instruments, which Gordon gave high praise.
"This is very organic," he added, saying Murawski's guitar has basically the same concept. He didn't specify when he will be debuting the new bass, but said it will happen on this tour.
Back in 2011, Gordon played The Egg, a venue nearly universally applauded for its stellar acoustics, uninhibited sight lines and friendliness to performers. It ended up being one of the few official Mike Gordon Band releases, and Gordon said he is quite excited to return to the venue.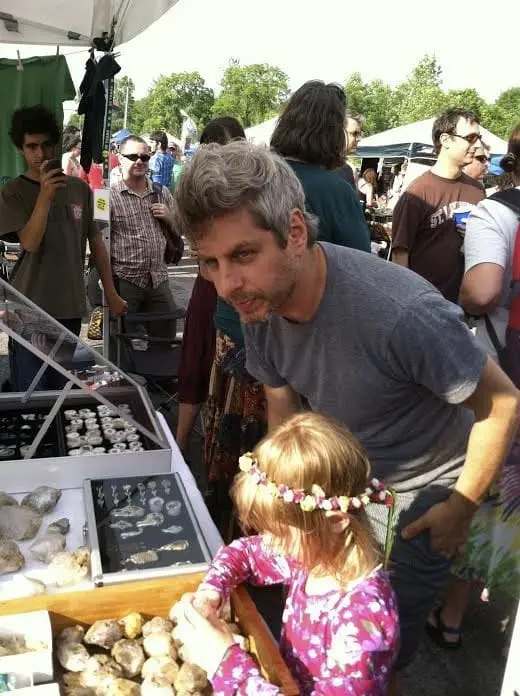 "I loved that show," he said. "The sound at the venue is conducive to what we do and it's very technical. A lot of times there are different challenges at venues like unpredictability and that can make a lot of things pretty hard. We already have enough to think about and the Egg is just so easy to play. I can hear it all, both the loud and the soft, and it all resonates in a very controllable way."
As for his work with Phish, Mike Gordon said that he's mostly focused on his work on this solo tour, but did give a glimpse into what Phish has been up to recently.
"It's hard to think about, because I have so much going on with this band, but I'll tell you this: The guys in Phish all got together two months before our tour is starting, and this is the first time in a long time I can remember us practicing so much, this early before a tour," he said. "Who knows, we may even have a handful of new songs."
He even shared a brief thought on the upcoming Fare Thee Well shows, celebrating 50 years of the Grateful Dead.
"The Grateful Dead have obviously been a big influence, and it's really nice they feel proud enough to commemorate the 50th," he said. "All four of them still have the fire."
Over the past two years, Gordon has been sharing his own version of Couch Tour with fans via his Facebook page, posting photos of him on various couches, often with a funny look on his face.
Is the couch tour going to continue? More importantly, has Gordon settled on a couch?
"Yes, I am going to continue it and yes I found a couch, but … it needs a little work," he said.