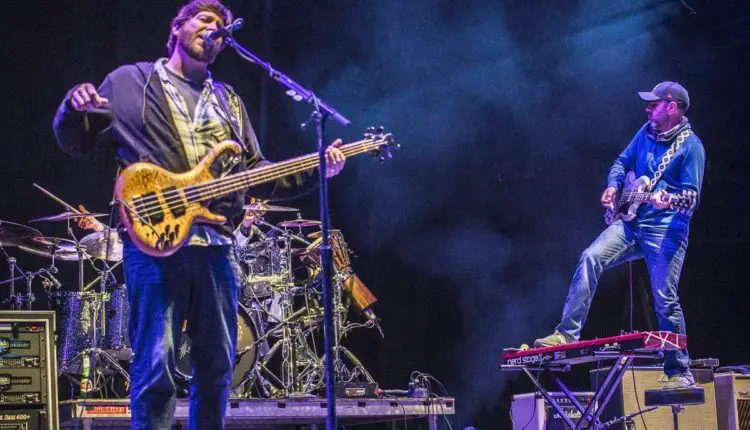 The 11th annual Mountain Jam Festival got off to a great start on Thursday June 4 with plenty of good vibes and a solid night of music in the books. The weather was nearly perfect as clouds parted early in the day to reveal the beautiful Catskill Mountains in all their glory. Hunter Mountain was dressed to the nines with assorted vendors, colorful stages and thousands of Jammers scattered throughout the hills. Those eager to start the fun arrived early to set up camp, find friends and get settled for the long music filled weekend ahead. Check in proved to be hassle free as fans were directed to the various parking and camping locations with minimal searches. However, the Main Gate entrance had serious pat downs to ensure clean, safe fun inside the festival grounds.
One of the first acts of the day started on the petite West Stage with the 5 piece Americana stylings of Sons of Bill, a three brother founded group that amped up the crowd with classic rock riffs and attitude. The first act of the massive East Stage was the bluegrass rock group, Railroad Earth and with a recently announced shared tour with Gov't Mule, it was no surprise that Warren Haynes sat in for some classic rock and roll jamming. Guests were treated to double sets of both Marco Benevento and moe. on the mountainside for a late night special. Benevento was in rare form as his enthusiasm was top notch with crisp key pounding and contagious giddy melodies as he howled like a madman in his technicolor suit.
moe. was in awe of the scene as it was their first time at Mountain Jam and received grand cheers as they kicked off the set with "Same Old Story" and "Crab Eyes". The off tempo fans got down to the marimba madness and intense focused lyrics spitting as moe. was dressed in their 25th anniversary silver attire. Warren Haynes sat in for an outlandish "Opium" adding a vintage rock voltage to end the first set. Fans raved for the multiple segues of the second set with "Silver Sun" packing an exciting climax with Pink Floyd like jamming. Al Schnier took full advantage of the broad space as he came out and shredded over the pit. The Mountain Jam app gave fans the opportunity to vote for moe.'s encore which proved to be the fiery classic "Rebubula". It was a somewhat early night as music ended around 2am giving fans a decent amount of rest. Good thing with Friday's headliners to include Nicki Bluhm & The Gramblers, Rock and Roll Hall of Famer, Robert Plant, a special set of Gov't Mule: Dark Side of the Mule and late night Dopapod. Be sure to download the Mountain Jam app (available for both Android and iPhone) for daily updates on contests, show times, photo galleries and webcasts.
Stayed tuned for more updates via NYSMusic's Facebook, Twitter and Instagram.
[FinalTilesGallery id='217′]