There is a poignant imperceptible fact regarding DelFest – Del McCoury did not headline his own fest, in spite of being one of the very few living lifelines tracing back to the origins of Bluegrass. Del McCoury holds 31 International Bluegrass Music Awards, and countless other special music honors as well. Rather than being an envied member of the music community, he is revered as a living legend by both fans and musicians alike. The man has earned his place at the top of the pack, yet he is so gracious and gentlemanly. He steps aside and honors others in the most respectful manner — allowing today's top festival artists to shine in the moonlight hours while he respectfully collaborates with others.
Sometimes the songs that we hear are just songs of our own" ~ Eyes Of The World, Grateful Dead
It is certain and true that at DelFest, everything is shared: songs, stages, meals, water, and even clean up. On a more soulful level, where the timeless music really hits, love and kindness is shared and echoed back from the mountain wall in the distance. Unity binds this community. When Trampled By Turtles performed "Hallelujah" silence and shivers rippled through the crowd before turning into a sing-along, becoming a sonic soul movement in time momentarily reuniting the crowd with Leonard Cohen, the original songwriter.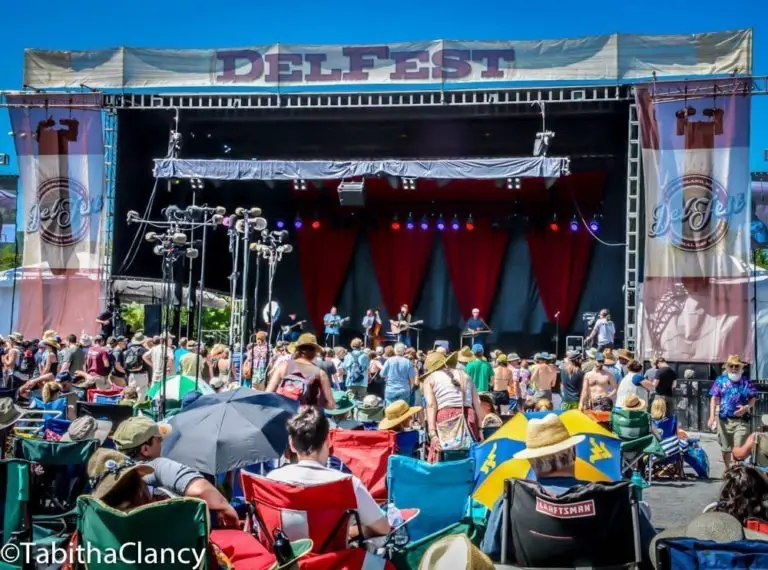 There were others too that reset the life button. Hot Rize bellowed out in harmony "I Am The Road, I Am The Way" as if to say every individual are on his or her own journey, but in this case, all roads led to DelFest. There is a mysterious yet binding energy about DelFest. That is, all things are connected — the people to the music to the land. Nothing is a coincidence.
Railroad Earth closed out their set with "Mighty River," before segueing into "Like A Buddha." The mighty river flowed along the edges of the Allegany Fairgrounds providing solace from the hot daytime sun and just like a Buddha, the crowd smiled for what would amount to endless miles of their journeys. It should be noted that there is a distinct and definitive change in Railroad Earth's performance; they are ever transformative. At this point, it is clearly evident that working with Warren Haynes has had an auditory effect on the band's music.
Many of the artists performing were either returning bands or festival staples. Old Crow Medicine Show likely presented the most transformation. From a once small, unknown bluegrass, roots band with a catalogue of songs that were widely covered to the now Grand Ole Opry show time country stars. Collectively, they present well with their adorable, sparkle shirts and Mason jar lighting.
Jason Isbell was received well with his poetic country rock flare playing songs in support of his upcoming new release, Something More Than Free. DelFest has mastered the art of blending genres of music, giving Delavarians (aka festivarians) a variety of music they may not otherwise listen too.
[FinalTilesGallery id='213′]
But, wait! Bluegrass was abound and plentiful. Del and Dawg (David Grisman) played a set together and the natural progression for those two together were to share stories, as often occurs in the genre. The Seldom Scene resembled that traditional bluegrass sound, though some consider it progressive.
The campgrounds were ripe with picking sessions. DelFest is set apart from the rest because the ideal is reversed. Other festivals have picking sessions too, but generally, it's where pickers get their start. Not at DelFest. Big names will often be found just around the tent corner, sipping moonshine and picking until the sun comes up. The Charm City folks (from Charm City Folk And Bluegrass Festival) hosted Leftover Salmon for a late, late, late night session. Another camp, where everyone is named Del and all were fed gourmet meals, hosted a picking session with surprise guests, Cabinet as well as Eric Brumberg of the Brummy Brothers. Sometimes, the campground is where the magic happened. Cabinet also collaborated with Dead Winter Carpenters earlier on Sunday playing "Friend Of The Devil" and "Whiskey Ain't My Wife."
[youtube http://www.youtube.com/watch?v=y0KskIw5PGM&w=560&h=315]
Another presumed fact about DelFest is that if there is success of an early performance, that band will generally hold a spot in the late night slot the following year. First year performers often get the early slot on the Potomac stage. The Broomstix, a young funk band may well be on their way to discovery. Hometown heroes, Grand Ole' Ditch found their way to the stage too, playing their interpretation of bluegrass. One year ago, they could be seen playing Cumberland's Town Square and now DelFest, they too, are the road and the way. It is certain, both of these bands will be making an impact on the music community in the coming months and likely, next year's late night ramble. DelFest creates the next big artist.
DelFest is a Delebration of family too. There are children of all ages with matched activities ranging from playing with others around the parameters of the grassy field to structured playtime with arts and crafts, or workshops. Del McCoury encourages all ages, even on stage. The crowd went wild when three generations of McCoury lineage stood on stage together, the littlest being pre-schooler, Vassar McCoury. It's not hard to figure out his namesake. With a little violin in his tiny hands, his showmanship shinned brightest. Del McCoury seems to be molding his children and grandchildren to carry the proverbial torch which is comforting to think that DelFest is here for the long haul.
The Travelin' McCourys may well have been the stars of the weekend, but with their rendition of "Loser," it was easy to see why. They paid tribute to the late great BB King with event emcee Joe Cravin and Evan McCoury.
[youtube http://www.youtube.com/watch?v=qgZRTXG2UIo&w=560&h=315]
All things come together at DelFest. From witnessing the transformation of Jeff Austin and his rockin' jamband to the two ladies of the soulful sounds of Lake Street Dive, it was Greensky Bluegrass that set the tone for the entire weekend playing Grateful Dead's, "Eyes Of The World." Just as the song says, what we hear, are in fact, songs of our own. Everyone from established musician to concertgoers, forge their own road and it becomes their own way, collectively gathering at the best festival in the country.
[FinalTilesGallery id='214′]