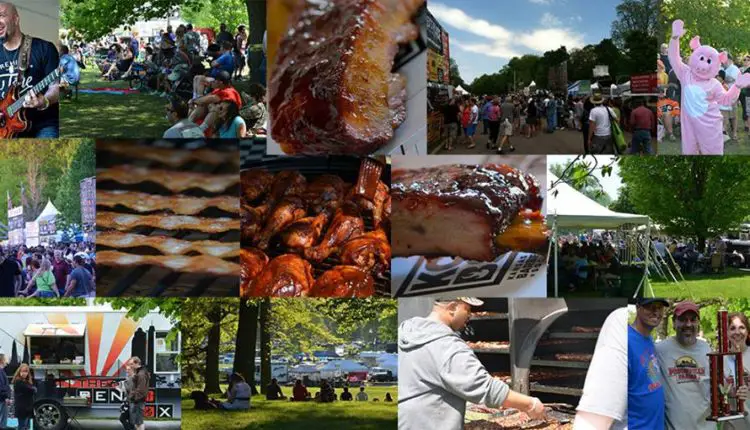 ROC City Rib Fest Serves Up Hot Local Music This Weekend
It's Memorial Day weekend, the official opening of barbecue season. In Rochester, the land of festivals, what better way to celebrate then with a barbecue festival? Enter the ROC City Rib Fest. Local barbecue enthusiasts will gather in Genesee Valley Park to compete for the best smoked meats in the land. The festival opens 5pm Friday night and runs through Monday at 7pm. In addition to the ongoing barbecue competition, there will also of course be barbecue eating, food trucks, kids' activities and a full slate of some of the best bands Rochester has to offer. Across two stages, the lineup includes top-notch tunes from Grand Canyon Rescue Episode and String Theory, smoking blues from Tommy Brunett and Fred Vine, soulful R&B from Mitty and the Followers, the return of world-influenced jammers John Payton Project and so much more.
Tickets are $5 per day or $10 for a weekend pass. A portion of the proceeds benefit the Golisano Children's Hospital at Strong and the Genesee Valley Park. Find the full music schedule below.
Friday, May 22
River Stage
5:30pm  Spacelords
7:30pm  Jumbo Shrimp
Roundhouse Stage
6:30pm Grand Canyon Rescue Episode
Saturday, May 23
River Stage
11:00am  Two Tone Jazz Duo
12:30pm Uncle Ralph's BBQ Blues Band
2:30pm The Deep Blue Dream
4:30pm Dan Eaton
6:00pm World Bacon Championship Awards
7:30pm Mick Hayes
Roundhouse Stage
1:30pm 3 mile
5:30pm Jeff Riales and Friends
Sunday, May 24
River Stage
12:00pm The Fools
2:00pm Televisionaries
4:00pm KCBS Barbecue Awards
5:00pm The Dirty Bourbon Blues Band
7:00pm Jon Payton Project
Roundhouse Stage
1:30pm Fred Vine
5:30pm Tommy Brunett
Monday, May 25
River Stage
12:00pm Alyssa Trahan Trio
2:00pm Cold Sweat
4:00pm Mitty and the Followers
6:00pm Into the Now
Roundhouse Stage
1:30pm Amanda Ashley
4:00pm String Theory