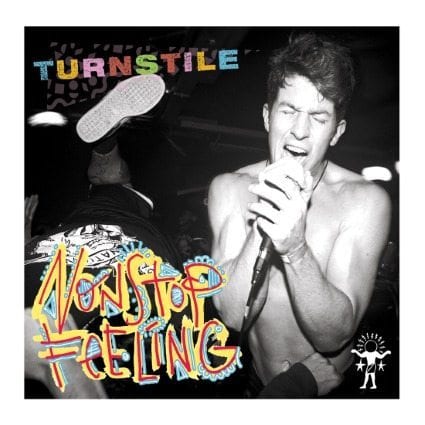 Until January 13th, hardcore band Turnstile had not ever released a full album — but since 2010 they have gained a following of 32,000 devoted Facebook fans, all enthused by their live performances and demos. Especially known in the underground Albany scene, their followers are almost cultish, rejoicing at the release of their debut: Non Stop Feeling.
In many ways, the word, 'feeling,' does not pair well with 'hardcore band.' However, one listen to a song like "Love Lasso," the penultimate song — an instrumental — and you'll soon understand. The title Non Stop Feeling could quite easily could refer to the idea that Turnstile's efforts, energy, and hardness are nonstop insane and the second track, "Drop," proves this. Thus, the "nonstop" and "feeling" work very well together.
It seems that there are few complaints one could have about this album. It should have been longer on one hand, but at the same time, its short, sweetness gives it a tasteful edge; like amazing sex: it lasts a certain amount of time, but it won't leave your head for awhile.
Turnstile is composed of five gentlemen from Ohio, Baltimore, and Washington, D.C. who share the uncanny ability to write a fully energetic album with deliberation, but carry immense emotional capacity at the same time. Their use of two guitars is especially impressive because it allows the band to carry an extra dimension of melody and a rounded out sound, while still being diligent with that nasty hardcore anger. Fans of Rage Against the Machine and Black Flag will enjoy songs such as "Addicted" and "Stress." Even some of The Dillinger Escape Plan – like chaos echoes through the production of the album.
So far, it might sound to the reader like just another melodic hardcore album, but Nonstop Feeling goes a lot further than that. The great thing about it is the dynamics therein. Few times will bands — especially in hardcore — experiment enough to find ways to make melodies, slow songs, and ambiance work the way Turnstile does. For this reason, Non Stop Feeling is already gearing up to be one of the most memorable, brave, fierce releases of this year and Turnstile just earned themselves a new fan.
By the way, we definitely recommend going to see Turnstile at a show. Their New York dates are always famous. And whether you're a hardcore junkie or you have never cared for the genre, these guys put on a show to be remembered.
Non Stop Feeling can be purchased on iTunes, through the band, and at retailers.
Key tracks: "Love Lasso," "Drop," "Stress"