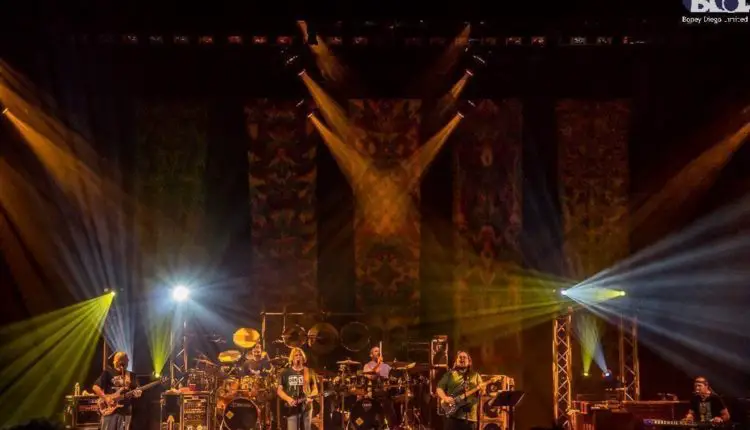 Dark Star Orchestra Bring a 1987 MSG show to the Palace in Albany
Dark Star Orchestra performed a classic energizing show on Saturday Nov. 15 to a nearly sold out crowd, at The Palace in Albany. The event was hosted by Guthrie Bell Productions. Dark Star Orchestra has made a name for themselves by performing Grateful Dead shows in their entirety with sincere conviction. This night was no different as fans of all ages gathered to hear the familiar songs that prove to still mean so much to so many. The night started off with a funky, light-hearted key work, from Rob Barraco on "Hey Pocky Way" (The Meters) that got everyone jumping.  Jeff Mattson has vocals that will nearly break your heart if you're not careful and if that doesn't do it; his passionate guitar riffs ignite the Dead like atmosphere. For a split second, it almost looks like Rob Eaton is Bob Weir with his facial similarities, rustic vocals and fresh rhythm guitar strumming.
Set two brought a continuous flow of music that surged throughout the venue. The crowd sang out the worn lyrics of "Eyes Of The World" with gusto. The night took a turn into dark territory as "Drums>Space" was a terribly stretched vortex of noise from Dino English and Rob Koritz before finally picking up with "Gimmie Some Lovin" by The Spencer Davis Group. The set came to an end with a cheerfully sweet fan favorite of "Sugar Magnolia" with an appropriate encore of "It's All Over Now". As the performance wound down, the musicians revealed the specific show that they had recreated effortlessly that night as September 15, 1987 at Madison Square Garden in NYC. Dark Star Orchestra beautifully crafts the art that is Dead music with more than just playing the notes, it's something you feel. You can witness the Grateful Dead/Dark Star Orchestra experience at the Best Buy Theater in NYC on the Nov. 28 and 29 and The Westcott in Syracuse on Dec 1.
Set One: Hey Pocky Way, New Minglewood Blues, When Push Comes To Shove, Beer Barrel Polka; Me And My Uncle > Mexicali Blues, Row Jimmy, Queen Jane Approximately, Tennessee Jed, The Music Never Stopped
Set Two: China Cat Sunflower > I Know You Rider, Estimated Prophet > Eyes Of The World > Drums > Space > The Wheel > Gimme Some Lovin' > All Along The Watchtower Tease > Black Peter > Sugar Magnolia
Encore: It's All Over Now, Baby Blue