Imagine you have a singers voice, a deep love for making music, and a desire to share wisdom through lyrics. You know that a voice by itself often needs some accompaniment to truly be heard. So you learn guitar. You then start writing complete songs and playing them for people wherever you can. Fast forward, and in a few years, you are requesting a spot on the highly celebrated and well-attended local festival – Sterling Stage – and you get the spot. As things progress you realize that your dream is not complete without a means for more people to hear your music. So you pull together some talented friends, and voila! In three months, you put out a LP, via the premier Syracuse recording studio- SubCat Studios.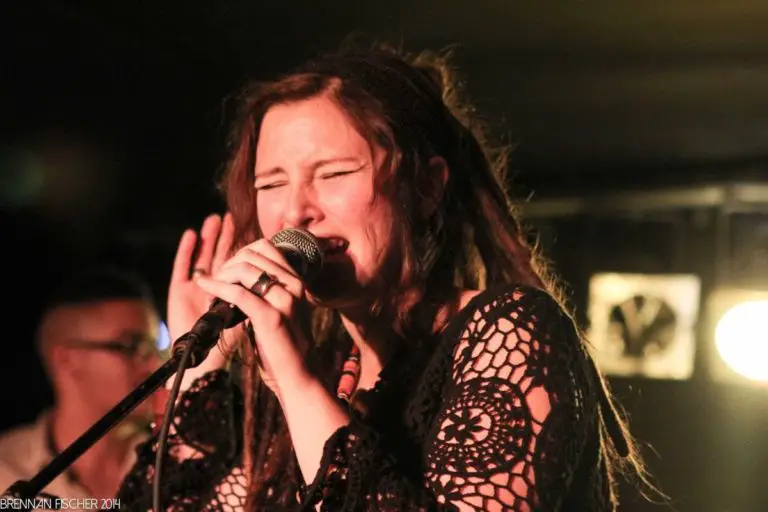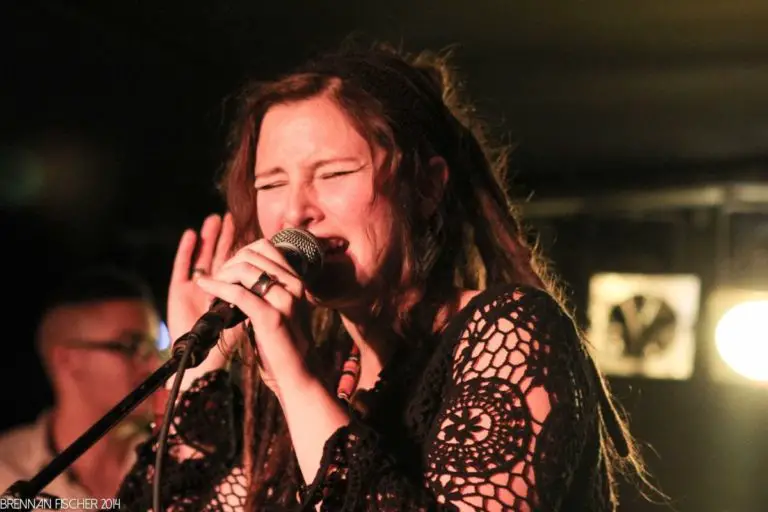 But in order for people to really get excited about the album, you know you will have to give people a live experience first. So you book your first big show (that you happen to be headlining) at a well-known, long-established venue in Syracuse, the Lost Horizon. But that isn't enough. You know that for others, your vision and message might not convince them to buy a ticket to your show. They want to be entertained all night with different types of music. So you pull together even more friends, including a stage-grabbing young upstart (Riley Mahan), a band of ambitious young composer/performers (Early Bird), and a funky veteran band (Root SHOCK) that you know will make them dance the hours away. And, it all goes down without a hitch.
This is the story of the fiercely driven, big-dreaming Michelle Renee, whose Reflections album debut party November 7 at the Lost Horizon culminated the realization of a vision and brought out over 150 people from the community to enjoy it. And enjoy it they most certainly did.
The lineup for Michelle's party began with Early Bird, a self-described progressive/folk/indie-pop band that actually held up to the appellation of "progressive." Their vocal harmonies were adventurous, carefully composed, and stylistically diverse. Although there were moments where intonation wasn't perfect, Sheralyn Wellman, Katherine O'Leary and Aaron Walters (who also played lead guitar) gained "Hella" respect points for their musical bravery, intellectual creativity and diligence in writing and performing this level of vocal music. Guitarist Aaron Walters mirrored this well-trained yet genre-defying theme with his tasteful and seldom-simple chord progressions. This was best demonstrated on the hauntingly beautiful, finger-picked arpeggiation in the tune "Lullaby," from the Early Bird EP. In reflecting on this young band, a much-loved, incredibly skilled "progressive" indie band was immediately brought to mind as similar in structure and writing style. The Dirty Projectors, an indie cult favorite, also base their songs on shared vocal harmonies between a soprano, alto, and tenor voice, the last of which (in both bands) happens to be the guitarist. Early Bird also followed suit with the Dirty Projectors in regards to their trans-genre songs, highly composed harmonies, and usage of intentional vocal dissonance. Bravo!
Early Bird's performance provided a seamless transition to Michelle Renee's act, as every member of Early Bird (besides singer Katherine O'Leary) assisted in backing up Michelle for the full band experience of her debut album, Reflections. Michelle's music was written in a folk/soul/singer-songwriter style, but as she worked with a full band to release her album, the sound evolved to incorporate undeniable rock/pop elements. This ensured that Michelle's unique, soulful, rich, almost choral vocal parts were held up by a solid rhythm section, vocal harmonies and a rock 'n' soul energy that got folks dancing. Michelle's songs were catchy, solidly performed, and included moments of sorrowful sweetness that shut the crowd up to the degree that you could hear a pin drop.
Michelle came prepared with some secret weapons too, including "shredding" violin solos by guest musician Brandon Gosson, vocal harmonies by the angelic voice of Sheralyn Wellman, and cover collaborations with a petite young lady that made you ask, "did that just come out of her?", Riley Mahan. Michelle teamed up with Sheralyn for a bluesy rendition of "Give Me One Reason" by Tracy Chapman and a high energy cover of "Long Train Running" by the Doobie Brothers.  She then passed the mic to Riley as she took the lead on covers of "Mercy" (Duffy), "Dock of the Bay" (Otis Redding) and "I Want You Back" (Jackson 5). Riley's voice never fails to stun listeners, as her grasp of R&B/soul improvisation and runs (think young Aretha meets Winehouse), and her raw energy evoke the image of a singer far beyond the tender age of 19. At the apex of Michelle's act, she re-took the lead with Sheralyn, and brought down the house with the classic CCR (and later Tina Turner) tune, "Proud Mary." Michelle let out her sassy side for this tune by announcing to the crowd, "First we're going to do it nice. Then, we're going to do it nice and rough." Michelle started with an innovative, almost eerie, ambient introduction. She then came in full-force with her sexy, soul-woman alto sound backed up by some rockin' instrumentals. Tina would have done a double-take for sure.
The third act was the Syracuse-born, party-proven, soul/roots-rock Reggae band, Root SHOCK. Root SHOCK was the perfect conclusion for a night of of female-led groups. Jessica Brown "came correct," as she always does, with a mature, soul-shaking vocal strength, and a band that never fails to hit that funky groove right away. Although many folks that came to support Early Bird and Michelle Renee chose to leave after Michelle finished, everyone that has heard Root SHOCK knew better. Those that stayed were in store for a few hours of danceable, sing-a-long, soulful good music. And Root SHOCK delivered. Root SHOCK also knew that an audience relishes fun covers, so they made sure to include some greats, such as a reggae/ska version of Mike Snow's "Animal," the funky classic "Use Me" by Bill Withers, and for us local Reggae nerds, "Rough Cuddle" by Syracuse/NYC's own Morning Sun and the Essentials.
Besides playing some lovely music, Michelle Renee's album debut party demonstrated the grace, drive, maturity and confidence characteristic of a veteran performer and musician. Besides orchestrating and organizing the whole thing herself, Michelle comfortably and humbly acknowledged the crowd and members of her band throughout the show, thanking them for their undying support and love. It was a heartwarming experience to witness her project and vision truly coming to fruition in all regards. Where there is a vision, there's a way. Congrats Michelle!