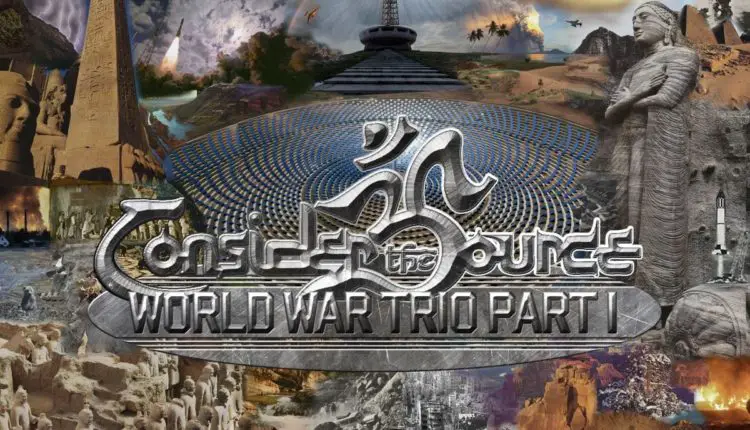 This past Wednesday, the instrumental wizards in Consider the Source dropped a bomb as they released a stream of the first installation off their new album World War Trio, titled "Put Another Rock in That Bag". The release is a six-part, 25-minute impeccable composition that showcases that band's talent in new and interesting ways. The overall vision and thought-out structure shines in the smooth transitions and its careful ebb and flow of energy. At the risk of sounding cliché, this is a prog-opera with hints of jam, metal, Middle Eastern, and a fusion of other genres into an emotional and dramatic epic. If this band wasn't unique enough, this album puts them in a category all their own and pushes some serious musical boundaries.
These three gentlemen have stepped outside of the songwriting box and are delving into composer-level status with their vision. The juxtaposition of beauty and fierce aggression propels at the same time it slows down for the view. This tease, and I use that loosely as it is still 25 minutes in length, will lead to a huge anticipation for parts two and three of this album series.
The ONLY way to listen to this album is from start to finish as it tells a tonal story through vivid language, rife with patient punctuation. If you liked this band before, you're going to love this direction as they've found their calling and have created something truly beautiful. If you're going to cheat your ears out of this masterpiece though, at least take the time to listen to "Put Another Rock in That Bag IV," which is simply powerful and moving. No band in the jam scene has ever had the balls to step outside the circle like this album does and this song is the climax.
As the album comes to a close, the band circles back to the opening theme. How else would you close something of this magnitude? By tying it all back to the origin and closing the circle, the band leaves you wanting to start the journey again. Absolutely beautiful.
The album can be streamed in its entirety right here and I would strongly recommend taking a listen. Additionally, I got the chance to sit down with the group at Night Lights Music Festival back in September and we talked about the upcoming release, their influences, and a few other things. Check out the video below from our friends at Buffalo.fm.


The band is set to play the new album in its entirety tonight  in Albany at their album release party. Tomorrow night they'll be making their way across the state to play a show in Buffalo at Waiting Room. If you still need tickets, you can grab some for Albany here and Buffalo here.