Unearth has remained present in the metal landscape for over fifteen years. This has everything to do with their work ethic, constant touring, and producing quality albums for that entire time. Their newest record, Watchers of Rule, is another incredible heavy masterpiece from this band that has consistently kept metalcore music heavy as ever.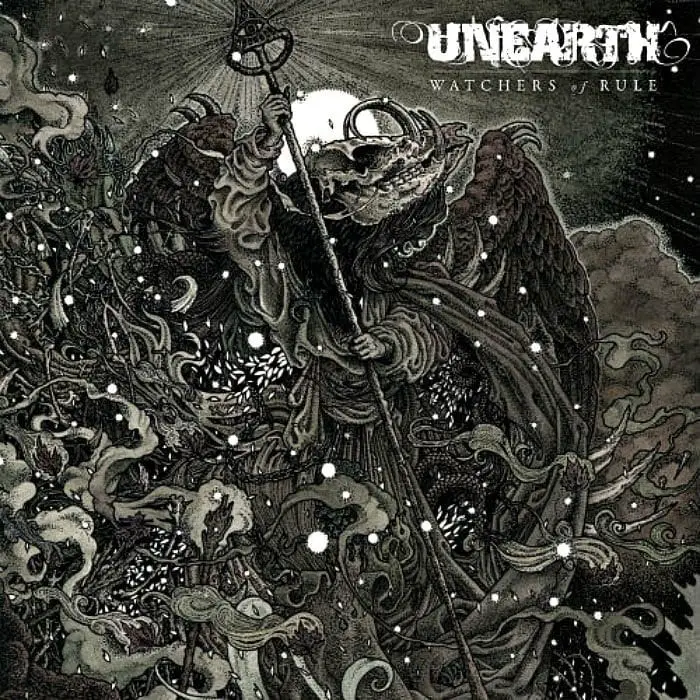 The forty-second intro works as a bridge, dragging the listener to the top of the mountain to prepare them for the first single from the album, "The Swarm". This track launches itself from high above the already lofty expectations from such a talented band. Incredible double guitar attacks revel in their technical prowess, but never get lost; the beautiful chaos bleeds seamlessly into crushing breakdowns with unwavering double bass drum beats. Metal at it's best keeps the listener entertained, and Unearth does that to perfection on this record.
There are also more straightforward genre songs. "Lifetime in Ruins" is a great example of a well-worn groove with an unshakeable rhythm section, but it delivers exactly what it sets out to achieve. The nice thing about a record like this, is that you go into it believing you will get a specific type of heavy metal, and Unearth never deviates from that plan. They sing about the oncoming assault of Hell with dragons and demons laying waste to kings and their kingdoms, heavy with metaphors on life and personal experience. Their music reflects those sentiments as well, never falling away from the metalcore ethos they have carved out throughout their career. This record is a culmination of everything they have achieved thus far, and where they plan to go.
With Mark Lewis at the helm, producing and engineering this project, it has the polished feel of a well crafted record. He has worked with DevilDriver, Whitechapel, Deicide and many more, most recently producing Cannibal Corpse's new record, A Skeletal Domain. (check out our review of that record here.) The vocals, done by up to three other members with Trevor Phipps taking lead, sit perfectly in the middle of the audio onslaught. Heavy music of this calibre is so vital in the metal scene because poorly produced metal albums lose so much of what was put into them. This record shines through and gives the listener a true representation of everything that happens between the five musicians. It will be interesting to see these songs performed live as the band prepares to embark on their next tour.
"Guards of Contagion" is a track that allows the whole band to bring all their tricks to the table, with unstoppable guitars blending into a heavy, sludge-riddled low-end, and vocals that eat at your core. The title track is the bookend to a record that doesn't pull punches, and remains true to its core from the first song to the last. Just when you think you are sufficiently destroyed by all this record has to offer, "Watchers of Rule" brings everything even higher.
"They aim to save the world" the song explains, and Unearth just might achieve that with such a generous offering of brutally infectious metal. The intense precision permeates each song, but many tracks are rooted in heavy groove metal, making it impossible to keep still while listening. This record should come with a disclaimer: Listen at your own risk, for your body will not be able to stop moving. You will sing along, you will bang your head, and if you listen to this in your car, you will speed.
Key tracks: The Swarm, Guards of Contagion, Burial Lines, Never Cease
Watchers of Rule will be available from eOne Music on Oct. 27. You can pre-order the album and special merchandise here.
If you're in the Upstate area and looking to catch these guys live, the band will be playing a show at Montage Music Hall in Rochester on Friday, Oct. 17. Opening the night will be Darkest Hour, Carnifex, Origin, I, The Breather, Black Crown Initiate, and local support from Order of the Dead. Tickets can be purchased here for $22 and the show starts at 7pm.