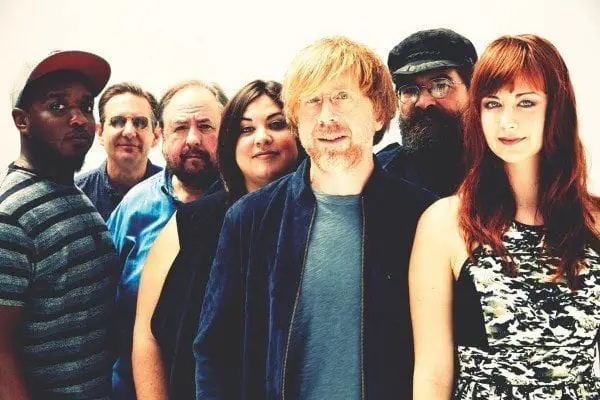 Exciting news today as Trey Anastasio Band has announced a fall tour of the Northeast and a new album due in early 2015. The album, titled Paper Wheels, was recently recorded by the band at The Barn, Anastasio's reconstructed barn-turned-rehearsal/recording studio located outside Burlington, VT, in less than a week. Inspired by the immediacy of Stax-era recordings, Anastasio and his band mates recorded the songs live, playing and singing together in one room and often requiring no more than one or two takes. This tour will let the band preview the songs on the album before the release. As an added bonus today  you can download "Bounce" right now as a free download at Trey's website for a preview of Paper Wheels. The album was produced and engineered by Bryce Goggin, who helmed several Phish albums and has also partnered with Anastasio on previous solo projects, and mixed by Elliot Scheiner (Steely Dan, Van Morrison).
Trey Anastasio Band has previewed some of these songs already on their West Coast tour this past spring, as well as the special Brooklyn Bowl taping for PBS in August. Other songs that have been played already and are expected on the new album include "In Rounds," "Paper Wheels," "Lever Boy"and "Sometime After Sunset".
The tour will start the day after Thanksgiving in Chicago before coming to the East Coast. The first two night stand of the tour will take place at the famed 9:30 Club in Washington D.C. on December 2 and 3. This will be followed by another two night stand at Boston's Orpheum Theatre on December 5 and 6. On December 9, the band will be Binghamton's Broome County Forum Theatre. The Beacon Theatre in New York City will get the band on December 11 and 12 with the tour wrapping up the following evening on December 13 at Philadelphia's Tower Theatre. Tickets will be going on a pre-sale through Trey Ticketing on Thursday October 9 at Noon with a public sale happening Thursday October 16. The full list of tour dates is below.
11/28 – Chicago, IL @ Aragon Ballroom
11/29 – Pittsburgh, PA @ Stage AE
11/30 – Richmond, VA @ The National
12/02 & 03 – Washington, DC @ 9:30 Club
12/05 & 06 – Boston, MA @ Orpheum Theatre
12/07 – Portland, ME @ State Theatre
12/09 – Binghamton, NY @ Broome County Forum Theatre
12/11 & 12 – New York, NY @ Beacon Theatre
12/13 – Philadelphia, PA @ Tower Theatre