Mary Fahl has released a two cd live performance, Mary Fahl Live at The Mauch Chunk Opera House. Recorded at The Mauch Chunk Opera House in Jim Thorpe, Pa., as a follow-up to her 2013 cd Love & Gravity and a precursor to several upcoming live dates including a performance at Syracuse's Red House on Oct. 4. Her concert at The Mauch Chunk Opera House was filmed for PBS and is scheduled to air this fall nationwide. Fahl's musical history is highlighted as a founding member of October Project and her critically acclaimed solo career is growing exponentially through live performances.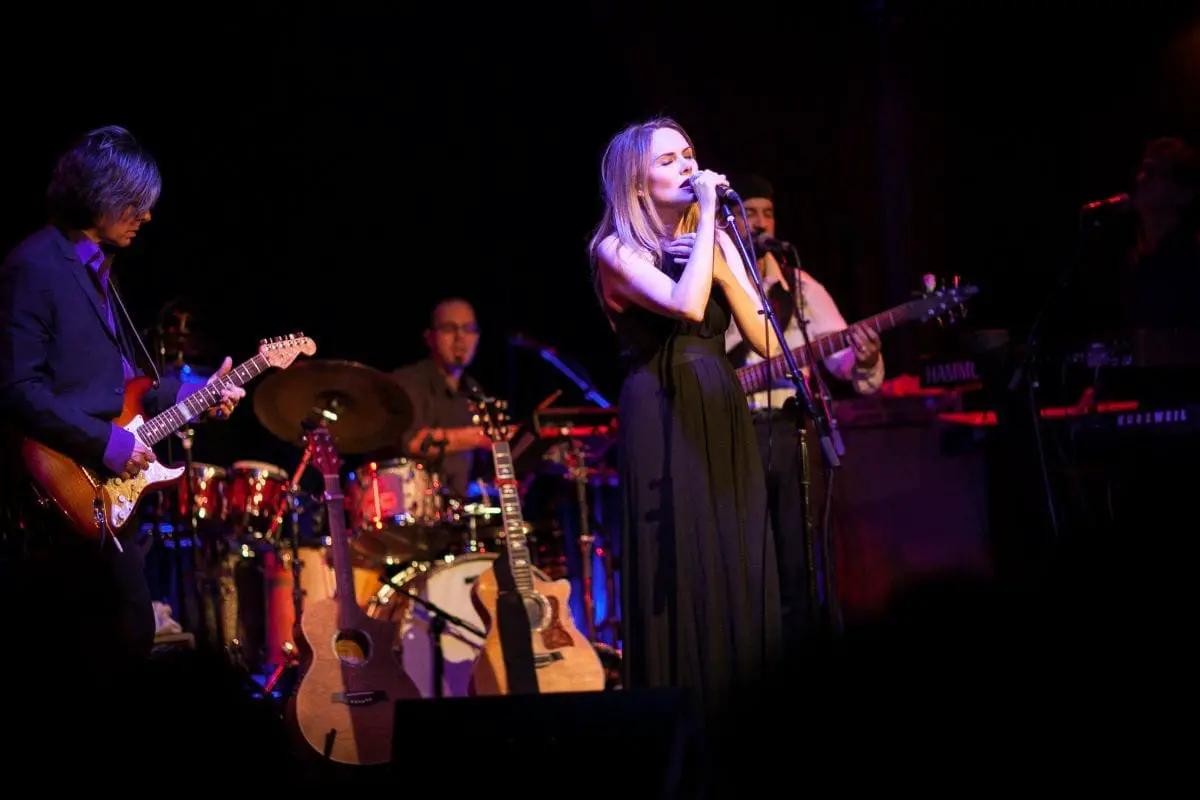 This concert features CNY's premier multi-instrumentalist, music director, arranger and producer, Mark Doyle (acoustic + electric guitars, grand piano, vocals), along with Edgar Pagan (bass), Bill DiCosimo (keyboards), Joshua Dekaney (percussion) of Syracuse's "Grupo Pagan" and John Lissauer (piano) accompanying Fahl (acoustic guitar, vocals). Recorded by Andrew Roberts of Purple Audio on Sept. 7, 2013, engineered and mixed by Leonard Hospidor, this 24 track offering includes Fahl originals, October Project material, a taste of her re-imaging of Pink Floyd's "Dark Side of The Moon" she self-released in 2011 as "From The Dark Side Of The Moon", along with some extremely well-chosen covers.
Of note is how the Fahl/Doyle collaboration happened. In 2005, David Werner, longtime friend and former band mate of Doyle, approached him about re-doing a classic album in its entirety with Fahl in mind. Werner would produce, Doyle would co-produce, engineer, as well as play most of the instruments with Fahl vocalizing the rest.
After meeting Fahl, they agreed to try one song, then decide on the completion of the project. They recorded "Us and Them" in October '05 at Doyle's studio in Syracuse, the same starting point Pink Floyd had. A similar magic happened, culminating in the full recording happening, during the summer of '06. Having to prove the recording could be re-produced live to receive their contract, Fahl and Doyle presented the project in concert to V2 Records. V2 signed them, gave a budget, the recording was finished and sent to legendary mixologist Bob Clearmountain. The label promptly folded a week before the project's release and it was shelved until Fahl self-released it in 2011. This cd is absolutely worthy of a listen by anyone affected by the themes, history and magnitude of Pink Floyd's masterwork. It is indeed a re-imaging. This was the beginning of an amazing musical relationship between artists Fahl and Doyle, which continues today.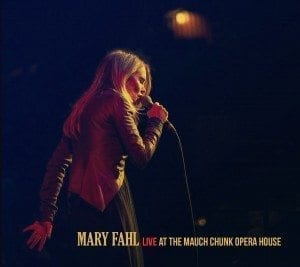 Now, on with this most current release.
At first breath it may seem easy to pigeon-hole Fahl's voice, she's another Joni, Joan, Judy or Sarah, but there's something more there. From the first song, "Deep As You Go", when she sings, "Don't save me – Don't lose me – Don't wake me now – You let me – You release me – Let me drown – Take me down – Take me down" you know she's coming from a place very deep in her soul. This, being an early '90s October Project song, should also bring knowledge of how long her road has been to this point in her career.
While firmly planted in the singer/songwriter category, her voice, whether performing originals or songs written for her, is magnified fronting a full band. Especially when that band is under direction from someone whose skills are so deft and subtle as Doyle's. They're so perfectly complimentary that her stories rise and fall emotionally without contrast from the accompaniment. Instead, they're enhanced and taken to another level. Not the simplest task or for the faint of heart, even Doyle's backing vocals provide depth, counterpoint and richness as if he was in fact the protagonist without taking that spotlight.
Fahl's ability and range give her the flexibility to take on a wide range of expression not available to most singers. One of the most dramatic examples is the three-song medley from Dark Side as she voices instruments and verbalizes with a breath of Sandy Denny of Fairport Convention or Clannad. At moments the Celtic feel echoes a little Sinead O'Connor to me, but that may well be the depth of emotion she carries in her instrument and that alone speaks volumes for Ms. Fahl's talent.
"Coming Home" opens the second disc and was used in the Civil War movie "Gods and Generals", it's appropriately deep and fitting for a movie of this context. I would be remiss not to mention the skills of Julie Flanders and Emil Adler, the credited songwriters from October Project who had an uncanny ability to write with Fahl's voice in mind. They consistently nailed it. "Bury My Lovely" is another great example of this. Her reading of Joni Mitchell's "Both Sides Now" is close enough to the box to be a homage and drifts far enough to accentuate the difference. Her rich contralto ranges freely from dark to light, breathy and rich, railing against category into individuality.
Fahl's own compositions fall directly from her heart and the subject matter is reflective of this. I suppose this could be construed as ordinary from a singer/songwriter, but the difference comes through in the depth of her emotion and her ability to express them without over-personalization or false dramatization. She flexes her writing with "Exiles", the theme song for Anne Rice's audiobook "The Wolves of Midwinter", released last fall. Though she admonishes the previous "goddess of Goth" moniker, bestowed on her by the vampire movement in the October Project days, perhaps it paid-off a little. She surely can adapt to the darkness of the role, but does it as just another page in her novel of artistry through this song and does it well.
Fahl's emotional take on the traditional Irish tune "The Dawning of The Day" is her lyrical tribute to the fallen firefighters from 9-11 that was performed by Ronan Tynan at the re-dedication of the Seven World Trade Center in NY. It's riveting and is followed artfully by "Meant To Be" with pianist John Lissauer sitting in. "Everything's Gonna Be Alright" may well be the poppiest song of the night with Doyle on call and response backing vocals, all hands on deck doing oohs and aahs, while Mary jumps into a bit of Flo and Eddie for good measure.
"Be My Hero" is a fantastic closer that allows not only Fahl's world-class voice to shine, but the band has space to cut loose with each individual finding a little place to rave-up the ending, especially Doyle ripping his signature Stratocaster to finish.
The combination of musicianship, arrangement and delivery are far beyond anything I've heard recently. If only more musicians were this thorough in their preparation and execution, the life of rock and roll would surely be extended. This is the kind of release that can send an artist to world-wide exposure, something akin to "Frampton Comes Alive" in the sense that the audience knows the songs as the live album is being toured. This work and the people associated with it all deserve just that kind of acclaim. It's my sincere hope they attain just that. Kudos!
Key Tracks: Deep As You Go, Ben Aindi Habibi, Take Me As I Am
Mary has a very nice series of solo and full band dates available on her website including a date at The Lestat Coronation Ball in New Orleans on October 31st. There she'll highlight her work with Anne Rice, her song "Exiles: The Wolves Of Midwinter" was written for Ms. Rice's audiobook, "The Wolves Of Midwinter" (check here for details).  Full band shows include a supremely intimate concert at Syracuse's Red House on Saturday, Oct. 4 at 8 p.m. Tickets are available at The Red House online, do not sleep on this 100 seat venue, it will sell-out quickly! Then at The Cutting Room in NYC on Nov. 15 and at "Concert For Epilepsy Awareness" at Trinity United Methodist Church in Ewing, NJ on Feb. 7, 2015.
Follow her rise on Twitter and on FaceBook she's a great follow!