Starting The Great NY State Fair has started off with a bang, and some lightning, Kellie Pickler took the stage at Chevy Court to a packed crowd holding umbrellas and wearing ponchos.  These hardcore country fans were in for a treat at the Fair's first free show.  Full of charm and talent, this young lady brought sunshine to the audience as she sang, shared stories, and gave an amazing performance to kick off the fair's first show of the year.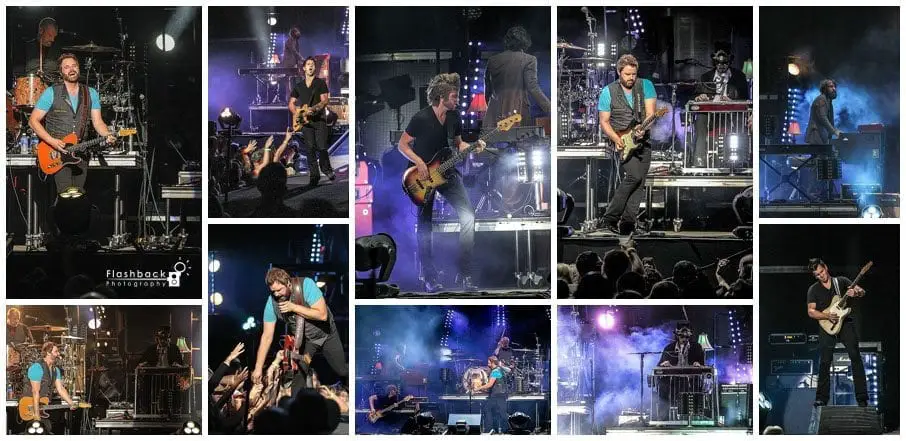 DAY ONE – Rain or Shine, The Show Must Go On
The one thing that stood out about Kellie was how personable she was with the audience.  Whether it was waving to those shouting her name, holding up signs, or just waving her way, she made sure she acknowledged each and every one with a smile and a wave as though seeing an old friend once again.  She even signed several autographs during her encore number.  My first time and definitely not the last time I see this country girl perform.
Day  1 at The Great NY State Fair was chock full of country superstars.  Country music fans hit the lottery with the Grandstand lineup Thursday evening with one of country music's most loved entertainers, Brad Paisley headlining and he brought along some very special guests, Charlie Worsham, Leah Turner, and Randy Houser to join him.
I had the opportunity to cover these four performers earlier this year for NYS Music at the Taste of  Country Music Festival down at Hunter Mountain in the beautiful Catskills.  I immediately spotted Charlie Worsham out in the crowd doing what I loved about him most. He was down in the audience just hanging out and talking with all his fans, signing things, and being incognito right up until the time he put his earpieces in and jumped up on the platform and began singing and showing this audience just what he's about.  This young man is one hell of a guitar and banjo player.  Sporting his signature orange converse, which he claimed he wore in honor of our Orangemen, he came right out in to the audience to pick and shred number after number.  He told the crowd, "You may not know me….yet," "yet" being the key word in that sentence as once you see Charlie in person, he's really hard to forget.  Yes Charlie, I was there for your first experience crowd surfing.  It was epic and I have photos to prove it.
Immediately following Charlie was one of country music's on the rise female artists, Leah Turner.  The one thing that strikes me about Leah Turner is her strength.  Her voice is strong, her presence is strong, and her impression is lasting.  Rocking the audience and turning heads, the amazing performer is quickly making her mark in the country music business as a force to be reckoned with.
The next artist opening up for Brad was Randy Houser.  I was happily anticipating this particular artist because this would be the first time I saw Randy perform his full show.  Randy's musical talent was put to the test this past June when on the way to the Taste of Country Music Festival, his bus broke down somewhere along the Pennsylvania highway.  Making a split second decision, Randy and keyboardist, John Henry Trinko, packed it up and headed up through the mountains literally arriving five minutes before he had to go on.  Playing an all acoustic set that was spectacular, I couldn't possibly imagine how he would top that show.  Well, the bus arrived this time, and he brought it.  With a full band behind him, Randy whipped the audience into a frenzy, leaving it all out on the stage.  One word,  sensational.  So happy I was able to see and hear him both full on with a full band and then stripped down acoustically.  When it boils down to it, he is truly an amazing musician and vocalist, and talent such as that is unmistakable.
With the audience primed and ready to roll, the main event began.  The one thing I must say about Brad Paisley's show, is that it's two shows in one.  The perfectly choreographed video that plays behind Brad as he plays hit after hit, is spectacular and puts this show on a whole different level.  I should expect no less, as Brad is truly on a different level.  Brad is and amazing vocalist, but is also one amazing guitarist, I must add.  I think it's the one part of the show I look forward to the most.  Shredding out like the rock star he is, you can't help but love the new direction country music has been taking, getting back to their southern country rock and roll roots.  For those of you who haven't followed Brad and the comical tweets of late, Brad has been mischievous to say the least.  With a new album, Moonlight In The Trunk, ready to be released this week, Brad took matters into his own hands allowing his fans bits and pieces of the album prior to the release date and against the wishes of his record label. This release was extremely important to Brad as his last album didn't have the intended effect it was supposed to have.  Brad felt that taking control and releasing on his terms would accomplish not only the message he wanted to send his fans, but thank his fans for being supportive over the years. Have to say, the comical scuttlebutt between Brad and his label was fun to watch unfold, almost making you wonder if it was a practical joke.  In the end, Brad got his wishes did things his way, while the label did things their way and invited the  fans to thank him personally by leaking his real email address.  In the end, Brad, Label, and Fans all were happy.
DAY TWO – The Show that Could Possibly Break All Records
With Day One in the record books as an amazing start to the 2014 Fair, Day Two was bound to possibly be one of those days that beat some records.  There are several factors that would assist in making a day at the Fair a record-breaking day….cooperating weather…special events going on…special day for select groups…or the acts at the stages…yep it was the act going on at Chevy Court at 8PM that would definitely shatter some records this day.  This artist was one of those names that would surely draw a full paying crowd at the Grandstand, but instead the Fair treated their attendees to this act for free.
The Fair treated fairgoers to Jason Derulo.  I am still waiting to see if Jason was able to break the Bruno Mars attendance back in 2011 of 35,000.  Looking at the crowd that evening, I believe it may have come close.  Attendees began saving their seats before the 2pm Smashmouth show, and by the time 6pm came along, the inner area was cordoned off.  This wasn't just an entertainer coming out to the middle of the stage and singing.  This show had everything.  Jason Derulo is already known for his amazing musical talents as a vocalist, but until you see him live, you can't ascertain his true talents.  He came out with a full entourage of professional dancers as he commanded that stage keeping up with each and every step they laid down.  All I kept thinking of was how much he reminded me of Michael Jackson, with the voice and the moves.  He definitely has something special.  Dancing With The Stars would be handing him that trophy for sure if they included him in one their upcoming seasons.
DAY THREE – Mr. 305 Hit's the 315- Everyone Loves Some Bacon, Brothers That Is
As Day Three began, the NY State Fair included two amazing shows at the Chevy Court stage.  The 2PM show was Sean Kingston, which I unfortunately missed, as I'm still figuring out how to be in two places at once.  However I was able to take in their 8PM show with The Bacon Brothers Band.  What an amazing group of performers they were.  Rocking with a bluegrass, country, jazzy, pop vibe this group were thoroughly entertaining and very talented with a big variety of instrumentation which included various percussion, harmonica, mandolin, electric and acoustic guitar, keyboards, etc.  Was so pleased they made Central New York one of their stops on their summer tour schedule.
At the Grandstands on Day Three we had Mr. 305 himself, Pitbull.  This distinguished performer is hugely talented and one of the best business men I have ever seen in the music business, taking the business by storm and branding himself as a worldwide superstar.  He has appeared in numerous collaborations, taken home award after award (including a Grammy) and built himself an international empire in a ten year span. Taking the stage in a tailored suit and sunglasses, his charm, style, and charisma spilled over into the audience as they screamed and cheered his name.  Singing hit after hit, Pitbull had a stronghold on the audience from the moment he came out.
As NYS Music covers the Great New York State Fair, we would like to point out a few notables to make sure you take the time to see.  I always have loved the 25 cent milk, the butter sculpture, and all the animals, this year my new discovery was the butterfly exhibit.  For a single $1, you can enter a tent filled with the most beautiful butterflies as they twitter and land on you.  Was an amazing experience and such a cool find right inside the Horticulture Building.  Oh, and while you're there don't forget to get your $1 baked potato.
Looking forward to the next three days there,  the musical acts, foods, and adventures you too can share at the worlds first and best the Great NY State Fair.