Earlier this summer, the 4th annual Governors Ball Music Festival took over Randall's Island in NYC for three days of music across four stages. One of the outstanding features of this year's festival was the presentation of some emerging artists alongside the major acts. Steve Malinski had a chance to catch up with a few of those artists after their sets to talk about their experiences and their music, including Ben Cameron.
Ben Cameron is a singer-songwriter who along with a talented band blends lyrics with a variety of harmonies, yacht rock and folk rock creating a unique sound to come out of the Nashville scene. Ben is currently recording new material and in October plans to announce a tour to support the new release. Here's what he had to share with us.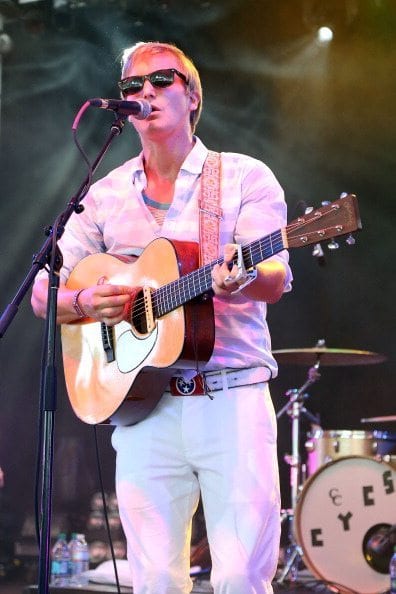 Steve Malinski: I want to congratulate you on having an awesome set this morning at the Gotham Tent, and also on your engagement a few days ago.
Ben Cameron: Thanks so much Steve! Oh yeah, I forgot I mentioned something about that on stage, yes indeed.
SM: What was your experience like here at Governors Ball? It was a smaller crowd being the start of the day but everyone there was getting into your music.
BC: Yeah, it felt like a hometown show a bit. I live in Nashville but am originally from the New England area – originally from Connecticut. So, it feels like a hometown show but of course it's on a totally different scale and level because it's a huge festival, you know, kind of the premier festival. So, it's a great gift to be able to do something like this and obviously surreal because there are a lot of bands, music everywhere, people everywhere, and great food everywhere. We played the first set of the day so after everyone's a little hung over from Jack White last night and trying to wake themselves up at nine in the morning to hike out to Randall's Island you get a sort of diehard crew hanging out.
SM: I do have to say it was the perfect sound to open up the last day of the festival after some pretty big sets last night from Jack White and Skrillex.
BC: We keep it smooth – Sunday morning coming down! Exactly right.
SM: Even though you're from around NYC, generally speaking, your music is based out of Nashville. How has it been playing in this area, bringing your music up here and getting your name out there at a festival like this?
BC: Well, we have a kind of smoother, classic vintage type vibe – something that has crept into the indie scene over the last few years with bands like The Head and the Heart (who played here this weekend). We're definitely not the 3am type of band. I think the booking in terms of the timing of these daytime sets are when people kind of want to just groove around. We're very close to Bonnarroo here in those terms – the bands they book at two in the morning are very different from the bands they book at 3PM. It's like Sunday you hear lots of soul and groove, sort of like Al Green… hippie shit Steve, hippie shit!
SM: You have a new album coming out this fall and will be touring to support it. What can you tell us about the album?
BC: Well, it's either going to be an EP or a full record, which we're still trying to figure out. But, it's going to be new music that's very much driving at this idea of smooth soaring melodies with a lot of almost African type rhythms. So when you're sitting there listening to it, it feels relaxed – a Sunday drive type of thing –  but also something where you'd want to see the show. It's not sleepy.
SM: So, close to along the line of what we heard this morning from your set?
BC: Yeah, very much so. A couple of the tunes we started with will probably be on the album.
SM: Definitely looking forward to hearing more of that – it should be good material!
BC: I appreciate it Steve. We'll have to come to the greater Upstate area and play some shows and get our routing through there.
SM: Have you been at Governors Ball the whole weekend?
BC: No, I wasn't here yesterday, I have to admit. I didn't support fellow Nashville band Diarrhea Planet (those guys are awesome) or Jack White – I know a couple of people in Jack's band. I was lying low because of the engagement on Friday. I came to the festival Friday and had been yapping all day. I don't have a deep or loud voice so I blew my voice out pretty quickly (I sound a little like Phil Collins on helium when I talk), so I took yesterday off.  But it's been great here. Great weather. I was here least year when they got the monsoon coming through, washing everything out so I'm happy for the guys running it this year. This is karma in action that they've had three beautiful days.
SM: Are there any acts for the rest of today that you're looking to see?
BC: You know, yes, but I have to look at the lineup again since there was a lot of work in getting ready for my set. I'm pretty psyched to look at the schedule.
SM: One last thought for you before we go. If there was one artist you could either collaborate with or sit in a session with, who would that be?
BC: Oooh, who's recording now… I think right now it would have to be Graham Nash. He's kind of the only one who seems to be making sense when he talks and I would love, love to work with him.
SM: Ben, I'd really like to thank you for taking some time at Governors Ball to talk with .
BC: Steve, thank you very much man.