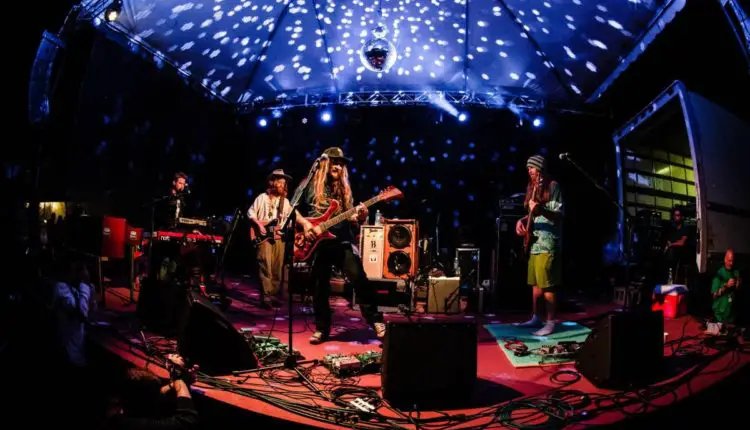 As far as music festivals in New York State go, there's one that stands just a little more Upstate than all the others. Located in Peru, NY, a mere half hour from the Canadian border, Backwoods Pondfest truly lives up to its name. The festival features a scenic backwoods campground that lies, naturally, next to a large pond in the heart of the North Country. For the eighth year in a row, Twin Ponds Campsite played host to both musicians and campers for a weekend that was filled with beautiful weather and live Upstate music.
The festival seems to pride itself in offering a spacious, relaxing camping environment that's both easily accessible and close to all the action. Campers in certain areas could easily hear the music emanating from the Main Stage without even leaving their site. Sets that alternated all weekend between the main stage and the Tent Stage, a smaller stage located a little further into the woods, helped make not missing a note of music all weekend a distinct possibility for some. Pondfest is also extremely dog friendly provided they're kept on leashes, a rule that seemed to be respected by everyone. All these elements just help add to the appeal of a smaller festival like this one.
Even with only two days of music, the 2014 edition of Backwoods Pondfest was still able to produce a weekend full of top notch music that featured several memorable and impressive collaborations. Under the only slightly gray and overcast sky of the weekend, Friday's action really seemed to elevate after a set from playonbrother featuring Alan Evans of Soulive. His new project features a new organ player, Kris Yunker, who was chosen to replace Beau Sasser who recently left the band to pursue other endeavors. Big shoes to fill indeed, and Yunker did a fine job along with guitarist Danny Mayer in accompanying Evans, who is a verified whirlwind on the drum kit, in crafting a sound full of soul, funk and the occasional hard rock. In addition to their spirited original songs, playonbrother has also been known to feature Cream covers in their sets and this was on full display here in the form a set closing "Sunshine of Your Love".
Festival hosts Lucid then played an acoustic set over at the Tent Stage in front of a rapt group of fans of the Plattsburgh based band whose members are prominently involved in the setup and production of this festival every year. When they're not helping out behind the scenes, Lucid traditionally plays one set each day of the festival and this year would prove to be no different. With guitarist Kevin Sabourin brandishing an acoustic model, the North Country rockers treated everyone to a set full of signature original songs and blues covers that helped keep the rising spirits and festival momentum going in the same direction.
Normally, a rap or R& B artist might have a "fish out of water" feel to them in a festival lineup full of jam bands and rock outfits like this one. However, Chali 2na was anything but this as he and his backing band House of Vibe led a now riveted crowd through a set of hip hop classics and originals on the Main Stage. A talented keyboardist on backup vocals and a more than sturdy rhythm section made sure this more than just set of rap songs but, rather, one that also encompassed elements of jazz, blues and even rock. This was also not even the first Pondfest appearance for one of the founding members of rap group Jurassic 5, as Chali 2na was also on the bill in 2010 by himself and in 2011 in a collaboration with Break Science. An act that may have raised some eyebrows at first glance seemed to win over the entire crowd and create nothing but smiles in the end.
With temperatures now beginning to dip in the North Country on a night that felt more like mid-autumn than late summer, the last act on the Main Stage was also no stranger to this Upstate festival. Twiddle, a Vermont based band that seems to be making a slow and steady ascension to national notoriety, played at the original Backwoods Pondfest in 2007. Their Friday night set showcased the group's lighthearted yet poignant songwriting that compliments a cohesive and infectious bed of music quite nicely.
This set was also where the communal atmosphere between different bands and their members really began to take shape as several notable sit ins highlighted the performance. First, Kevin Sabourin of Lucid returned to the stage to lend his guitar work to a full on "Fire on the Mountain" jam. Next, Scott Hannay of Mister F joined the Pondfest veterans and eagerly supplied his signature keyboard style on a performance of "Apples". Lowell Wurster, Lucid's percussionist and one of the driving forces behind the entire festival, also supplied some musical assistance with strong harmonica play on a cover of Johnny Cash's "Folsom Prison Blues".
Campers on Saturday awoke to a bright, sunny sky that never let up all day. Not only was the climate on this second and final day of music a beautiful one, but the music itself had a true Upstate New York feel to it seemingly from start to finish beginning with Capital Zen opening the festivities on the Main Stage. The Glens Falls based group helped serve as the day's first wake up call as they rolled through a set of high octane originals that showcased the band's clear hard rock influences while being mixed with Primus and Red Hot Chili Peppers covers. Scott Hannay, a former Zen member, once again lent his services with a spot on Les Claypool impression on a take of Primus' "Tommy the Cat".
Afterwards, the Upstate music train kept rolling along with a fine performance from Formula 5 in the Tent Stage. This is a group whose four members are from various areas in the Capital region who still seem to be getting their feet wet in the live music scene, but are clearly moving in the right direction. With a new album Edging on Catastrophe recently released. Formula 5 treated revelers under the tent to selections from that as well as impressive Jeff Beck and Deodato covers which show a group cohesion and technical proficiency well beyond the band's years. One of the highlights was a slow and extended "2001" that had everyone within earshot nodding in approval.
Things then got decidedly bluegrassy on the Main Stage as afternoon sets from Hot Day at the Zoo and Cabinet served as a breather of sorts before the closing acts of the weekend. Clearly picking up on today's musical theme, Hot Day at the Zoo even included a song called "Upstate Girl" in their set as well as a string version of "Cumberland Blues".
Established Upstate act Conehead Buddha later played on the Tent Stage and while they may be based downstate in Brooklyn, Turkuaz was one of the first heavy hitters of the evening and delivered the type of powerhouse set that's now expected from this ascending big band. Highlights included a standout version of "Bubba Slide", an original, as well as crowd pleasing cover choices in an up tempo version of The Rolling Stones' "Honky Tonk Women", a funked out rendition of The Band's "The Shape I'm In" and a set closer of The Beatles' classic, "I've Got a Feeling".
Another veteran Pondfest act then took over the reigns on the Main Stage as Spiritual Rez, playing for the seventh time here, led the crowd through a set of incredible music that had everyone singing and dancing along to this group signature reggae-funk hybrid of sound. Lead guitarist and vocalist Toft Willingham is a verifiable ball of energy and doubles as a legitimate comedic presence on stage. The entire band seemed locked in from start to finish and seemed to not only play but move in unison at parts. A frenetic large scale jam that included members of Turkuaz served as the crest of an impressive wave of music that was truly one of the highlights of the weekend.
The festival would not be complete, however, without one last set from Lucid to help close things out. The North Country natives took to the stage once more, this time the Main Stage, for another set of beloved classics and blues inspired covers. Wurster made sure to also take some time to thank those who helped throw this annual backwoods bash as well as the crowd. He later brought up "the best man he knows", his father George, to play some harmonica in what has come to be a festival tradition, if not a staple.
With music now completed on the Main Stage, the last act of the weekend belonged to Albany's Mister F who treated fans to hits from their recent release The F Stands Four in a set that may have been lacking in attendance due to the time slot but one that certainly didn't lack the energy this band seems to emit in every live performance. Songs like "This One Goes to 11" and "Vocoder" were executed almost perfectly as the Upstate psychedelic rockers offered one last go round on the dance floor before the book on this year's Backwoods Pondfest was finally closed.
With no music scheduled for Sunday, people were able to leave at their leisure on what turned out to be another day of gorgeous Upstate New York weather. Another chapter of this burgeoning music festival was now complete. Backwoods Pondfest may not be on the largest plot of land or offer the most extensive music lineup as some as other festivals, but with a beautiful, established home and a proven ability to present the very best in regional music, it'll undoubtedly be a fixture on the summer festival circuit for years to come as it continues to grow in size and splendor.