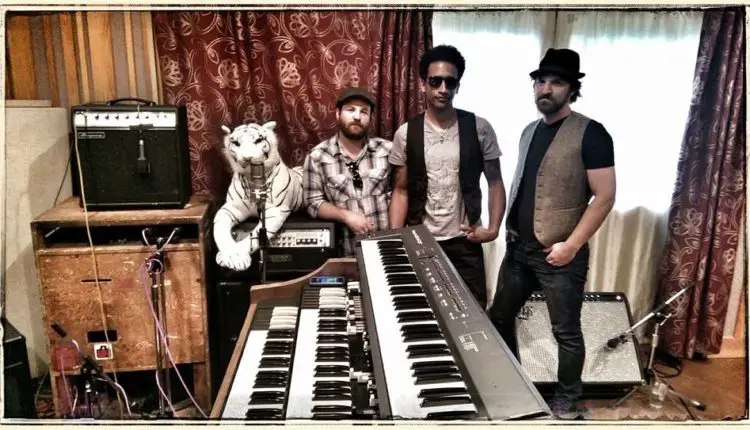 Alan Evans might be a seasoned vet in the music scene, but with a new member recently brought into Playonbrother, there's a freshness and excitement that has been propelling the band as of late. Just over a month ago now, longtime keyboard and organ player Beau Sasser left the group and was replaced by a new, yet familiar, face in Kris Yunker. To backup, Alan originally met Danny Mayer, Playonbrother's guitarist, when Danny's On The Spot Trio went to record at Alan's studio. The keyboardist for the group was none other than Kris Yunker, so when Alan had to begin looking for Beau's replacement, he didn't have to look very far.
The energy within the rejuvenated band is at an all-time high with Kris adding an element of musical excitement. The band has always been a creative powerhouse, churning out two studio albums in their short existence, but they are visibly feeling it now with the latest addition. Just four shows in to Kris' Playonbrother career, the band made a stop at Evergroove Studios in Colorado while on tour back on July 14. What was initially setup as a free, live webcast eventually turned into the first recording of the new arrangement. Listening to the show live, you could already hear the chemistry and potential the new lineup has. The album opens with two Playonbrother classics in "Who Dare Knock" and "Drop Hop". It understandably takes those two songs for Kris to get his feet underneath him, but as the band dives into the new material on the remaining tracks, it's clear to see what the newest member brings to the table. As a side note, the new music heard on this live cut will be part of their latest album that is set for release at the end of September. All and all, if you want to get a taste for this new lineup, you can listen or buy the EP here, or check out the video at the bottom of the article of the studio session itself.
If reading that get's you excited, the band is set to play a free show in Alan's hometown of Buffalo, NY tomorrow, Wednesday, August 13 at Larkin Square. Being that it's been over a month since the lineup change and having around twenty shows under their belt, Playonbrother is bringing a highly anticipated set back to where it all started for Alan. As for any show in his hometown, Al always seems to bring something extra on those nights, so make sure to head to Larkin and catch what the new lineup has in store for us.
Opening the night will be Buffalo's own, the Forealists. This is a band you'll want to make sure to arrive early and check out. They feature one of the top up and coming musicians in the Buffalo music scene in bassist Zuri Appleby. Her ability on the instrument far surpasses what you might expect a local musician to be capable of. Her talent alone should put whatever project she is involved in on everyone's radar, and that is on top of the other talented members of the band. What is extra special about the Larkin Square shows as well is the collaboration between the opening and headlining acts that closes each show. We saw local music critic Jeff Miers and his band mix it up with Aqueous just a few weeks ago and now there are high expectations, at least from me, to see what Wednesday's collaboration will churn out. As the title states, the show is free, so there is no excuse why you shouldn't stop down and check out two incredible acts tomorrow night. The show has an early start at 5pm, so don't be late!
Also to note, Playonbrother will be hitting a few other dates throughout Upstate New York in case you can't catch their show in Buffalo.  Check them out at the following shows:
8/14: Funk 'n Waffles in Syracuse, NY
8/16: Mazzstock in Marlboro, NY
8/17: Newbury Life Food & Music Festival in Buffalo, NY (FREE EVENT)
8/23: Bella Terra Festival in Stephentown, NY
9/5: Catskill Chill Music Festival in Hancock, NY
9/23: The Oncenter in Syracuse, NY**
9/25: Auditorium Theatre in Rochester, NY**
**in support of Tedeschi Trucks Band