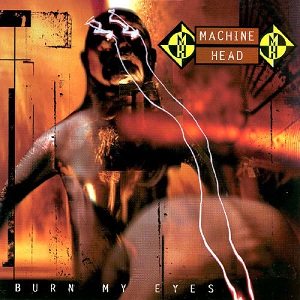 In 1994, Grunge was at its peak, fans of music were wondering where metal was. When Pantera started to make a name for themselves in the early '90s, another metal band started emerging out of the California bay area metal scene. Vocalist/guitarist Rob Flynn from Oakland, left his original band Vio-lence and started Machine Head. Teaming up with lead guitarist Logan Mader, Bassist Adam Duce and Drummer Chris Kontos. On August 8, 1994 they unleashed their debut and arguably their best album Burn My Eyes. Combining elements of thrash metal, street metal, hardcore, and groove metal. Machine Head became a force to be reckoned with.
The album starts with a bone crushing anthem "Davidian" which not only sets the tone for the album, but for setting the tone for Machine Head's career, and for a new generation of metal. "Davidian" contains the fastest and most killer drum fills ever in any metal song and the power rally cry of "let freedom ring with a shotgun blast" has been cemented to fans of metal everywhere. The duel guitars and harmonies of Flynn and Logan have been unmatched ever since.
The album rolls into what would be another iconic song "Old" showcases the street side of Machine Head. The band shows off their Oakland, California background with all the crime stories and gang-life that they dealt with. "Old" paints a powerful picture with moving lyrics and insane riffs. "Old" has been a staple in every live Machine Head show.
You can't help but feel like such as badass when you listen to this album. As you continue to listen, you get sucked in even more when you listen to "A Thousand Lies," "None But My Own," and "Rage To Overcome" before the album gets to the very haunting and disturbing "Death Church". There's no dull moment in this album. It's a master piece from start to finish.
It's nearly impossible to pick out a "best track" everything stands out. But the song with the most build up and emotion would easily have to be the track "I'm Your God Now". Later on, the album showcases a disturbing take on reality with "Real Eyes, Realize, Real Lies" which is montage of 1993 and 1994 news clips talking about riots, and the need for revolution against the American government. The album closes with "Block" which is loaded with a lot of catchy guitar parts which has become a trademark to Machine Head's sound.
Overall the album is still a masterpiece. Machine Head has released many fantastic albums but not even 2007's The Blackening matches how powerful Burn My Eyes was. The original lineup of Rob Flynn, Adam Duce, Logan Mader, and Chris Kontos were only together a very brief two years, but they made it count with Burn My Eyes. A reunion will likely never happen. After Burn My Eyes, three-quarters of that lineup returned for 1997's …The More Things Change before Machine Head took a turning point where guitarist Logan Mader left the band before The Burning Red was released. Since then, Logan Mader has become an acclaimed producer. He even produced Five Finger Death Punch's debut The Way of the Fist. And Chris Kontos sat behind the kit for thrash outfit Attitude Adjustment. Adam Duce and Rob Flynn stayed together until last year Flynn fired Duce from the band. Duce, recently settled a lawsuit against the band, Rob Flynn is the only original member of Machine Head left, but the band is still dishing out killer albums and putting on unforgettable shows. But it's time for the band to start playing more songs off Burn My Eyes because more of these songs need to be heard live.
Until then, let freedom ring with a shotgun blast!
Do yourself a favor and purchase Burn My Eyes here. It's a must own for any fan of metal.
Key Tracks: Davidian, Old, I'm Your God Now