Less than a week until Backwoods Pondfest ignites Upstate, NY with two days and nights of music filled fun. Backwoods offers plenty of live music, car camping, art and much more on August 8-9th,  in the beautiful Adirondack North Country. After 8 years, Backwoods knows how to book a kick ass lineup with acts like  Chali 2na and House of Vibe, Lucid, Spiritual Rez, Alan Evans Playonbrother, Cabinet, and many more.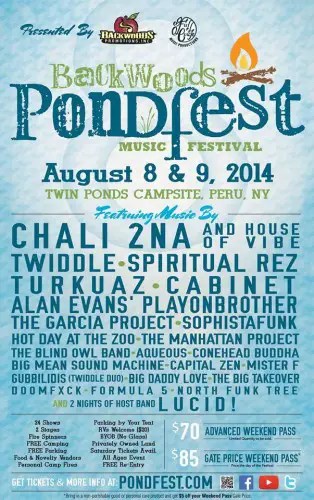 Our "Road to Backwoods" series continues with a look at Big Mean Sound Machine from Ithaca, NY. The band is comprised of over a dozen musicians that create a larger than life genre fusing symphony for the mind and body. Their live performances are a high energy afro-funk fest, as their studio work is crisp with tight experimental sonic grooves. Big Mean Sound Machine will be performing this Saturday August 2nd at Seed Stock which takes place at Reeds Seeds in Cortland, NY. The rain or shine all-day event is $20 for 15 bands with music starting at 10:45am and Big Mean Sound Machine at 7:30pm on the Front Stage. Their latest album, Contraband is available for free stream on Facebook or as a digital download for $7, cd for $10 and even vinyl for $20. Get familiar with the fierce and funky machine when they hit the main stage Friday at 5 at Backwoods Pondfest.
Tickets are still available for Backwoods Pondfest and can be purchased on their website here or at any show featuring Lucid, The Garcia Project, Capital Zen and North Funktree. Tickets are only $70 including over 20 bands on 2 stages with 2 nights of car camping. Bring a non-perishible good and receive $5 off ticket price if you buy tickets Day of Show. Be sure to follow on Facebook and Twitter for more to come from out "Road to Backwoods" series.