As Fox Fest approaches year five of its festival run, the growth of the event in its own right is noteworthy.  What began as a blending of three friends' annual parties, has now taken on a scale enviable by many regional festivals. Located in the pastoral hills south of Syracuse, Fox Fest is a non-profit event that annually donates its proceeds to honorable charities; this year's proceeds will go to the Cpl. Kyle R. Schneider Foundation, a local Marine who lost his life serving our country in 2011 while in Afghanistan.
The festival is organized by George Ryan and Kelly Nichols, held on their property in Navarino, and sponsored by a large group of local businesses, residents and attendees. There's a full professional production provided by Wizzard Sound Corporation including staging, PA system, and lighting, while local food vendors like Limp Lizard BBQ provide food and refreshments at reasonable rates. It's a family-friendly event that allows camping, coolers full of whatever you choose, and the open space to enjoy yourselves while security by Onondaga County Sheriffs keeps things safe, but not restrictive.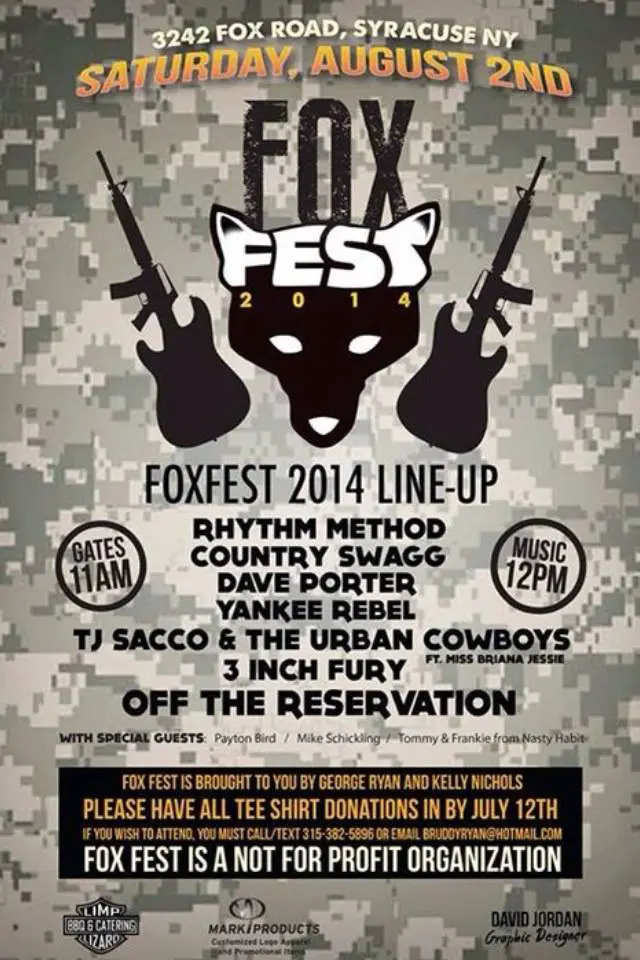 Each year, Fox Fest tries to bridge musical genres, bringing a little bit of a taste for everyone while keeping to a high standard of performance that matches their event. Previous headliners have included Childhood's End – A Tribute To Pink Floyd, Vinyl Albums – LIVE, Frostbit Blue and local favorites Emerald City. This year's roster features the return of TJ Sacco and The Urban Cowboys, Dave Porter (the former front man of regional legend and national recording artists 805) with his bass and drum robot, Bob, '80s metal monsters Three Inch Fury, and the remarkable Tiger and Off The Reservation as headliners. With twelve solid hours of music, including eight bands and three acoustic acts to play during change-overs, Fox Fest is easily one of the most musically diverse events of the year.
The event will be held on Saturday, August 2 at 3242 Fox Road in Syracuse, from 12:00 pm until 12:00 am. Admission is gained through a donation to the event which gets you entrance and an event t-shirt that functions as your ticket. $24.00 pre-pay includes the t-shirt or $25.00 at the gate with no t-shirt. Call or text 315-382-5896 OR e-mail bruddyryan (at) hotmail.com or gryan (at) billrapp.com and they'll send you a form or even fill it out for you! The donation deadline is coming up fast (July 11), and you don't want to miss out on "the biggest backyard party of the summer", so get your donation in soon to join a couple thousand of your closest friends!