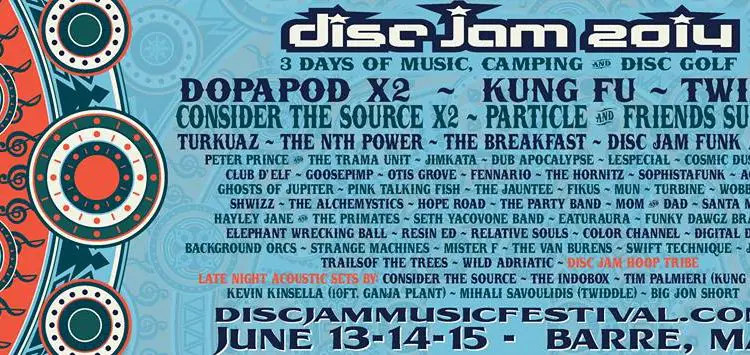 Get ready for a weekend full of great music, disc golf and a fresh location at the 4th annual Disc Jam Music Festival on June 13th-15th at Camp Coldbrook in Barre, Massachusetts. A little over two hours from Albany, NY and only a 1 ½ hour from Boston, Disc Jam is easily accessible in the middle of the New England area for those looking for a weekend getaway. You don't need to play disc golf to attend the festival but everyone will have access to the beautiful 18 hole course with two tournaments taking place over the weekend. The family friendly festival will feature over 50 musical performances with 3 stages plus a late night silent disco as well as acoustic stage. Headliners include two sets each of Dopapod and Consider the source, plus performances by Kung Fu, Twiddle, a Particle and Friends Super Jam, plus many more. Disc Jam has released their daily schedule, sobe sure to plan ahead so you don't miss a second of the jam packed weekend!
Changing locations within a month of any festival is a very risky move but the new location of Camp ColdBrook allows festival goers access to more late night music at an indoor music hall until 3am, plus access to a full bar, arcade, swimming pool and the traditional golf course. "We know that it is kind of late in the game, but in the end, we feel that the move is the right decision and hope that all of our attendees will feel the same way once they have seen this beautiful new site," said festival promoter Tony Scavone. "While we have enjoyed our time in Brimfield, MA, we feel that Camp Coldbrook is better suited for what we are trying to accomplish with Disc Jam and that this new site will provide for the enjoyable experience possible for our attendees, which in the end is our main focus."
The intrigue 18 hole disc golf course is open to all festival goers wearing their Disc Jam wristband, with two tournaments taking place over the weekend. Saturday's Tournament is a two round, singles tourney in three divisions: Pro, AM and Women, while Sunday's tournament will be a one round doubles-partners event with prizes given out to those in all categories. Besides disc golf, the festival offers multiple activities such as yoga, wellness meetings, hula hoop workshops plus live painting and installation artists.
Tickets are still available online with the 3-day music and camping pass set at $100 with VIP at $200. Those looking for a 1-day music pass for Saturday or Sunday, plus the disc golf tournament is $70. Day passes are available for each day at the gate only and allow you to see all the main and side stage acts but no silent disco or late night bands. It's an easy walk from the parking lot to the campgrounds that are set up in a clean and dry flat area of land. Private woods camping is available in the VIP package plus there will be the quiet Family Camping area. Children under 12 years old are free but must be accompanied by an adult at all times.
Disc Jam is setting up to be the highlight of this year's festival season with something for everyone of all ages, so be sure to grab tickets well they still last and check out 's top five must see acts of Disc Jam: Aqueous, Shwizz, Sophistafunk, Fikus, and Cosmic Dust Bunnies.
Aqueous is one of Upstate's own, representing Buffalo, NY with their high energetic funkified rock jams.
[youtube http://www.youtube.com/watch?v=6h_wZlUAJ9g]
Shwizz is a progressive rock and jazz band from Nyack, NY that has been a part of major festivals on the North East music scene such as The Catskill Chill, Gathering of the Vibes and now, Disc Jam!
[youtube http://www.youtube.com/watch?v=t64c4YretvY]
Sophistafunk, the trio from Syracuse combine old school hip hop with new age funk, making for a unique electronic and live band experience.
[youtube http://www.youtube.com/watch?v=VLBTa560NRU]
Fikus uses electronic beats, edgy rock fused funk and crisp vocals to create tight jams.  Be on the look out for their new album, Living Life Through Multi Colored Scenery, coming July 1st.
[youtube http://www.youtube.com/watch?v=JaysX77oCxU]
Cosmic Dust Bunnies intergalactic wavetronica, all improvisational jams have earned them a slot as Gathering of the Vibe's Road to Vibes Contest winner and more importantly, this year's Disc Jam.
[youtube http://www.youtube.com/watch?v=cjbGJb22oYs]