1994 was a pivotal year for rock music. Rock and grunge ruled the charts, but mainstream metal was nowhere to be found. However, Biohazard's career began to peak after the successful run of 1992's Urban Discipline and exposure from the music video for "Punishment" on MTV's Headbanger's Ball. Biohazard was the top act coming out of the New York City's hardcore scene and becoming one of Brooklyn's finest. But on May 24, 1994, State of the World Address was unleashed to the masses that truly showcased Biohazard at their best.
1State of the World Address was produced by Ed Stasium, who is well known for his work with The Ramones and Living Colour. This album is loaded with brilliant rifts and guitar solos from Bobby Hambel. The duel vocals of Billy Graziadei and Evan Seinfeld are raw, brutal, and heartfelt, especially on "Failed Territory". Danny Schuler's drumming is bone crushing and brilliant. Just listen to "Tales From the Hard Side," the beat to that song is just insane. Biohazard continued their trend cross over trend by bringing in Cypress Hill's Sen Dog for "How It Is" which is real stand out on the album as well.
Even to this day, the album's political views are still relevant, especially in "Remember." The album really paints a picture on New York City street life with tracks like "Down For Life," "Tales From The Hardside," and "Five Blocks to the Subway" (a personal favorite). The album will get you amped up every time you listen. It's a must own album for any fan of metal or hardcore.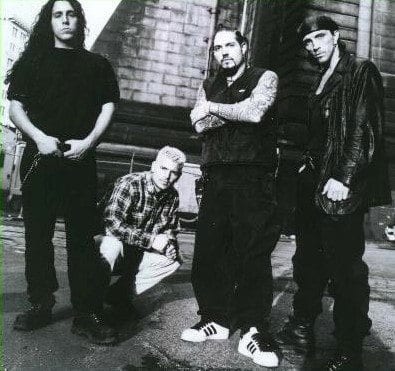 State of the World Address was the last album that the original lineup of Evan Seinfeld, Billy Graziadei, Bobby Hambel, and Danny Schuler for almost 18 years. Their unique chemistry is unmatched. You can buy the album here.