Lucid is the top band in New York's smallest market yet perform quite well in the larger markets throughout Upstate and beyond, making them true underdogs in the Upstate New York scene. This passion to prove their mettle has netted the band of 10 years a recent hit album, Home is Where We Wanna Grow, their own music festival, Backwoods Pondfest, a following of passionate fans, and of course, their iconic bus 'Lucy'.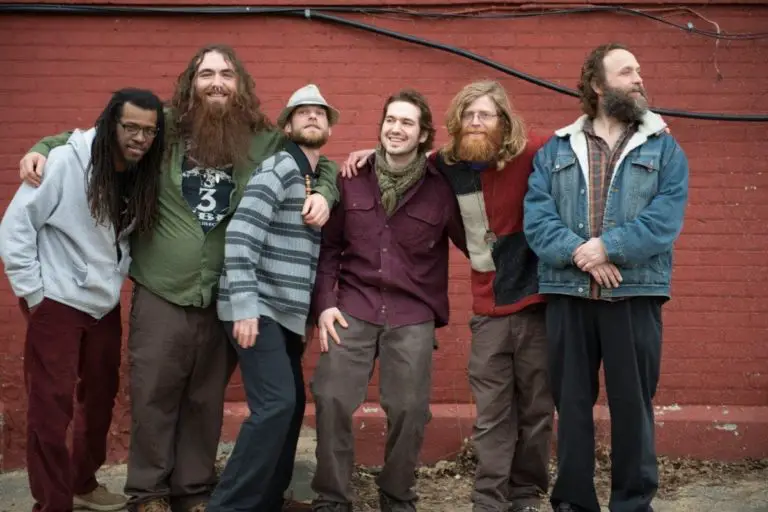 Champions of the inaugural March Madness tournament, Lucid embodies the North Country spirit and is one of the most successful acts to come out of the region. Playing a mix of rock, jam and funk and self-described 'wood rock' in their powerhouse performances, Lucid mixes the sound of six members to create a sound that can be imitated but not duplicated. Featuring Kevin Sabourin (guitar), Lowell Wurster (percussion/harp), Jamie Armstrong  (saxophone), Chris Shacklett (Bass), Andy Deller (Keys) and new addition Chris English (drums), the future is bright and the potential for a burst out of the Upstate area seems imminent for the septet from the northern 518.
Pete Mason: How did Lucid first start out?
Lowell Wurster:  Kevin (Sabourin), Jamie (Anderson) and Nick (Sauvie, our first bass player) played with a few different people, just jamming mostly, who found our first drummer, Ryan "Rippy" Trumbull. I knew Jamie and Kevin from growing up in Plattsburgh. One day I saw Jamie walking and we got to talking; he said he was playing with some guys and to come check them out. I went and really dug what they were doing. They were having so much fun and I asked them if I could come to a practice and jam a bit. After practice they asked if I wanted to be in the band! A few months later we were playing a show in Plattsburgh at this horrible place called Maggie's and had a friend sitting in on keys. There was this dude (Andy Deller) yelling to our buddy what the key changes were. At break we asked our friend Steve who that dude was and he told us his name was Andy and a great key player at that. He played with us the whole second set and the rest was history. Five years later our bass player Nick wanted to pursue higher education instead of being in a band. We had a few fill in bass players until St. Patrick's Day five years ago we had Chris Shacklett play a show with us, and it was like magic; he fit right in. That night on the bus ride home we asked him if he wanted to join and he said yes. After our first big tour down to Florida, our original drummer, Rippy decided he didn't want to travel anymore. As sad as it was he decided to leave. we tried out a few different drummers and we asked Kyle Murray to join the fun. He rocked with us for about a year and a half. Kyle decided life on the road wasn't for him and wanted to phase out as our drummer, then just like magic, Chris English popped up at the perfect moment. By the grace of God, Chris decided Lucid was exactly what he needed in his life and we knew he was exactly what we needed in ours. Chris moved up to Plattsburgh about two months ago and shit is beautiful now.
Jamie Armstrong: Sabo, Nick (our original bassist) and I were spending time together playing music and hanging out. Stumbled into it really. Andy, Lowell and Rippy (our original drummer) came along shortly there after. We all had mutual musical interests and loved hanging out together, so naturally the band grew more and more over time as we bonded and our music developed. As some members decided to leave (as things started getting more committal) along the way, we've seemed to have perfect luck picking up new members to fill the role and evolve the band in a positive way. Great examples of that are Chris Shacklett, who joined on bass in 2009 and Chris English who recently joined on drums.
Chris Shacklett: I joined the band about four years after the initial formation. The band formed for me when I graduated from Plattsburgh state in 2009 without having any idea how I was going to be an "adult". Everything felt right from the very beginning and every place in time the band has taken me has been exactly where I needed to be. For my whole life I knew music was the main element of my being, but I never seriously considered playing music to be a career until I joined Lucid.
PM: What are Lucid's main influences on their music and style?
Jamie Anderson : The band itself is very eclectic. We draw on many styles as we all have differing musical backgrounds. If I could some up a style for Lucid it would be 'homegrown blues Americana.'
Andy Deller: I think our home is the main influence. That and a stubborn refusal to pigeonhole ourselves in any kind of way. It's hard to point to other artists that are influences. That is to say, each member brings his own particular influences. Our tastes do intersect; I don't think there is a one of us who would say they did not like Zeppelin or The Beatles or Hendrix. But I am the only avid Rush fan I know of in the band, and the other fellas have their particular favorites. So we each bring our own thing to the total sound.
Chris English: My main musical influence and style is all over the map. I'm into a lot more local artists than anything. Some of the music I started listening to at a early age include Donny Hathaway, The Clark Sisters, Buddy Guy, Paul Simon, Grateful Dead, The Funk Brothers, Stevie Wonder, and many more.
PM: What separates the North Country from rest of Upstate? What makes it distinct?
Kevin Sabourin: Wilderness, a deep appreciation of nature and life that comes with being a fairly self-reliant people who are hard working. Crafts people, music loving, tough, rugged and beautiful, like the surroundings in which we live.
Andy Deller: What separates us from the rest of Upstate is the Adirondack State Park, to be geographically obvious. We're maybe a little more backwoods and redneck than the rest of Upstate – not that there's a value judgment on that. It's neither better nor worse, just different. To be more serious, I think the people in our area really make the difference; I've never seen audiences more gracious, more open to something new and different, or more ready to dance.
Chris Shacklett: I don't think there is any separation. Separation is not conducive to the band's purpose. I may be saying this because I believe my scope of the North Country or Upstate is not broad enough to draw any borders.
Jamie Armstrong: We live way up here in the Northern Adirondacks. Next to Lake Champlain. Fresh air! Being sandwiched between a beautiful mountain range and a huge blue lake is all I need. And the geographical diversity reflects in the people who live up here. The music community is encouraging.
PM: For those who don't live there or venture north, what is the music scene like across the North Country?
Chris Shacklett: Don't tell me this town ain't got no heart. You just gotta poke around.
Lowell Wurster: Well we are spread out up here, but there are amazing pockets of music lovers spread out around the ADK's. Beautiful little communities that love original music. Folks up here look at music as a necessity, not a luxury. I've never met bigger music lovers then in the North Country. Plattsburgh is undergoing some amazing changes and I'm really happy and excited to be on several different community action boards that are helping spread art and music around the area. Saranac Lake is amazing and filled with real folks who thrive for music; their Winter Carnival is something to behold, hearty folks up there. I love it up there, right in the mountains and cold as hell. Backwoods Pondfest has brought tons of amazing acts to the North Country over the last eight years and with its continued success shows the thirst these mountain folks have for original music. They can't seem to get enough.
Andy Deller: Well, because of the audiences I described above, the scene is VERY diverse, creative, and supportive. On any given night you can stroll through Plattsburgh or Burlington and find any number of different styles – rock, blues, funk, reggae, metal, jazz quartets, and brass bands. What I truly love is the cross-pollination: people from highly diverse bands getting out and jamming with one another in impromptu acts. It happens all the time here.
Jamie Armstrong: It's very rich, with a wide array of styles and ideas floating around, but all held together by a supportive arts community. There's a lot of support up here. Kids are movin' and shakin' and motivated. That goes for our community in general. A lot of great people are trying to make positive change all the time!
PM: What other musicians do you think also encompass the spirit of the North Country?
Kevin Sabourin: The Blind Owl Band, who have the same North Country work ethic and attitude that we do of going until the job is done and playing long hours and working hard.  The crowd has been busting there ass all day working, building farming, so we have to work as hard as they do for them.
Lowell Wurster:  The one that immediately comes to mind is The South Catherine St. Jug band from years and years ago, Sven Curth (who plays solo mostly) but is in the band JIM who plays a few times a year and is made up of some of the North Country's best.
Andy Deller: The local artists that don't receive much press, and maybe even avoid it: Trinity Park Radio, Will Scheifley, and his on again off again Shameless Strangers, Mike Pederson, Giovanina Bucci, Catie Wurster and her band Doomf**k – the list can go on and on. We have a huge, hugely diverse, and highly active music scene up here where people can take the time to have some real professional fun, and it's all thanks to the audience – the people of the North Country.
Jamie Armstrong: I guess to sum it up, there's a lot of musical diversity in a very tight knit community up here in the mountains. People are trying to make things happen in a positive way up here. We love it.
Chris English: I can say George Wurster is the spirit of the North Country. I love that guy.
Catch Lucid on tour this summer throughout New York and select New England dates, wrapping up with the Lucid-hosted Backwoods Pondfest Music Festival.
May 7 Firehouse, Rochester, NY
May 8 Spring Revival, Macedon, NY
May 9 Nietzche's, Buffalo, NY
May 10 Keegan Ales, Kingston, NY
May 16 Shake the Mountain Festival, Solid Rock Ranch, NY
May 22 Blarney Stone Pub, Norwich, NY
May 23 Olive's, Nyack, NY
May 29 Nanola, Malta, NY
May 31 Main Pub, Manchester, CT
June 10 Church, Boston, MA
June 12 Theos BBQ, Springfield, MA
June 20 Shepard's Cove, Lake George, NY
July 25-26 BRYAC, Bridgeport, CT
August 8-9 Backwoods Pondfest Music Festival, Peru, NY