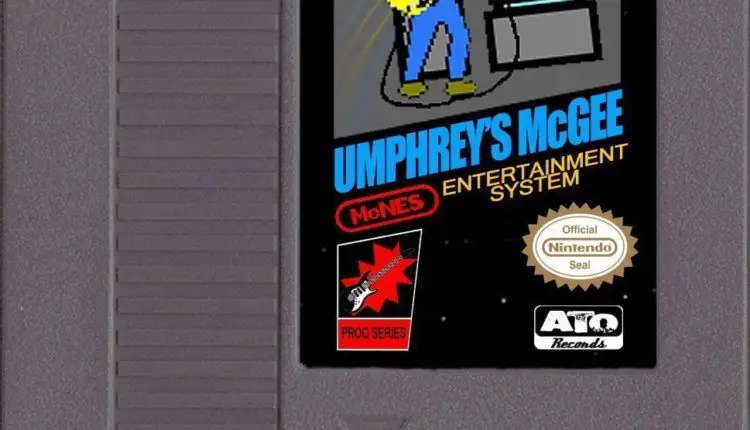 As Geek Week continues, we catch up with Scott Hannay, keyboardist for Mister F, who also happens to have one of the geekier methods of composing music. Using software and Cakewalk SONAR, Scott rebuilt Umphrey's McGee songs into the style of NES (Nintendo Entertainment System) songs, sounding like they came right out of the 8-bit games from the 1980s. With over a dozen tracks of Umphrey's McNES and sit-ins with Umphrey's, Scott has created one-of-a-kind remakes of the original tracks. He spoke with Editor-in-Chief Pete Mason to discuss his long running McNES music and how these tracks initially came together.
Pete Mason: How did you one day decide to develop Nintendo remixes of Umphrey's McGee songs?
Scott Hannay: When I was 15, I used to transcribe old school Nintendo video game music – entire games' soundtrack – to sheet music and MIDI files for fun (and instead of homework, usually) and learned a lot about the structure of the 8-bit NES sound chip in the process. I dealt with the limitations, workarounds, ways the old music programmers would simulate chords, making sounds, etc… Fast-forward to 2004, when I learned of Umphrey's McGee and had been listening to (and absolutely loving) live recordings for a while via etree.org torrents, but never owned a studio album. At one point I visited my friends from Michigan that I'd met that year at moe.down who introduced me to UM, and they had the Anchor Drops album. When "Miss Tinkle's Overture hit", I knew right away what I had to do.
[soundcloud url="https://api.soundcloud.com/tracks/77980449″ params="color=ff5500&auto_play=false&hide_related=false&show_artwork=true" width="100%" height="166″ iframe="true" /]
PM: What challenges did you come across in lining up an Umphrey's song to be developed in the NES format?
SH: I hit many hurdles along the way. In the beginning, I still didn't have any studio versions, and listened to the live versions of songs, sometimes pretty rough AUDs where I couldn't always hear exactly what the bass was doing in this one spot, or the kick drum in another spot, and maybe the keyboards were muddled. To add to this, the NES can only make 5 sounds simultaneously – two square wave (lead) channels, a triangle wave (bass, mostly) channel, a white noise (cymbals, most snares, some SFX) channel, and a 1-bit DPCM wave (kick drum/toms, voices, some SFX) channel. For those keeping track, let's recall here that that's only 5 sounds at once – to try to represent the sound of a band with 6 people, each with 10 fingers across their two hands, making an exponentially larger number of notes than I could even begin to use at once.
So much had to be either sacrificed or compensated for, like chord simulation for example. It's a very signature sound on the NES – instead of playing a bunch of notes at the same time (which you mostly can't), you've got to alternate the notes so inhumanly fast that it actually sounds like a chord. I try to be a purist to the NES capabilities 99.5% of the time. Their live versions also weren't as definitive as an album version would be – there would be a lot of jamming sometimes, and I had to find the common denominators between many different versions of the same song. Oh, and one day, after I finally had some studio stuff, I started making my version of "Blue Echo". I was too lazy to get up, walk across the room, grab the album, walk back across the room, and put it in, so I just started making it from memory. I ended up finishing it that way too, and when I finally listened to their version, I only had to change out two notes in one part each time that part came around – I learned no lessons about being lazy on that day. I guess this last one wasn't really that much of a hurdle.
PM: What equipment do you use to create these?
SH: I use just a simple piano roll-style editor and my ear to input notes in Cakewalk SONAR. The sounds come from a sample bank I found online long ago that sounded almost perfect – if you like out-of-tune music. I went through and tuned all the note samples, organized them by instrument, stereo panned them (in)appropriately. NES audio is supposed to be mono (there's that other .5%) and ReWired the sounds into SONAR using Reason. Additionally, I have an NES cartridge (appropriately called MIDINES) that has a MIDI cable coming out of it that I can use to run one of these sequences from my computer. It's not reliable enough to use for my regular tracks, but it's certainly something special to hear something you've made playing through a real NES. There's a video of my version of Prowler playing through it on YouTube.
PM: Was there any word back from Umphrey's after these started circulating among Umphrey's fanbase?
SH: Before I had even seen Umphrey's live for the first time, I had already completed three remakes – "Miss Tinkle's Overture", "Bridgeless" and "Prowler". Well, kind of finished. They all faded out before the end. But I thought of them as being as complete as this silly project needed them to be at the time. I posted them to The Bort, an Umphrey's fan message board, to see if anyone had the same weird idea I had about their music. The reaction was great! I ended up finding a very supportive community surrounding Umphrey's. That was impressive to begin with. When I first saw them at Revolution Hall in Troy, NY on 12/7/04, I introduced myself to them after the show and handed them burned discs with the songs. They all gave me hugs and told me someone had already burned it for them somewhere across the country, and they'd already heard and loved it. Brendan Bayliss even told me he showed them to his mom.
This all blew my 20-year-old mind – that my favorite band out there was cool as hell, really appreciated what I'd done, and had actually heard something I'd made before I'd even met them. Since then, I'd stayed in correspondence with them and eventually was asked to play with them in at the Calvin Theater in Northampton, MA on 4/8/09, and I managed to sit in again in on 11/4/10 at Higher Ground in Burlington. They are very gracious people. I still can't believe I got those opportunities when I did. I had at that point just finally broken into being in a jam-scene-friendly band – Capital Zen – and suddenly I had also become an asterisk on Umphrey's setlists. I also have a track on their Soundcloud ("Miami Virtue") and have had a track featured as bonus content for their album Mantis ("1348").
PM: What songs do you hope to convert in the future in the McNES style?
SH: Lately, I've mostly been making remakes for Northeast-based bands, including the likes of Dopapod, Kung Fu, Twiddle, and Aqueous. I've had tracks featured on official lespecial and MUN releases, and another brand new one I made for Elephant Wrecking Ball will be on their upcoming release! What I consider to be the hardest one I've ever done for anyone is still currently unreleased – I'm so terrifically proud of it and really can't wait for it to surface. I can't give it away, but rest assured it's from some unbelievably good source material. I'll also be doing one for my band, Mister F, in the near future. However, there are a bunch of older Umphrey's McGee songs I'd still love to remake someday. "Hurt Bird Bath", "All in Time", "Slacker", "Utopian Fir" … one of these days! I am also considering doing something from their upcoming album, Similar Skin, just for good measure.
Check out Umphreys McNES on Facebook and Soundcloud, as well as  Scott's NES remixes of other bands