On Friday, November 26th, 2021, Vermont jam act Twiddle celebrated "Frendsgiving" (the day after Thanksgiving) with a rich and impressive display of their patented hi-def shredding for a nearly sold-out Capitol Theatre venue in Port Chester, New York.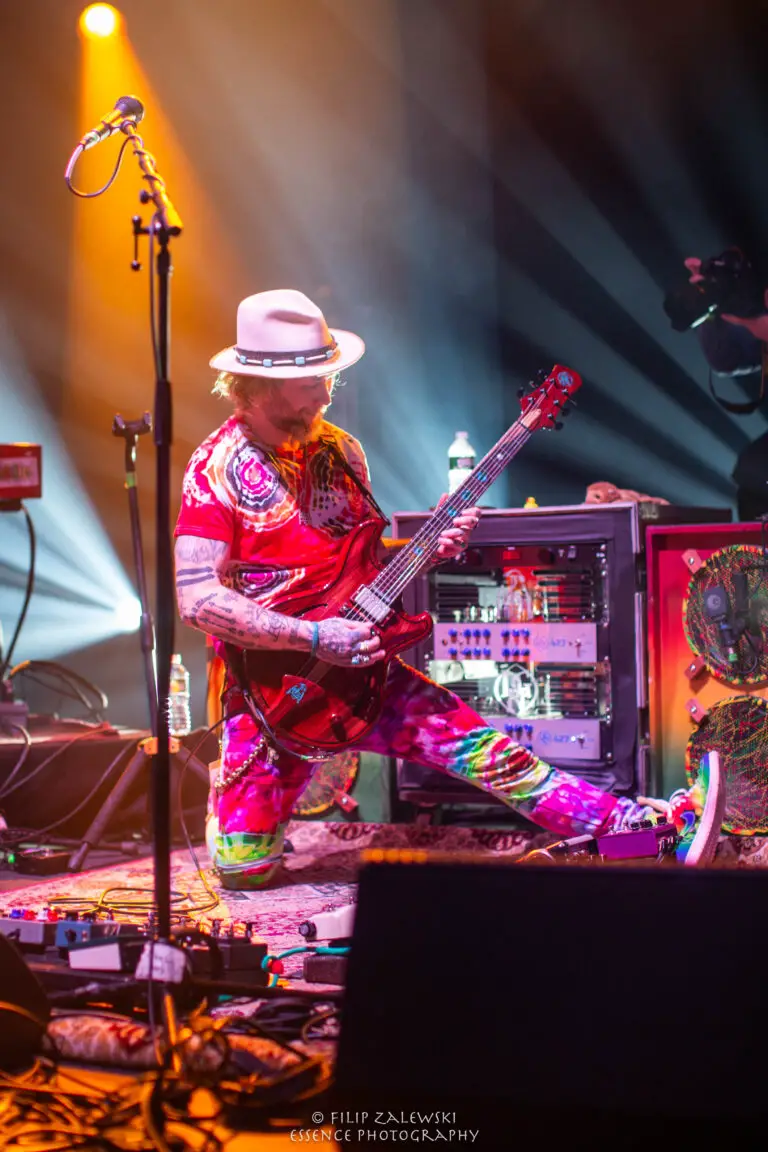 Formed in 2005, the quartet of Brook Jordan (drums), Zdenek Gubb (bass), Ryan Dempsey (Norb) (keys) and Mihali Savoulidis (guitar/vocals) have quickly ascending the ranks as one of the most buzzed about bands in the jam scene with the most popularity this side of Phish and Pigeons Playing Ping Pong.  With an infusion of jazz, classical, bluegrass, funk and a heavy dose of reggae-tinged jams, Twiddle is a unique experience.  It may seem an impossibility that one state would be the home of two of the greatest jam bands in the country, but Vermont can currently boast just that.  Twiddle fans are very active on the "iTwiddle" Facebook Group page, which serves as a gateway for information, tickets, discussion and show details. Twiddle is seemingly always touring and pleasing their fans with a massive summer festival circuit.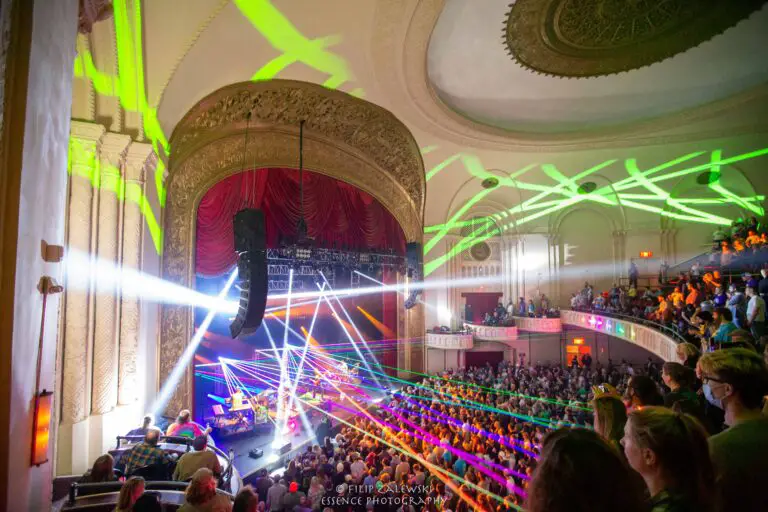 Since 2004, Mihali Savoulidis has consistently elevated Twiddle to unparalleled heights on the winds of his articulately nimble six-string sorcery, genre-bending essence, and soulful vocal eloquence. The Vermont band has headlined hallowed stages in front of sold-out audiences at Red Rocks Amphitheatre and Capitol Theatre in addition to making show-stopping performances at Bonnaroo and Electric Forest and hosting their own annual Tumble Down Festival.   Twiddle treats their fans with gratis live show recordings on archive.org.  The band has released eight records thus far and specific critical acclaim was directed towards 2017's Plump.  The boys are also well-respected for their involvement in raising funds for their philanthropic White Lights Foundation.  One can find info and merch at www.twiddlemusic.com including the most recent musical releases 10/28/21 Eugene and 10/24/21 Santa Clara!
The band has embarked on an ambitious tour this fall season with two stops at The Cap.   A virtuoso, constantly showing off his songwriting prowess, Mihali has a refreshing and inspirational outlook on life and coined the phrase "relax and dream." Having often been labeled by many as "the next Phish" for years,  the band delivers a vastly different experience. The Vermont-based quartet held the last three Frendsgiving runs at the Port Chester, New York venue from 2017-2019, and each year has been chock full of surprises and epic sit-ins.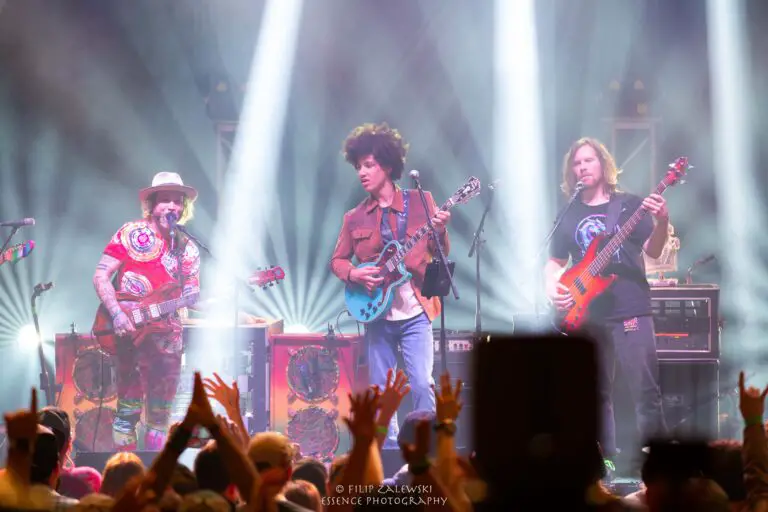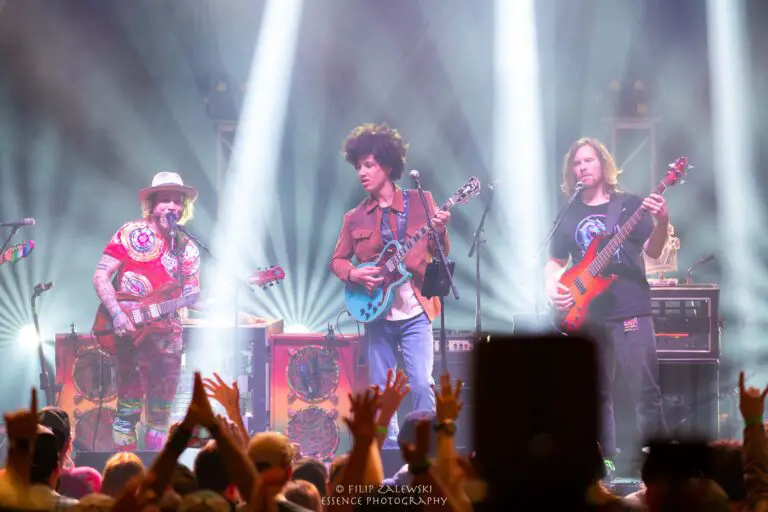 The show Friday night contained many highlights including at 8:08pm when noted troubadour and looping master, Keller Williams, took the stage for a subtle yet electrifying set which culminated with a spicy "Scarlet Begonias.'  Twiddle faced an eager and enthusiastic crowd at 9:34 and delved right into a racous "Zazu's Flight."  The New Jersey-raised Mihali, dressed in a red tie-dyed outfit complete with tie-dyed sneakers, led the way with long and complex improvisational jams.  He was like a knight in shining armor wearing a white hat.  The fifteen minute high energy opener showcased each of the band member's talents with numerous solos. 
The music was buoyed by Dempsey's intense fills and Jordan's heavy hitting behind the kit.  The crowd responded with adulation at the line "Damn I smoke a lot of weed!"  The song segued into a tight "Doinkinbonk" and it was danceable until the music turned heavier with the offering of the fun, "Too Many Puppies" where Gubb took over the lead in a rare show of vocal force.  There was an intense light show with lasers shooting out into the crowd at various angles and speeds.  The crowd plowed through the old ditty "Amydst the Mydst" with authority playing like grizzled veterans as a cohesive unit.  At times, Mihali proves to be the master of the axe and he explores new worlds using crescendo to create an effective musical peak.  Keller walked out with his acoutisic, creating a fine mix with the band, for an intricate set closer of "Best Feeling."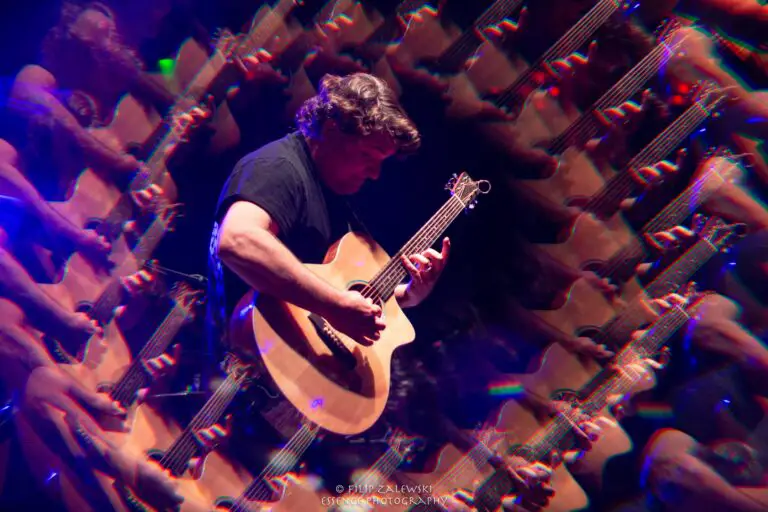 The classic song "Apples" opened the second set and delivered just the right tone as an impetus to get the crowd involved for another set of music.  It was a lengthy inspired take on the band staple complete with a riff that was reminiscent of Phish's "Contact." One of the best songs on Plump is "Every Soul" and this crowd-pleasing version shared here didn't disappoint.  With Norb, adorning a hockey jersey, pounding hard on his five keyboards to lead the intense underlying groove of the tune. The crowd was in a frenzy at this point with the danceable interludes in full effect.  Fan favorite and regarded by casual fans as their best song, "Lost in the Cold" ended the second set in a special way.  One time child-prodigy, Brandon "Taz" Neiderauer,  joined the fray on stage, trading guitar licks with Mihali as only he can adding an adrenaline rush to the proceedings.  The reggae-soaked song hit a bouncing level of ecstasy for those in attendance and the band meshed well with Taz.  He rejoined the boys for an electric "All Along the Watchtower" encore that would have made Hendrix proud.  It was an apropos choice considering Dylan had just played the Cap 2 days before.
When asked about playing someday at the Cap in in 2014, Mihali told me, "The ultimate goal is to get the band to the next level and headline the Capitol Theatre. To get a chance to play at the Cap at some point is insane. It's a legendary club."  Mihali had dreams and now he can relax knowing he has reached such a lofty goal. They have come a long way since 2004 when Mihali and Ryan were collaborating in their freshmen dorms at Castleton State College and then playing bars and people coming out to hear "Jamflowman" over a decade ago. Now they are bonafide superstars. Don't forget to catch their New Years show in Worcester!
Twiddle 'Frendsgiving' – The Capitol Theatre, Port Chester, NY – November 26, 2021
Set 1:  Zazu's Flight, Doinkinbonk!>Too Many Puppies>Keep Going, Amydst the Myst, Best Feeling1
Set 2: Apples > Every Soul > Apples, River Drift, The Box, Slippin' In The Kitchen, Lost In The Cold2
Encore: All Along The Watchtower2
1 w/ Keller Williams
2 w/ Brandon "Taz" Niederauer
Twiddle 'Frendsgiving' – The Capitol Theatre, Port Chester, NY – November 27, 2021
Set 1: Blueberry Tumble, GooBerry Jelly, Blueberry Tumble, Hattie's Jam, When It Rains It Pours, Daydream Farmer1, Earned To Keep, Mildew Man, Stroganoff
Set 2: Complacent Race, Collective Pulse, The FRENDS Theme, Latin Tang, Tiny Dancer2, Brown Chicken Brown Cow3
Encore: Beethoven and Greene
1 Find Your Cloud tease
2 w/ Scott Hannay & Jake Brownstein (Eggy)
3 w/ Zazu's Flight Reprise