Downtown Albany has more than a few hidden gems among the myriad of businesses, state and local government buildings, cultural attractions, restaurants and bars in the historic area. Among them is Franklin's Tower, a restaurant and music venue that has thrived for 10 years on Broadway and brought an exceptional menu that pairs favorite local musicians together in an historic setting.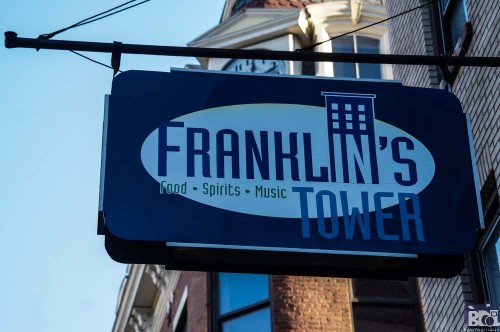 A Unique Music Venue
Opened at the location of the former Plaza Grill in September 2004, owner Patrick Hall came up with Franklin's Tower as a name that resonated with the Deadhead and as such has attracted local bands such as Sirsy, Hair of the Dog, Tim Healy Band, Scotty Mac and the Gold Tops, The Deadbeats, The Garcia Project and many more. Musically oriented and passionate, Hall has sought to convey his musical influences into Franklin's Tower and developed a client base that comes for the music and stays for the food and ambiance. Music is only part of the attraction of Franklin's Tower, but one that live music fans should not overlook, especially with an upcoming performance by Grateful Dead historian David Gans and Sycamore Slough String Band on May 9th. The middle of 11 siblings (and twin of Paul), Patrick was turned onto music very early on and saw his first Dead show in 1976 at Colt Park in Hartford.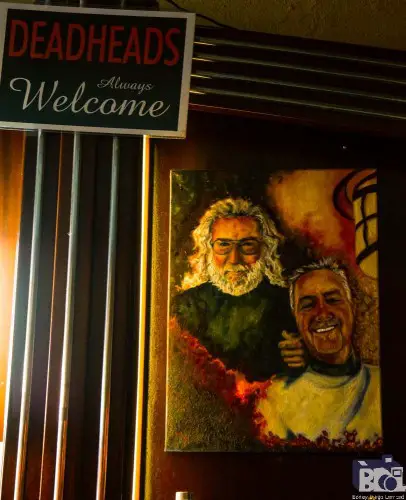 When it comes to the menu, credit is shared among Hall, Justin Enginiri (a culinary graduate from Johnson and Wales) and head chef Oscar Sanchez who has been with Franklin's Tower since the beginning. The menu features sandwiches and entrees that reflect the history of the building and the area, including delicious pulled pork, tasty chowder, burgers, salads and an eclectic lunch menu.
A Location Steeped in History
The building, located at 414 Broadway, was erected in 1819 and served as an apothecary, a hat factory and a hardware store, among other businesses, and the history of what the building has been since is featured on the menu Link. In 1919, 414 became a bar, with Anheuser Busch installing the mahogany-top bar if they would sell their product. Following suit in those years was Albany Democratic chair Dan O'Connell who had beers of his own, and if you didn't sell his beer, you didn't have business, simple as that. In that vein, an original Hedricks beer neon sign hangs across from the bar, above an old canteen that sold liverwurst sandwiches, soup, beer and shots for local works. Babe Ruth came up to see the Albany Senators baseball team and drank with the team at the bar on occasion.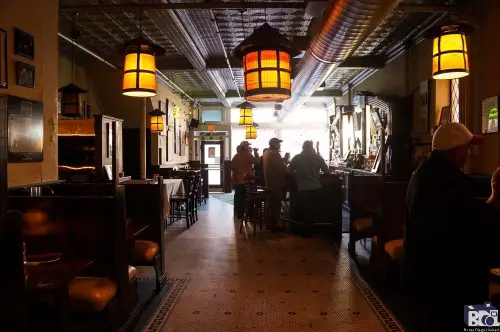 For 70 years, the building was owned by the McCaffrey and Tenczar families, the latter of whom Hall purchased the location from after 24 years as a food service manager. In the 1990s, Plaza Grill was a hotspot for politicians, with Johnny Night Train spinning records as it became a popular dance spot. With a 2nd floor dining room and 3rd floor catering space – both with full bars and grand views of the SUNY administration buildings (formerly the Delaware and Hudson Building and Albany Evening Journal Building) – there are prime spots for when you want to have a private party or meeting. The view and history emanates from the walls of this brownstone turned gin mill turned bar turned restaurant. The décor is art deco, cleaned up a bit from the decades of smoking in bars that left a film on the walls and features a great deal of photographs and paintings of musicians that are connected to Patrick's passions.
Revisiting Downtown Albany
When it comes to downtown Albany, Hall remarks, "some people think downtown Albany is like downtown Alaska," a not too far off comparison in an area chock full of local businesses that would otherwise thrive in a Saratoga or Austin setting, which Hall feels Albany could be like, with the right effort. Disappointed in the lack of effort from creative minds to make downtown a destination, Hall sees the potential in the downtown area. "Younger people want to live downtown and in cities, not in the suburbs," and with nearly 100 new apartments going in on Broadway this year, the hope is that more business will come to the lower Broadway area and all of downtown Albany.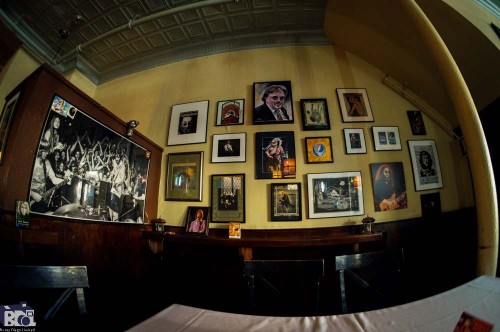 With these developments, Hall is "encouraged more than I ever have been", with the hope that "new Mayor (Kathy Sheehan) will walk the walk" in regards to downtown development. Hall wishes that downtown Albany could be like a real city and get businesses thriving again, and with the conscious effort to bring in more residential space as of late, there is hope that the future is brighter.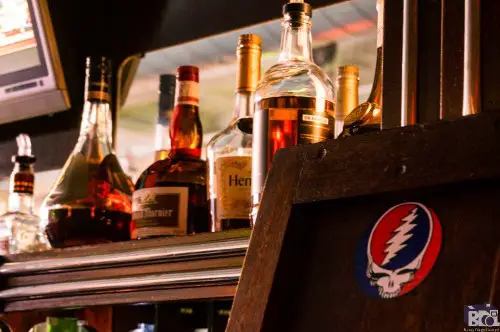 The pending Albany Convention Center was planned to go in around Green Street (between Red Square, the Greyhound Station and the Times Union Center) but with the location moved to behind the Times Union Center, a move that has boggled more than a few minds, Hall laments "Shovels are going in, just not here." The goal to attract business from outside of the area and bring those from the suburbs back to downtown faces the battle of an overblown misconception of downtown Albany, one with crime and a lack of parking. While parking during the day in a state capital is likely to be difficult, at night there is more available parking than some realize. Crime has not been a problem in the downtown area, no more than other areas of the city, yet patrons stay away from an area ripe with eclectic restaurants, bars, clubs and a vibrant nightlife that deserves a second glance by all. Hall sums up his thoughts on downtown simply, saying, "If I had my day business at night, I'd be on a sailboat."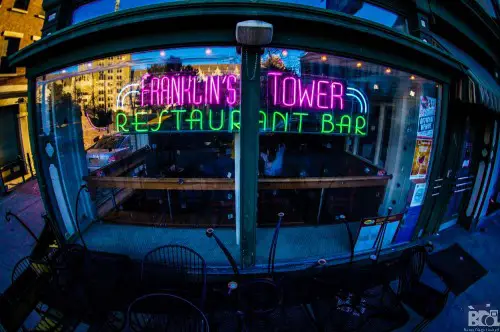 With a local music scene that is one of the best in the country, Hall feels strongly that this can be a centerpiece of downtown Albany's urban renewal in the coming years. "You can see good music 364 days a year. There are great local pubs, The Egg, The Palace Theatre, The Times Union Center, Red Square, The Hollow, Capitol Rep and The Linda … It's a phenomenal scene, that's what I love about it".
Franklin's Tower on Facebook Franklin's Tower is located at 414 Broadway in Albany, 518-431-1920 Hours are Monday-Friday Lunch 1130-3pm and Monday-Saturday Dinner 5-9pm