On Friday March 22nd and Saturday March 23rd, Soulive took to the Brooklyn Bowl stage to finish off their eight night "Bowlive" residency. The coveted residency is in its fifth year, and always brings out special guests from all over the musical spectrum. Each night features The Shady Horns, which currently consists of Ryan Zoidis (alto and tenor saxophone), James Casey (tenor saxophone) and Eric Bloom (trumpet). In addition, each night has its own special guests. Friday night featured Marco Benevento (keyboards) and Sonya Kitchell (vocals), and Saturday featured Bill Evans (saxophone) and Scott Metzger (guitar). This was just what was on the bill, but Soulive brought plenty of unannounced guests of their own.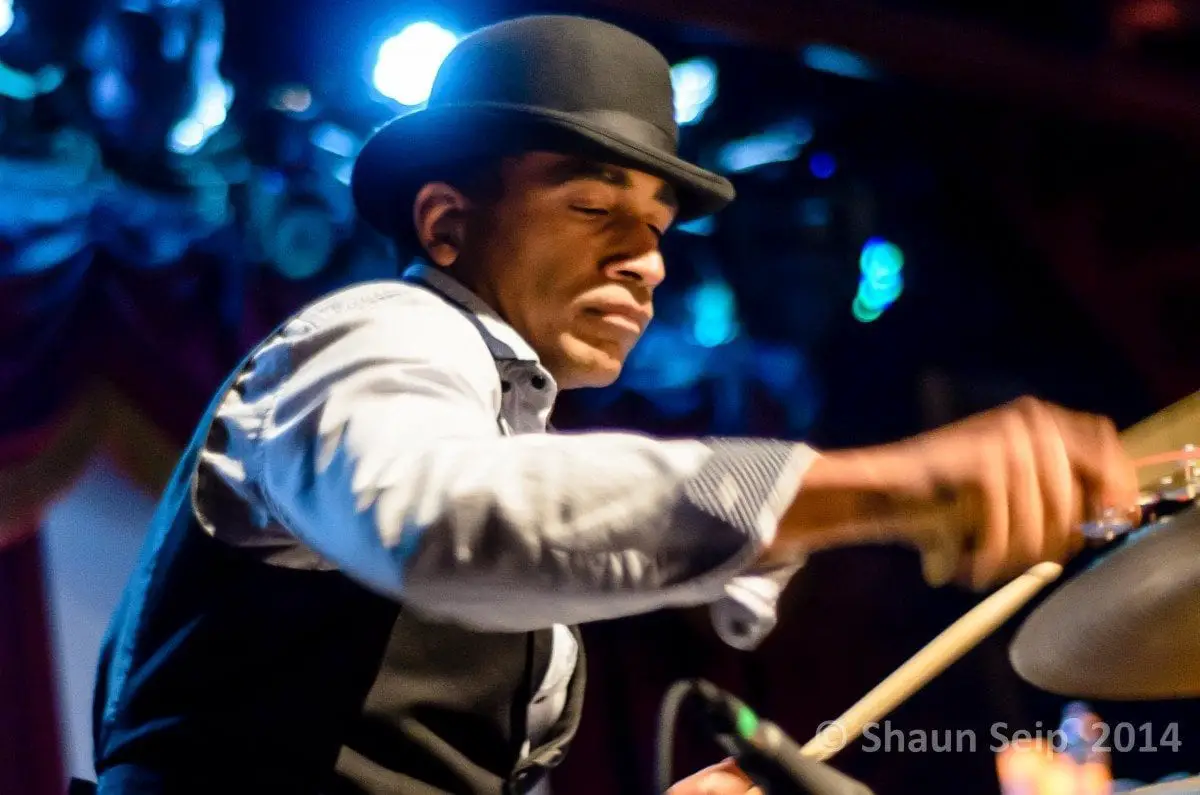 Friday night's show started off with Soulive sans The Shady Horns for a few burning classics, "Shaheed" and "Aladdin." "Aladdin" is a track in which Neal Evans' precision becomes obvious. He uses a gritty, distorted tone for this one that causes just about everybody in the audience to display their own version of the "wince-y funk face." Soulive then brought The Shady Horns to the stage, dropped a Lettuce cover called "The Dump" and proceeded into a sultry cover of "Lenny" by Stevie Ray Vaughan. It's always a treat when you get to hear Soulive play this cover, because it always brings out the best of Eric Krasno's improvisation, with bends and licks that you can feel touch your soul. After this relaxed "Lenny", Soulive brought it way up with a cover of Jimi Hendrix's "Manic Depression."
Marco Benevento came out for this one, and didn't leave the stage the rest of the night. This wasn't just any version, but a version that included the first unannounced sit-in of the night, Brandon "Taz" Niederauer. The 11 year-old guitar prodigy shredded through solos and didn't slow the band down one bit. Krasno got the sound guy to boost him up in the mix and the kid completely stole the show. As the song came to a close, the crowd went wild and as he left the stage Alan said, "See this is why we need more instruments in schools, y'all." Building on the high energy, Soulive brought out Felix Pastorius (son of the legendary jazz bassist Jaco Pastorius) for a jazz standard. This version of Billy Cobham's "Stratus" was the highlight of the night and included solos by Pastorius and Benevento.
Friday night's second set included an all-star lineup of guests that played an all-star lineup of covers. The additional unannounced guests included Roosevelt Collier on pedal steel guitar, Oteil Burbridge on bass and Kofi Burdbridge on flute. The covers in this set were all over the genre map. The set opened with a medley of Stevie Wonder's "Jesus Children of America" and "If You Want Me to Stay" by Sly Stone, and progressed to "Revolution" and "While My Guitar Gently Weeps" by The Beatles. The set came to a close with "The Ocean" by Led Zeppelin and then onto an encore of "I Want You (She's So Heavy)" by The Beatles. Friday night's penultimate show was an amazing show full of special guests, Soulive classics, and fan-favorite covers.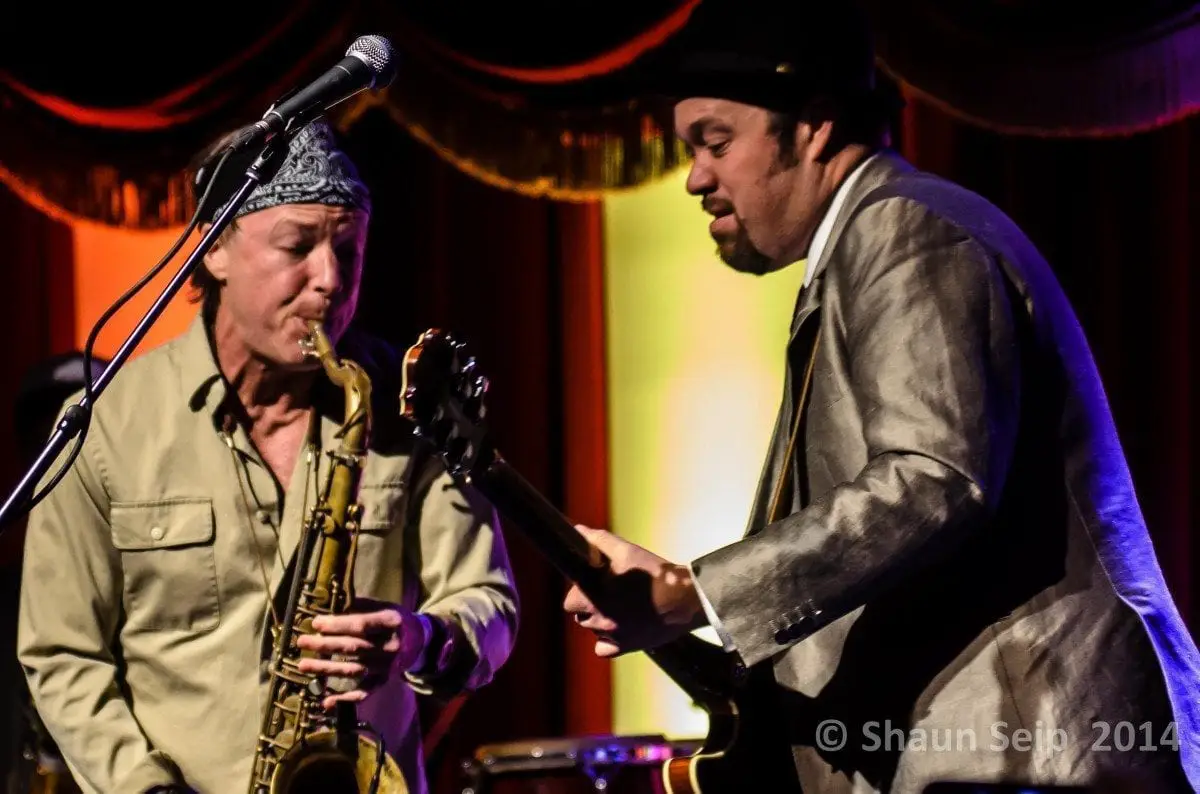 Going along with the previous nights' trend, Soulive came out alone to do a few classics, "Uncle Junior", "Bubble" and "Brother Soul" before welcoming their guests. "Uncle Junior" is one of those fast-paced grooving songs that is perfect for getting the crowd dancing and interested in what's to come next. Bill Evans was the first to take the stage for another Soulive original, "Cannonball". Evans brought a heavy jazz-fusion influence to the mix with solos that were a bit more adventurous, even a bit dissonant at times. The perfect song to fit Evans' style was the next one they played, "Nubian Lady" by Yusef Lateef. Soulive did quite a few off of their Melvin Spark's tribute album Spark! on this magical night. Soulive brought out Maurice "Mobetta" Brown (trumpet) of Tedeschi Trucks Band to play another track from the Sparks cover album called "Povo."
As expected, the second set brought special guests and covers galore. Sonya Kitchell came out for a sweet version of "Grandma's Hands" which then segued into Marvin Gaye's "Inner City Blues" with Mark Rivers on vocals. Next, Saunders Sermons (trombone) of Tedeschi Trucks Band graced the stage for "When I'm Kissin' My Love." The night ended in an unbelievable encore that included all the guests of the night and The London Souls. Neil Young's "Down By The River" and "Feelin' Alright" by Dave Mason were the last two songs played on this magnificent eight-show run.
These two nights of music contained some of the best performances I have ever seen. I will most certainly be back next year and would recommend any night of "Bowlive" residency to anybody looking to go out and see live music done right.