Buffalo seems to be going through a revival as of late with new buildings going up downtown and old ones being restored all around the city. One in particular has made some big news this week and that is the reopening of one of Buffalo's most beloved venues, Showplace Theater.
Showplace Theater was originally opened up in the early 20th century as a movie theater before becoming a concert venue in the mid 90's. There's a good amount of history in the movie theater alone, but as a concert venue, it was a hotbed for many popular touring bands before closing its doors in 2008. The venue saw such national acts as Gov't Mule and New Found Glory while also playing host to local favorites Cannibal Corpse, Snapcase, and Every Time I Die.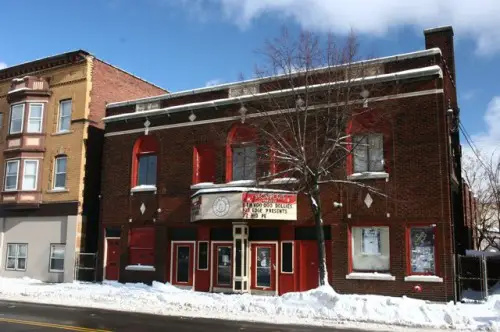 The deeply historical building sat vacant for quite some time before the current owner, Joe Breidenstein, came along and decided to put his time, energy, and resources into this Buffalo landmark. The building has been completely renovated from fresh coats of paint and new light fixtures to the rebuilding of the stage and adding a screen to serve as a backdrop for upcoming shows.
The first event is slated for next Monday (March 17th) and will be a St Patrick's Day party called IRISH FOR A DAY. Rather than jumping in without looking, Breidenstein purposely setup a lower-key opener to get his feet wet. The inaugural show pulls together various local acts in Breckenwood, Crashfuse, Cosmic Shakedown and Sleepy Hahas to kick things off.
It's exciting to see the revival of a venue I've personally spent countless hours in. With the throw-away-what's-broken attitude that is so prevalent nowadays, it's refreshing to see someone working to bring back a piece of Buffalo's history from both an architectural and musical standpoint.