The Gaslight Anthem and special guests White Denim are coming to Upstate Concert Hall on June 19th for a great billing that is happening for one night only.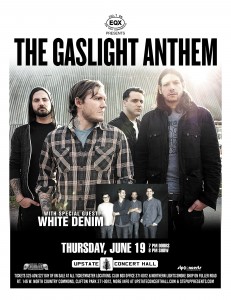 The Gaslight Anthem hails from New Jersey and have been critically acclaimed by many, once sharing the stage with New Jersey's own Bruce Springsteen. The band boasts an impressive tour schedule with worldwide stops. Their music is heavily influenced by punk, rock, and Americana –  all coming together to give them a very unique sound.
White Denim, based out of Austin, Texas, have been taking their psychedelic-blues rock all over the country in the past year. They have been gaining steam as of late and are looking at a big year to come, with upcoming appearances at SXSW, Bonnaroo and Firefly music festivals. Tonight you can check out White Denim when they perform live on Jimmy Kimmel Live, as they broadcast from the 28th annual SXSW festival in Austin, TX.
This show is surely a great one for those in the Capitol Region! Tickets are on sale now.