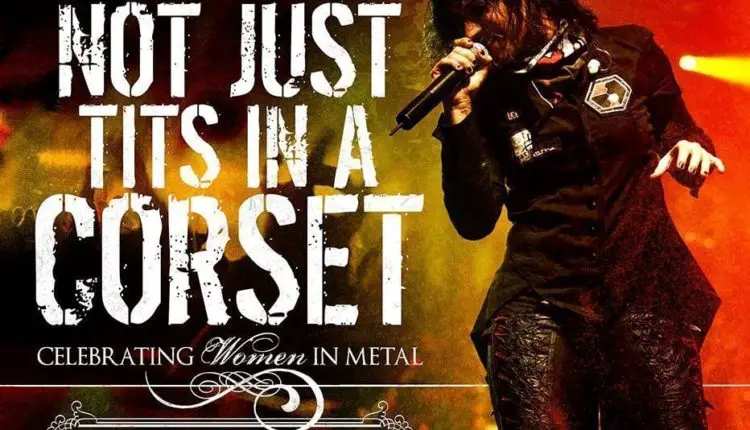 "We just wanted to play metal in the boys' club," said Leather Leone, of Chastain, in the new book by Jill Hughes Kirtland, Not Just Tits in a Corset: Celebrating Women in Metal. "We were metal. And the music represented us.   I remember early on at shows when I saw females in the audience I'd try to bring them in so they'd get it.  I don't want to f*ck him. I want to be him."
Kirtland, a music journalist and band manager, reports the stories of several women rockers,  in their own voices, through a series of intimate interviews and photographs.  The names who collaborated with Kirtland involve some of the most prominent and influential women in the metal industry – Lita Ford, Ann Boleyn, Doro Pesch, Betsy Bitch, Leather Leone, Anneke Van Giersbergen, Elize Ryd, Sharon Den Adel, Alissa White-Gluz, Angela Gossow, Maria Brink, Floor Jansen, Tarja Turunen, Cristina Scabbia, Charlotte Wessels, Roxy Petrucci, Linda Mcdonald, Lzzy Hale, and Simone Simons.
The book, which Kirtland self-published, details the unique history, challenges and triumphs women have encountered throughout their careers in metal music, while also celebrating the compelling global community these women have created amongst each other and the fans. It's not just musicians featured, but the women behind the scenes also tell their stories, all of them offering inspiration and support to the up-and-comers.
"Ten years ago I heard [from women], "Since I saw you in a metal band, I thought 'okay, I can do this as well,'" recounted solo artist, and former member of The Gathering, Anneke van Giersbergen. "Sometimes we need a little bit of an example." 
Doro Pesch wrote the foreword to the book.  Pesch, who is often referred to as "Metal Queen", earned respect after a career that ha spanned nearly 25 years uninterupted. She is credited with being the first woman to front a band at the Monsters of Rock festival in Castle Donington, in England.  German born, she earned her stripes and Europe and briefly tasted success in the United States before grunge pushed her back to the European front. Today, she continues to tour with her band.  
The book is now available as a hardcover or softcover printed book or e-book on the author's website and will be available through other online retailers soon.  
A book launch party open to the public (all ages) will take place on Thursday, April 3rd (6:30pm) at Roxy & Duke's Roadhouse in Dunellen, New Jersey.  Female-fronted metal bands MINDMAZE, A SOUND OF THUNDER, and FLAMES OF FURY will be performing that night with other special guests.
For more information Visit:
www.thewomeninmetal.com  (Author Website)
www.facebook.com/WomenInMetalBook (Book's Facebook Fan Page)
www.twitter.com/progpowergrrl  (Author's Twitter)