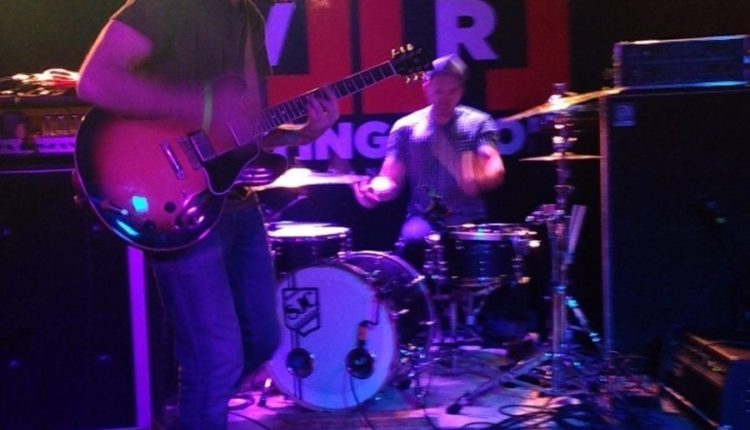 This past Tuesday, February 25th, three bands all sharing pretty interesting names: A Great Big Pile of Leaves, The World Is A Beautiful Place & I Am No Longer Afraid to Die, and Into It. Over It, performed at Waiting Room in Buffalo, NY. Opening for their tour was a local band based only a couple hours out of Buffalo called Taking Meds, who started off with a tight and powerful set. The quartet admitted that this was their biggest show yet since they started playing together but that didn't seem to worry them as they brought their explosive tunes into the Waiting Room. The lead guitarist, Ben Kotin could definitely shred, bringing in various metal influences into the group's set along with drummer Matt Battle and bassist Steel Wolf. The frontman/guitarist Skylar Sarkis displayed an adequate screaming ability, adding to the energy and emotions of the songs.
A Great Big Pile of Leaves took to the stage shortly after, kicking things off with their newest single "Snack Attack," which is off their 2013 album You're Always On My Mind. The band's live sound was so similar to their recorded sound that if it wasn't being heard twenty times louder it would probably be a little difficult to tell the difference between the two, which is a really good thing considering how well-recorded they sound. After the grand first tune, A Great Big Pile of Leaves broke into "Alligator Bop", probably their best-known song, which gives a great expression and feeling of weekend adventures as a teenager. Of note was their lead guitar which could have been a little quieter to fit in with the overall sound of the band, but other than that A Great Big Pile of Leaves brought a solid and entertaining performance.
The World Is A Beautiful Place & I Am No Longer Afraid to Die, for the sake of brevity will be referred to as The World Is… They definitely played the most interesting songs compared to the other bands, featuring spoken word. However it was difficult to hear what was being said much of the time and the fact that there are eight members creating a large and expansive sound probably didn't help. Altogether their show maybe could have been a little stronger but Buffalo is tough in the winter so maybe it was just a seasonal thing.  

Roughly around 10 pm Into It. Over It. (a band lead by Evan Weiss, who writes all the songs) came on. He's put out a lot of music over the years and has a big and committed following. Evan told the crowd that he's actually friends with members of Taking Meds, which is pretty cool to see a band that's just starting out having a connection with one that's been around for some time now.
Altogether the night was a solid showcase of four bands all connected and clearly in support of each other as musicians and as friends.