Such Gold ripped a gig in Rochester on Friday the 13 of October. The punk rockers played at Bug Jar, their familiar stomping grounds, at the midway point in their fall tour. "We've played here one… thousand times," quipped front man Ben Kotin between songs.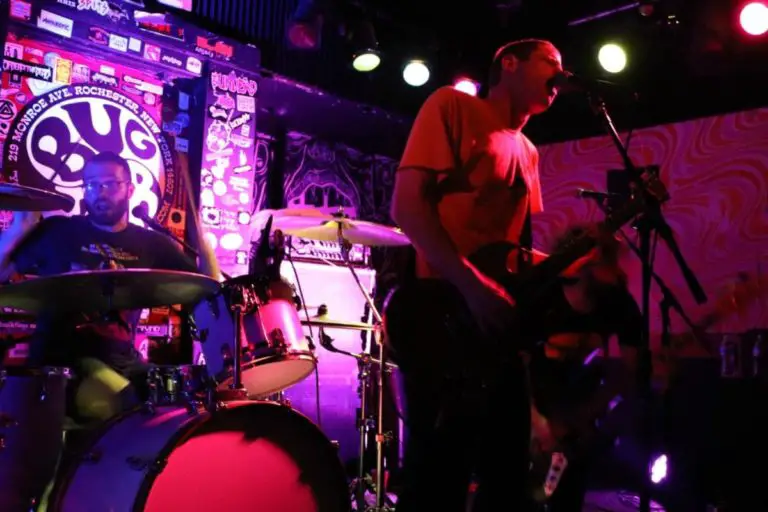 The all-local show included support from Barbarosa, California Cousins, and Taking Meds. Two members of Such Gold did double duty, as they also play in Taking Meds: Kotin (guitar) and Jon Markson (bass). Such Gold is rounded out with Nate Derby on guitar and Matt Covey on drums. They performed work from their eight-year span, including a handful of songs from last month's release Deep In A Hole. Both in their studio recordings and at live shows, they're energetic and fun.
The crowd at Bug Jar was abuzz with excitement, and it wasn't long before the center of the room opened up into a mosh pit. There was a great dynamic between the band and members of the audience, many of whom have been supporters since the early days. Tonight's show was full of crowd surfing and even a stage dive or two. A highlight was when Skylar Sarkis of Taking Meds took the stage to sing on a cover of Snapcase's "Energy Dome."
Such Gold takes to the road for the second leg of their tour with a headliner on Thursday, October 19 in Stanhope, New Jersey. They join A Wilhelm Scream, After The Fall and We Were Sharks  for a run of shows which start on Friday, October 20 at St. Vitus in Brooklyn and end with a Halloween show in Lancaster, PA.
Setlist: Intro, Locked Out of the Magic Theater, Engulfed In Flames, Two Year Plan, Ceiling Stare, Ransom, Four Superbowls No Rings, Nauseating, Deep In A Hole, Rot Gut, No Cab Fare, Energy Dome (Snapcase), Storyteller, Sycamore