For years, Deadheads throughout the Capital District make the trip every Wednesday night to hear some good old Grateful Dead covers at Valentine's on New Scotland Avenue in Albany, New York (and as of last week, at The Low Beat on Central Avenue). Any one who has attended a Deadbeats show can probably attest to the dedication and talent each member in the band brings to the table to keep the Grateful Dead alive in Albany. You may also likely know Denise Parent, drummer of The Deadbeats as well as many side projects throughout the Upstate music scene. had the opportunity to ask Denise some questions regarding her past within the music scene and her rise as one of the most well-known female drummers in Albany.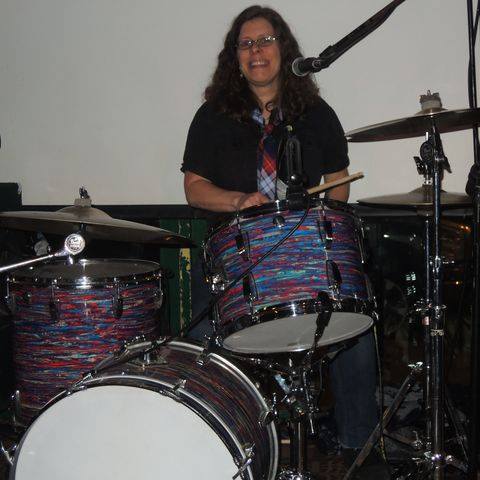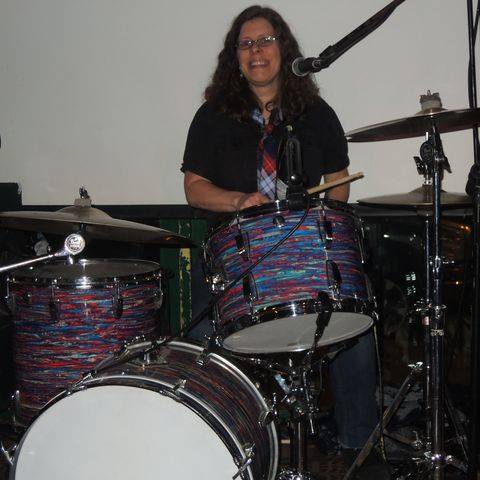 Jenni Rose Wilson: Tell us a little about yourself and how you got started in the music scene.
Denise Parent: I guess I think about how I got started playing music. My mother has been singing since I was in the womb, so I think it really rubbed off on me. She used to be involved in local musical troupes and I used to go watch her shows and regular rehearsals. My mother is a fantastic singer; therefore I had a great musical mentor. I started singing as a young girl and performed at my first talent show at 9 years old. I went on singing in talent shows and the choirs for years.
One day in high school I was sitting in class tapping on the desk with my pencil erasers, and my teacher yelled out, "Join a band!" (Thanks Ms. Molloy). It was like a light bulb went off! I went home and told my parents I wanted to play the drums. That Christmas my brother got me a snare drum and cymbal and I smacked that for about a year before asking my parents for a drum set. For my 17th birthday I got a little Pearl kit. I taught myself how to play by watching MTV, back when they actually played music videos. I joined my first band after playing in my room a couple of months. By 19 I had joined my third band and we played some gigs in the bars in and around Levittown, Long Island. I did take a few drum lessons over those years and learned how to read drum music and play a few necessary rudiments.
I had also been playing around with the guitar as a kid since my older sister played in the folk choir. I had fiddled around with it for years and before you know it I was playing some solo and duo guitar gigs at my brother's café in Sayville. I kept all the gigs going until I moved up to New Paltz to finish college in 1993. It was there I met the Deadbeats. I started to play with them full-time in 1993 and we were going on the road and playing up and down the East Coast for a few years. We played in all size venues, from great little dive bars to colleges, festivals and music halls. Since then I have been playing gigs regularly. In late 1997, I left the Deadbeats and soon after joined Big Sister, an all female band from Woodstock, NY. Six months after I joined we got signed to Capricorn Records and then recorded a rockin' CD called So Hi How Are You. We had a few years of playing great gigs like the Rock and Roll Hall of Fame, and we were even in Rolling Stone Magazine! That was a really great experience for me and I did have a lot of fun! Unfortunately, Capricorn went bankrupt and we lost our good gigs and our monetary support.
I was a lead singer in most of the bands I was in prior to this, and being a backup singer in Big Sister always left me wanting to sing leads again. It was around this time that the Deadbeats called me and asked me if I wanted to come back and play in the band. When I had been given the opportunity to sing lead again it felt really wonderful. I came back to the Deadbeats on NYE 2000-2001 and have been in the band ever since.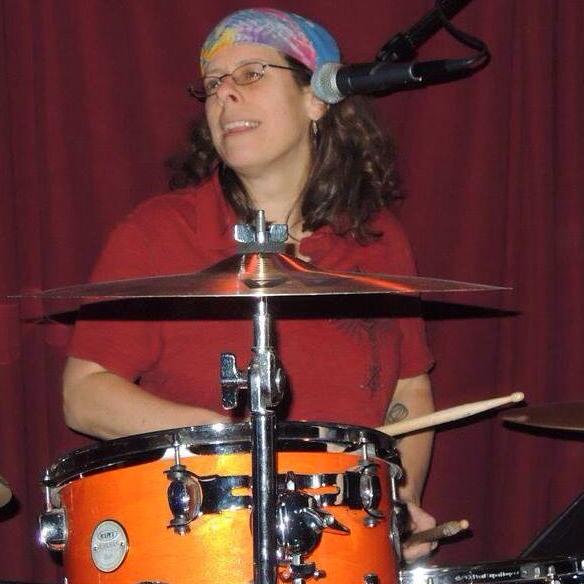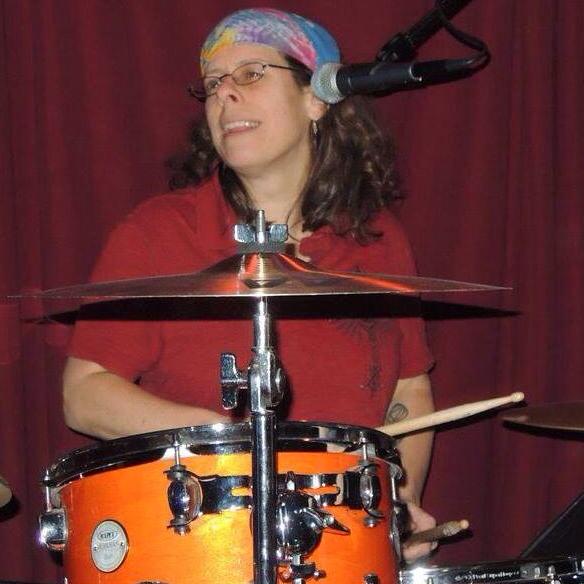 JRW: You have your hand in a number of different musical projects, can you tell us a little bit about each project?
DP: Currently I play in three bands, The Deadbeats, Hemingway's Cat and Wild Piper. The Deadbeats is a staple in the Albany area, playing a ton of Grateful Dead and classic rock. Since I sing lead, we do Janis Joplin, Aretha Franklin, and other assorted female-singer songs. I love to sing Bob Dylan and Bob Marley, so we do a handful of their songs. Of course I also love singing anything by Jerry Garcia, since I have a true soft spot for singing soulful Gospel and traditional songs. The Deadbeats also have a good amount of original music, of which I sing some of the songs I have written. We have never played the same set twice, and we don't use a setlist. Mike, Alex, Brian and I have developed a band that has an awesome following, and we do have a special relationship with the crowd every time we play.
Hemingway's Cat is an all-original band from Woodstock. The music is very eclectic, with songs that sound like jazz, blues, reggae and an almost Middle Eastern feel. I joined that band about three years ago. I was mostly drawn to them because the music has a lot of great rhythms with high energy. When I first met the band they already had recorded a CD, and then we recorded a five song CD called Next to You. When we play we really raise the roof! I also really enjoy playing all of our own music for people who dance and smile while we do it! Wild Piper is an exciting new band, made up of some of the current and former Deadbeats, in addition to members of Raisinhead and Ominous Seapods. It's a great mix of strong lead vocals, screaming lead guitar, the warm Hammond organ, the funky rhythm guitar all on top of a bass and drums powerhouse duo! Even though this band is in its early stages, the talent and song choices have already wowed audiences. It's has that "new relationship energy" and we all have an appreciation for each other's talent. I look forward to where we will go together.
JRW: What is it like being a female in a male dominated craft such as musical production?
DP: I admit over the years I have had a few funny experiences while playing in a band. I have met a bunch of men who have been open minded and wonderful. Of course there are those who tell me I'm pretty good for a girl. I know those guys are trying to be nice, so I see the compliment they are striving for. One night in the mid-90s, I was setting up for a Deadbeats gig in Monticello alongside Mike Johnson, the guitarist. Some guy came over and started talking to Mike, asking him what time the band would be starting and what type of music we played. They talked a little bit while Mike set up his amp and pedals. Then the guy turned to me as I was setting up the drums and asked when the drummer would be getting there. I thought it was a bit funny because I was actually setting up the drum kit when he asked me. I admit it wasn't the first time I had been asked a question like that. This time I decided to have a little fun with it. Mike and I told him that the drummer was my boyfriend and would be getting there soon. I continued setting up my kit and did a little bit of a soundcheck. He came back over to the stage and said that I sounded pretty good. I laughed a bit with Mike and told the guy I was going to have to start with the band because my boyfriend would be late. I also told him that he taught me a lot, so I could probably be OK for a few songs. After playing a bit I felt guilty for pulling his leg and I came clean. He was very surprised at first, but then he was my biggest fan. Of course there are those other times that aren't as funny, but I like to focus on the positive.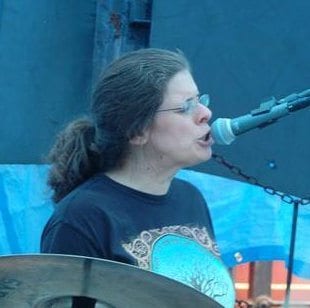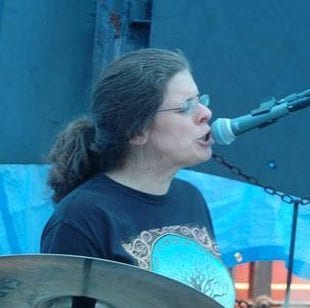 JRW: What instruments do you play and at what age were you introduced to them?
DP: I sing lead vocals and play drums at the same time. People always tell me they think it's hard, but I guess I have been doing it for so long I really don't even notice. Lucky me, I do feel blessed for being given such a great gift. I started playing drums when I was 16. I always tapped on everything as a kid. I used to take all the pots and pans in the house and put them all over my bed and then I would play them like a drum set with my chopsticks or pens, whatever I had handy. I had a lot of fun doing this until one time I was jamming out hard and broke the ball point off the pen. The ink went flying all over the pot and pans and my bed and the carpet and my mom was pissed! I can still remember her face! Fortunately we laugh about that now! Soon after it was clear that I had rhythm I got my first drum set. My parents would let me play anytime 10am-10pm. I would crank up my stereo and the fun would begin. My mom used to clean the house and dance around while I played. My dad would always compliment my improvements. I remember my mom being surprised that I liked reggae and gospel music. My parents were (and still are) very proud of me and were very supportive to my playing drums. When I was 17 I had a party at my sister's house and asked my friends from school to play. I remember them playing the Beastie Boys and I just got so incredibly charged I knew I had to join a band!
I have been playing the guitar since I was a young girl. My sister gave me her classical acoustic guitar and I would play over all the songs on the radio. I didn't really know many chords in the beginning, so I would play leads and sing a bit while I plucked around. I started to learn more chords and rhythms when I was around 15. I wrote my first song, on the guitar, "I Hate Goodbyes", at 17. There is something so nice about being able to pick up my acoustic guitar and sing a song. Even to this day I love to do it. No setup required. No amplification necessary. I have played a few acoustic guitar gigs over my years Upstate, but these days I play the drums at my gigs.
JRW: What are your biggest musical and non-musical influences?
DP: My mother taught me how to sing. My father taught me how to work hard and be responsible for myself. My high school teacher told me to join a band. My religious upbringing has taught me to love people. Both my parents have taught me to thank God and to love and respect others. I tend to wear my heart on my sleeve, probably because I like to connect to other hearts around me. When I think about all my influences they are widespread. My first concert was Rush at Nassau Coliseum, and that blew my mind. Neil Peart was one of the most intricate drummers I had ever seen. I always loved watching Mick Fleetwood play, and felt like I could really understand his playing. I did notice that we both made some pretty funny faces when we got into it. I love both of the drummers in the Grateful Dead. Mickey Hart has taught me to lead with the toms and to stray from the form and see where it takes me. Billy Kreutzmann showed me how I can add beautiful color to the most basic beats, while holding a whole band together. I have always loved to sing Indigo Girls, Bonnie Raitt and Joni Mitchell songs. Over the years I have followed them and their music and really appreciate the effort they take in crafting a song, and how they sing it. I often get goosebumps when I listen to any one of their songs.
My last few years living on Long Island, my friend Dino Perrucci took me to see this great band called The Volunteers (who later became the Zen Tricksters). They really taught me the music of the Grateful Dead. I did used to go see a lot of Dead shows, but I got an intense 101 from seeing the Tricksters four nights a week for a few years. To this day I credit Jeff Mattson (who now plays with Dark Star Orchestra) and Dino for much of my musical influences. Jeff even gave me guitar lessons back in the day. Just last weekend I went to see him and Rob Barraco play in the DSO and remember how much I learned from both of them. I give them and the Zen Tricksters a lot of credit for helping me learn so much of what I still do today.
JRW: How do you handle mistakes during performances?
DP: If you had asked me that question 15 years ago I would have answered very differently. I remember a time when I would get very upset with myself and have a hard time remaining present to ease and grace after I had made a mistake. I would spend so much time focusing on the mistake that I would be kicking myself during the next few sections of the song. I would not be present to the beauty of anything, and really missed out on so much good. I got hung up on mistakes others would make too. I think I lost sight of all the good and got stuck in insignificance. After doing some helpful introspection and years of different sorts of self-help work, I've come to get a huge lesson that has impacted me in every aspect of my life. Nothing is wrong. Its all how I deal with it that really matters. Of course I am not perfect at anything, so accepting that I make mistakes has become easier and easier. And having compassion for me or anyone else that may make a mistake around me comes with that as well. Falling off the beaten path has led me to some incredible moments on and offstage. Of course I love it when I hit the notes well and play the drums spot on, but I welcome whatever I am presented with now, while looking to see what I can learn from it. It really is all good.
JRW: What are the biggest obstacles for a band and what is the hardest part about working in the music industry?
DP: I would love to be able to support myself by writing, recording and playing music. I think most artists I know struggle with being able to play music and travel to reach wider audiences, because it costs money. Therefore they need to have a side job to help them pay rent and eat, and whatever's left may go towards a little tour. In most cases artists need to find a way to promote their music, and even though the Internet is very helpful for that, we still have to travel to different places to play for them.
JRW: How do you balance music with your life's other obligations?
DP: Well fortunately my day job at Family Services does accommodate me playing music on a regular basis. I do appreciate having that job, because I recognize all the good that FS does. It also helps that I have a great crew of people that I work with. I also really love just being at home with Anne and all the animals! It does my soul a world of good.
JRW: What advice would you give to other artists who have less experience than you?
DP: I'm not sure I know all the right advice to give. I will say that keeping the joy alive is great for the soul in any regard. Remember the joy that making music brings you, and do it for that reason. I think it is incredible to connect with my band mates and make something special happen. It's even more wonderful when others can appreciate it as well. Oh yeah, and learn how to harmonize. It works in life as well as in music!