Last December, Upstate Metal's Steve Strader took the opportunity to speak with Jeremy Miller, lead vocalist of Syracuse's One Last Shot. Last week, One Last Shot was named among two Syracuse metal bands that are up for a 2014 Sammy Award.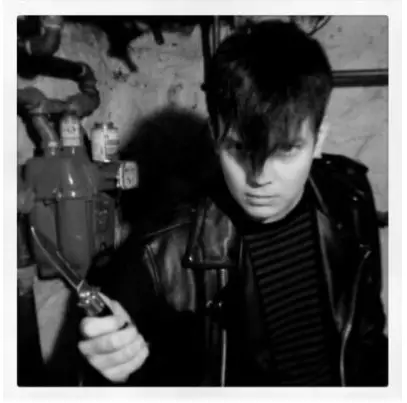 The Sammys are presented each year by The Syracuse Area Music Awards Executive Committee. The committee is a not-for-profit organization that supports Syracuse musicians.
The award ceremony is scheduled for March 7th, at the Palace Theatre.
Jeremy Miller is a natural wordsmith and his band depends upon him for his writing skills as much as his singing ability. Like many writers, he falls victim to inspiration and often finds himself writing down ideas as they come, or speaking into a digital recorder. Over time, those notes have turned into song lyrics or have collected inside numerous notebooks. Those notebooks are now being worked into a book, about which he spoke to Upstate Metal.
Strader: So first off what made you want to write a book?
Miller: A lot of reasons actually. First, I've always wanted to have my own book. A lot of my favorite artists have put out books similar to this like Danzig, and William Control of Aiden. Most importantly my fiancee saw all these lyrics I have laying around in notebooks and pushed me to do it. I finally took her push and am doing it now.
Strader: How long have you been working on this?
Miller: I guess realistically since I started writing lyrics. I've been writing lyrics and poetry since around 11 years old.
Strader: You mentioned there will be un-used lyrics in it, is there any other cool content you'll be displaying to your fans?
Miller: Yeah, so far it's split in 4 parts. First part is unused lyrics/ poetry, the 2nd part is random short ideas, the 3rd part is passages I've written about important band situations, and the last part is stories from shows. There's also flyer art inside/ art I've made throughout the book.
Strader: Will there be any embarrassing moments?
Miller: Maybe for other people, everything I do in life can be looked at as embarrassing. I'm okay with that, it makes life fun.
Strader: What are you hoping readers will get out of this by the end?
Miller: Maybe it can give some insight to people trying to start a band, and hopefully people in underground DIY bands will be able to relate these situations. Also people can have a laugh or two at some of the stories.
Strader: Anything you can "leak" about this book and what we can expect?
Miller: There's situations with drugs (not my band mates obviously), bum fights, and violence all inside. It comes out late December or early January. Most likely early January. I may leak something around mid December-ish. Oh, and its 50+ pages long. (So far…)
Strader: How will this book be made available?
Miller: It will be a real physical book. It will be printed professionally like if you got it at Barnes and Noble. You will be able to get one online or at shows. Just follow us at Facebook or Twitter and you'll get all the updates.
Strader: Any last thoughts or words?
Miller: If this goes well, I have other books planned. This is also "Volume 1", so as more events happen and if things stay interesting, I hope to make a "Volume 2". Just stay tuned, and thank you for talking to me about this.