They recently announced a tour with Escape the Fate for next month. Their hit single "Immortal" was named among Octane's Top 25 hits for 2013. But in the twelve years Eve to Adam has been fighting to keep Rock alive, it hasn't been all rainbows and sunshine. 2013 may be the year that launched these New York City rockers out of relative obscurity, and our Cathy Bechle recalls an October evening at Los Angeles' legendary Whisky A Go Go, when the band stood upon the storied stage to promote Locked and Loaded – and perhaps capture the magic that helped catapult so many more careers.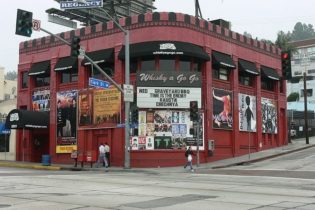 Eve to Adam rocked in the nightclub Whisky A Go Go in West Hollywood, CA. This is a famous club located on Sunset Strip. October 15th, 2013 Eve to Adam took that famous stage and performed accordingly.  For Eve to Adam to show their skills and perform their music on this stage was awesome to see! Needless to say, to even go to this club is a cool feeling. Musical careers took off from their performances at this venue. Eve to Adam was about to play on the same stage that Alice Cooper, The Doors, Metallica's bassist Cliff Burton (recruited by the band after seeing him play there), Neil Diamond, System of a Down had played on before!
The energy on stage by each of the members was "on" for every song and every moment. The sound is best described as melodic hard rock and the vocals were powerful and spot on.
The band played songs from their new release LOCKED & LOADED album which is a must for anyone of a fan of this style music must purchase (http://www.evetoadam.com/music.html). The fans were pumped and energized by each of the songs. Crowd favorite songs that were played of LOCKED & LOADED, IMMORTAL, STRAITJACKET SUPERMODEL and BENDER stand out but there was not one moment of a lull in the audiences focus on this band while they played.
All songs that are on the LOCKED & LOADED album will become favorites for sure. It is one of those albums where it is hard to decide which your favorite song is. It is like your favorite movie that never gets old and you get new enjoyment each time you listen to it.  Videos that are stunning can be viewed at: http://www.evetoadam.com/videos.html and all music for your purchasing pleasure go to: http://www.evetoadam.com/music.html you will not be sorry!
— at whisky a go-go.
Michael Hallisey contributed to this article.