Kicking off the year for 's regular coverage at Albany's iconic performing arts center, The Egg, meant it was time for some funk straight from New Orleans in the form of Trombone Shorty and Orleans Avenue. Energetic and full of pizzazz, Troy "Trombone Shorty" Andrews didn't let a Sunday night go by without a trip to church, and for this packed house of all-ages fans, the rejoicing heard was a testament to Orleans Avenue's performance.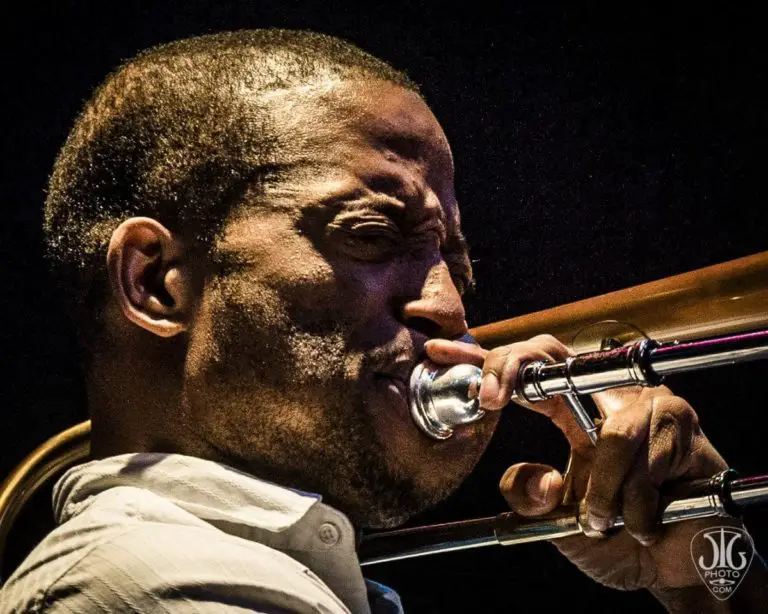 Troy Andrews is a new breed of musician and bandleader. An accomplished trombone and trumpet player, I first noticed Trombone Shorty on the NBC show Studio 60 on the Sunset Strip, where he performed a simply beautiful version of "O Holy Night", and since that moment (10 years ago) seeing him was on my musical bucketlist, odd only since Andrews just turned 28 this month. I have plenty of time to see him again, and again, and again, for this performance was a tease of the great potential Andrews and Orleans Avenue have, and the many years we have ahead with this caliber of music or better. There's potential to watch this group and their leader grow over the few decades, if not longer.
Taking the stage to "Buckjump", it quickly became apparent that although he was leading the band, Trombone Shorty is still one of a strong horn section, including Dan Oestreicher on baritone sax and Tim McFatter on tenor sax. The pair accent Andrews' trombone and trumpet and give him more definition than if he were to take on the role as a solo horn. The focus of the show, despite an incredible band, Andrews dances on stage in a relaxed manner all while performing as emcee for the group and taking the lead with style. Standing dead center in a white shirt and black jeans, every seat in the venue had a great view, and with a minimal light show, the crowd was captivated. "American Woman" was instrumental and full of funk, the horns acting as the lyrical substitute. When the more danceable parts came, Andrews pivoted from his waist to sway and rock out, blaring a rat-a-tat-tat trombone sound.
Twice during the 80 minute set, bassist Michael "Bass" Ballard, Oestreicher and McFatter left the stage to make way for a stripped down trio that brought out blues tunes, with just light drums from Joey Peebles and Pete Murano's killer guitar work, while Andrews sang the blues. A jam off of "Voodoo Chile" and later, a segment of Louis Armstrong's "Sunny Side of the Street" were some of the highest points of the night, the crowd full of energy and singing along. "Craziest Things" and "I've Got a Woman" gave a nod to the roots of turn of the 20th century music with Cab Calloway's "Minnie the Moocher" and mid-century Ray Charles' "I've Got a Woman", effectively working in the early music into a composition for the 21st century. Murano's long and wonderful solos shined and make a name for himself – there is definitely more than one featured player in Orleans Avenue.
As the encore kicked in, Andrews moonwalked and strutted around the stage as he sang and played trombone. "Hurricane Season" was full on Mardi Gras, bringing the crowd to their feet. "St. James" could have been played by Dirty Dozen Brass Band it was so sharp and brassy. The band ended the night by all working around Peebles' drum kit and each took a percussion piece to play on together, in quite impressive unison – all six drumming was a tribal funk second line sendoff for the crowd, with Trombone Shorty ending the night a little after 9 pm, electrifying the crowd as they headed out into the crisp night air.
Setlist: Buckjump, American Woman, Mrs. Orleans, One Night Only, Dumaine Street, On Your Way Down, For True, Backatown, Craziest Things, I've got a Woman
Encore: Hurricane Season, St. James, Shortyville