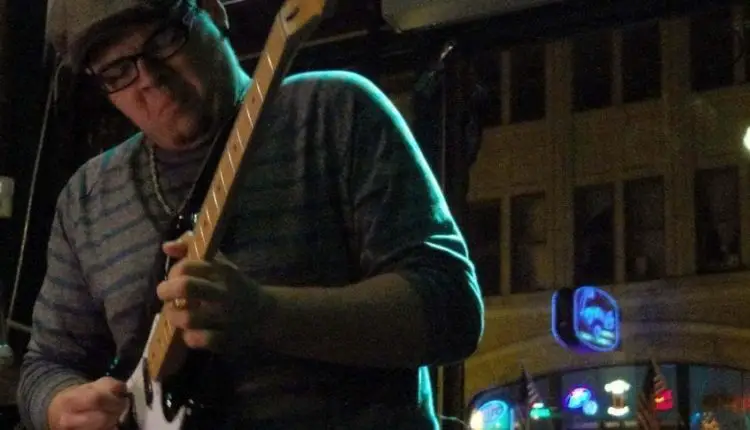 Kollectiv and Groovestick: Funky and Lucky on Friday the 13th
The last Friday the 13th of 2013 brought together lucky music lovers to The Hollow in Albany for two of Upstate New York's homegrown talent. With the holidays around the corner, it's understandable for fans and musicians to want to soak up each other's cheerful energy with live music. The Kollectiv, a rap rock funk band, was having their first reunion show in months, kicking off their short tour in Albany. The Capital District's own Groovestick was first to take the stage and were eager to test out their new stage setup. Drummer Franz Celestin and keyboard master Chris Carballeira now face each other with bassist Dan Gerken standing strong in the eye of the storm, taking inspiration from one of their favorite bands, The New Deal. Now with more eye contact and exposed body language, the musicians can read each other better and have strengthened their already impressive fluidity. Regardless of the layout, Groovestick still gave out goosebumps with their jazz and funky flow. Carballeira glides over the keys of the Hammond 33 organ, providing an intense blues and psychedelic sound, causing new appreciation for vintage instruments everywhere. Gerken plays slow and ripplely chords until causing a commotion with the tease of the infamous bass line from Phish's "Stash" while Celestin fires away on the cymbals at every speed level.
Originally from Oneonta, musicians from The Kollectiv have been traveling different paths experimenting with various projects around the country but lucky for Upstate New York, they came home for the holidays. What makes The Kollectiv stand out above the other bands is their usage of turntables. They have a soulful and funky vibe from their instruments but with the combination of the turntables, it adds attitude and flavor. Their groove is undeniable especially with the steady bass of Chris Duffy and firm beats of Frantz Celestin, who is still a powerhouse after rocking with Groovestick beforehand. Lars Viola yells out, "We haven't been in the same room together for months. It feels so good to be home" as long awaiting fans couldn't agree more. Their sound is almost similar to a softer version of Eminem's The Marshall Mathers LP 2 –  no offensive language, but creative word spitting with a fantastic blend of rap and rock music. Each song is so different in that one is a "no worries street smarts" and the next moment Taylor Frederick is shredding on guitar before the music slowly grooves into a reggae dance party. It's a shame that The Kollectiv shows are rare but they are always worth the experience and we can only hope for more in the new year ahead.