John Sebastian's solo acoustic performance at the Cafe Veritas in Rochester on December 7th was not only a musical cross-section of Sebastian's hall of fame career, but an intimate investigation of the roots of the music that has influenced generations. The softly lit room was accented by candles and featured as its centerpiece a slightly elevated wooden stage and large colorful peace symbol.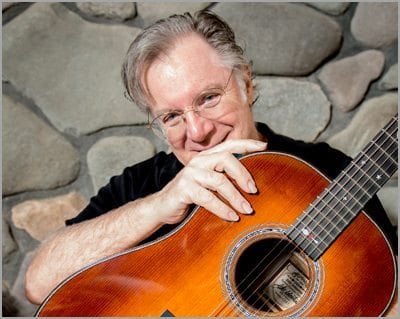 The sold out crowd welcomed Sebastian who appeared, dressed in black with acoustic guitar and bright flashing smile. After gently chiding an audience member who was preparing to take pictures, Sebastian made it clear he wanted the crowds undivided and complete attention. The show traced Sebastian's beginnings as  a Greenwich Village folk musician, gazed as his numerous gold records as a member of the Lovin Spoonful, and examined his love of jug band and blues music.
To start the show, Sebastian began to pick the bluesy opening to Mississippi John Hurt's 'I'm Satisfied'. Sebastian's voice still reveals glimpses of his younger throat that once contained honey, but now has a pinch of gravel and a slight blues man's rasp. Through out the evening Sebastian would frame the songs with extended dialogues expressing the genesis of his songwriting, his Lovin Spoonful  band mates, influences and family. The following chunky slice of finger picked blues called 'Don't Stop' prefaced a trio of Lovin Spoonful tracks who many in the crowd were highly anticipating.  Sebastian paused prior to these numbers and spoke nostalgically about his love for Motown and how it influenced his development as an artist. During this discussion Sebastian started to strum the classic Motown hit 'Heatwave' slowly speeding the riff up, eventually morphing it into the introduction of the Spoonful's own 'Do You Believe In Magic?. An amazing glimpse into the genesis of one of the 1960's most enduring songs, and a prime example of the concert's' enjoyable 'show and tell' makeup.
'You Didn't Have To Be So Nice', and a definitive version of 'Younger Girl' followed, musically warming up the crowd who watched in rapt amazement. Sebastian encouraged a singalong atmosphere, and smiled often, singing directly to the crowd like an old time Greenwich folkie. His perfect guitar strikes emitting golden notes, clear as a winter night, expressed immaculately by the acoustics of the room. Sebastian switched between two hollow bodied acoustic/electric guitars throughout the evening, both instruments delivering clarity and tone, his voice, slightly weary from the years, but full of expressiveness and rich personality.
After the excitement created by the mini Spoonful set, John quieted things down, first speaking of his children and wife lovingly, then performing a version of 'Strings of Your Heart' as fragile as a bird's egg. Keeping with the theme Sebastian then, in beautifully tender fashion delivered an instrumental lullaby he used to put his boys to sleep with. Intricate and weightless, Sebastian eyes were closed tight, lost in the music, picking the crystalline melody, an absolute high point of the evening.
Sebastian then leaned on his guitar and proceeded to tell a humorous anecdote about his going out of style at least 'four or five times' over his career, and that one of the times he went back in style was with 'Welcome Back'. A jubilant singalong followed with Sebastian crooning the popular theme song he wrote for the historic television comedy. Highly enjoyable, and truly a piece of 'good time music' as the  Spoonful's credo used to be, the crowd responded with tremendous applause.
Another solid track off of Sebastian and Grisman's 2007 album Satisfied came next with 'Passing Fantasy', before moving into another developed dialog where Sebastian explained in greater detail his relationship with Mississippi John Hurt. Sebastian then displayed a few finger picking techniques 'borrowed' from Hurt using the examples to slide seamlessly into a stomping version of 'Lovin You', the opening song from 1968's Hums of the Lovin Spoonful. The show reached a grand peak and a pair of Lovin Spoonful numbers followed quickly and definitively closed the 75 minute set. 'Did You Ever Have To Make Up Your Mind?' and  'Daydream', perhaps the most beloved song in the Spoonful catalog, closed the show to a complete standing ovation. Sebastian a true entertainer, playing to the crowd, interacting with them on musical and conversational levels left the stage to boisterous applause.
But luckily for us in the crowd, Sebastian had one final surprise in store, reappearing with only a harmonica in hand to stand solo at the microphone. Sebastian, who's father was a famous classically trained harmonica player, instilled in him a love and respect for the instrument. Sebastian stated that in his home, 'the harmonica was not a toy', so for those of us in the crowd that were hoping for a bit of harp playing, we were in for a treat. Sebastian plowed trough an extended harp journey that wailed and wined with the breath of rock and roll and blues, displaying all the tricks of this virtuosic player. The performance could have concluded only one way, and Sebastian hit it perfectly with  an awe inspiring display.
John Sebastian created a musical atmosphere at the Cafe Veritas that encouraged attentiveness, revealed musical secrets, and encouraged audience interaction. The performance hearkened back to the early coffee house performances of the 1960's in content as well as attentiveness by the performer. It's refreshing to witness an artist so at ease with his legacy, and concentrated on delivering the goods to his audience even after all of these years.