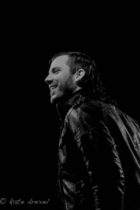 The mixed chatter of fans melted into cheers the lights in the Gramercy Theater dimmed. It was time for We As Human to take the stage. One by one, each band member emerged from the darkness, and not a moment was wasted as they began their set with "Sever," "Dead Man" and "Zombie." Horns were waving, fans were mouthing along passionately and giant grins spread across their faces as they felt the band's incredible energy wash over them. Justin Cordle, the band's front man, gave a brief introduction before performing a song they have never played live, "Take the Bullets Away." Excited shrieks escaped from the fans as Jake Jones began to play the opening riff. Finally, We As Human finished their set with "I Stand," and their first single, "Strike Back."
Much later, after their fantastic performance, Upstate Metal's Kate Drexel had the incredible opportunity to interview Justin Cordle and Jones outside of the venue in the craziness of the New York City nightlife. Out of the various topics discussed, the first to come to light was the song writing process, where their ideas come from and how they evolve.
"All over the place," Cordle said through the loud hisses from nearby machines. "Whenever you write a song, a lot of the times, you go in what we call 'go in cold'. You don't have any ideas, and sometimes you can come up with something, and that's pretty rare. So what I do is I have my phone, and I'll be watching a movie, or I'll be driving, or I'll be in conversation with anyone, or I'll be eating, it doesn't matter, any time in life, and all of the sudden an idea will pop into my head, or I'll watch a part in the movie that's emotional, and I'll get this idea. So, I grab my phone and I'll sing it into my phone, or I will write it down or whatever, and that way when I go in to write, and I have time to write, I can go through all of my muses."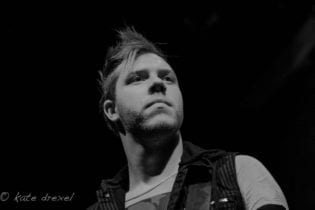 Cordle is not the only one who uses his phone to record his ideas. "My phone is full of some really funny…," said Jones as he proceeded to make guitar noises and played air guitar. "Oh my God, it's the worst! I remember… it was one of our songs. I think it was 'Taking Life'… I wrote 'Taking Life' by myself on my couch, and I remember before I wrote it, grabbing my phone and being like…" Cordle then proceeded to sing a verse from the song and an entertaining imitation of a drumbeat. "So when you actually go to write, you got these goofy little ideas. Some of them work, but most of them don't, so it comes from all over the place. There's no right or wrong when you write a song, just as long as it's good in the end." For the ones that do not make the cut, Justin calls that song a "Shrek." After Jones and Kate made some funny remarks about the name, Justin explained why they call it that. "You want to put it in the swamp and never see it again. Like I'm not proud of that one." Then Drexel told Justin that out of the whole album, "Let Me Drown" was her favorite, saying that it was beautifully written and touching. Cordle then recited her favorite verse from the song: "There's a time to be born and a time to die / and somewhere they collide." A chilling line to both Drexel and Cordle and, according to Justin, one of his favorite lines written.
Following a few distractions from passing fans stopping briefly to say hi to both Jones and Cordle, as well as few laughs, Drexel moved onto the next topic, their favorite part about touring. "Right now, top of my head, hanging out with my band,"Cordle said.  "I hate that they're here to hear this… look they're already getting all sappy and emotional." Jones acted like he was on the verge of tears, touched by his answer. "I love these dudes, like I have brother, and I love my brothers, but these guys… they're something special," Cordle said "It takes a real unique person and a real special person to be able to go on the road and live the way we live, work the hours we work, do the traveling we do, go through what we go through, because it's not easy on the road. I honestly think most people would hate it. It's totally sporadic and everything is different every day. It's completely inconsistent, it's really hard to sleep… it's just hard to do."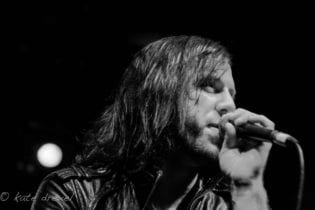 As for the "easy" side, the music and meeting their fans or, as they call themselves, "Humanoids", is part of that package. The hard part is in between it all. Cordle then proceeded to joke about his love for his bandmates and how they spend their time together. "We still hang out together, just go rummage through cities and pick through dumpsters, beat up homeless people… the regular tour stuff."
Jones had a completely different answer, elaborating the easy part of touring: "…It gives you an opportunity to finally meet all of these people that we see and talk to through Facebook and Twitter, and they email us, write us letters and bring us things, and we actually get to show them and tell them face to face how much we appreciate them, and what they really mean to us. We kind of get a chance to see how our hard work is paying off, because you really don't know."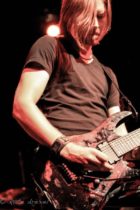 When asked about favorite song(s) to perform live, Cordle and Jones gave two different answers. Jones's is "I Stand," and Cordle's is "Take the Bullets Away." "We just started doing 'Take the Bullets Away' on this tour," Cordle said. "We have never done it before live. It's my favorite song on the album. When I sing that song, I'm transported in a mind/time machine back to the moment I was writing that song. To the moment the lyrics came into my head. It's all I can do to keep it together on stage. Like, it's so emotional for me, personally, and I know for the guys, too. It's a strong connection for us, so doing it live is such an amazing feeling."
Drexel then expressed her amazement when she first heard the track featuring ex-Flyleaf front woman, Lacey Sturm's killer scream, and Cordle concurred. "I thought that I screamed good, then she goes in and makes me sound like the girl. That's what she did. I was like, 'Are you kidding me'?!" Cordle then admitted that he hopes that will be the next single.
Regarding We As Human's collaboration with Skillet's John Cooper on their track, "Zombie," Cordle said, "He's a really good friend of ours, and we were talking, the year before the album came out, about him coming in and doing a song with us. We didn't know which one, and then when we had the album there, narrowed down to ten songs, he told us, 'You guys pick the song, I'll do whatever you want. You go make the arrangement, and I'll go into the studio and make sure We As Human is represented here'. So we got the album. We were listening through all of the tracks, and when we got to 'Zombie', we were just like, 'Oh, my God, of course!' Skillet has a song called 'Monster', we have a song called 'Zombie', it was made to be!" Then Cordle,  Jones and Drexel all conversed about the Carnival of Madness performance of the song.
Drexel then asked what We As Human have learned from being part of the Carnival of Madness tour that they would like to share. "I think it's every band's dream to play big arenas and stadiums, and now being one of those bands that has played huge arena shows, one thing that I didn't realize, until we did it, was it is just as satisfying and fun to play the Gramercy Theater in New York for 500 people as it is to play for 25,000 people in Greensboro, N.C.. It is incredible!" exclaimed Cordle over the clunking of a piece of machinery a crew member was using to remove the letter tiles from the venue's overhead board. "I didn't realize until we really did it that. I thought it would be just this huge, euphoric experience, like 'I can't believe…' like you're doing a 360 and there's people everywhere." There was such an amazement and reminiscent look about Cordle as he continued to explain what he had learned from that tour. "I wish that I had realized that earlier on in our career when we were playing bars and clubs and things like that, music venues, because I think I wouldn't have such an, 'Oh, if we could only be in arenas' kind of a feel. I feel like I would've been a lot more content to do what we're doing. So we just really learned to enjoy all of the shows, big or small, and that's what I would encourage these bands that are coming up to do."
The interview was briefly interrupted as fans continued to say a quick hi/bye to Cordle and Jones. More of New York's loud and lively ambiance continued through Cordle's answer. "We have a few bands that have this kind of idealism. Are you playing for ten people or are you playing for 10,000 people? Just play the same show, they all pay the same amount of money to get there. So that's what I've learned. Is just to appreciate the smaller shows, and you can have just as much fun, sometimes more. It's just a whole 'nother dynamic, trying to reach out and connect with the fan that's forty feet away, past a railing, and then security guards, and then barriers, then seats, people you can't even see in the back of the arena. You have to relearn how to get to that person who's in the back, how to make them feel like you know they're there."
Drexel and Cordle then discussed how the bigger shows are not as intimate as the shows played in smaller venues like the Gramercy Theater.
Finally, Drexel wrapped up the interview with a random question: if you could be a fly on the wall in any room, where would you go? After hemming and hawing, Cordle eventually came up with the most entertaining answer. "I hate terrorists, so I think it would be cool to be a fly on their wall and then go back and tell our awesome armed forces, 'Hey, guess what these fools are up to?' and then just break it down. Fly single-handedly saving the world… boom! I just imagine me flying back to Washington and hitting a windshield on the way back. 'No! I could've saved the world! And now I'm dead!'" A good moment of laughter was shared before Jones gave his answer, somewhat similar to what Cordle said. "The Oval Office. That was the first place that popped into my head. There are just so many secrets that you don't know for good reason, and I'd like to know what they are." Then Cordle and Jones joked that they could be the flies that stick together, and how they should have a secret handshake. They attempted to come up with said secret handshake. Definitely a great way to end the interview and the evening, to leave the city with a giant grin.
Be sure to check the band's website for future tour dates. Their self-titled debut album is available for digital download and purchase at your nearest music store. This is a band worth checking out!
Photos by Kate Drexel