We flashback to one of the most famous live documents to ever circulate of legendary rock and rollers and 'Country Funkers' Little Feat. This performance features the band in their prime, nestled between the LP releases Dixie Chicken and Feats Don't Fail Me Now and playing for a small and intimate assembled studio audience. The recording from Ultrasonic Studios in Hempstead on September 9, 1974 is a clear Pre-FM soundboard recording that lucky enough catches the band playing at an astronomical level.
Often discussed as their 'best' line up, this recording calls attention to the 1974 version of Little Feat containing Lowell George (Guitar, Vocals), Paul Barrere (Guitar, Vocals), Kenny Gradney (Bass), Richie Hayward (Drums,Vocals) Sam Clayton (Percussion, Vocals), and Bill Payne (Keyboards). While not considered a 'hit making' band, Little Feat was a group to be witnessed in the live arena and was recognized by music aficionados and underground FM stations as a vital and influential group.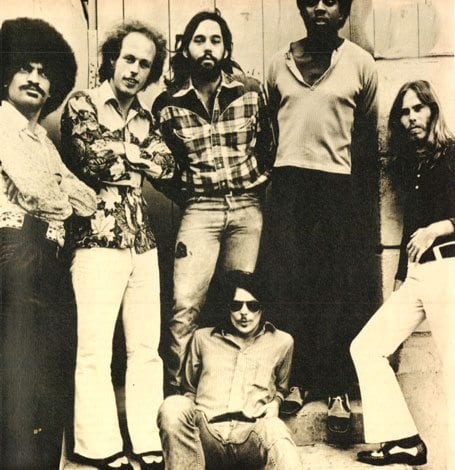 The concert opens on the phased and strummed opening of 'Rock n Roll Doctor', who slips in the back door for a home visit. Intertwining keyboards and a slide guitar by George wrap themselves around the groove, tightening like a tourniquet. The drums and rest of the instrumentation play a tug of war with one another, the drums racing, the vocal melody slightly dragging behind, sweet, patient. George's clean Stratocaster slide guitar adds a sleek narcotic dressing to the track, that by its conclusion has become a joyous call and response vocal jam riding the bumpy roads of the Feat's rolling rhythm.
"Two Trains' from 1973's Dixie Chicken follows and is an earthy 'Allman Brothers-esque' track brimming with percussion, Hammond organ accents and syrupy vocals by George. Minus an additional horn section, this is chunky New Orleans funk, reminiscent of Dr. John, Allen Toussaint and The Band. Little Feat are a conglomerate of influence, contributing a cosmic improvisational dusting to their homegrown sensibilities. 'Two Trains' begins to pick up speed, entering a darkened tunnel of extended jamming. Barrere solos first with a slightly over driven tone to which Payne answers with his own keyboard excursions that also contain a bite.
An urgent version of 'The Fan' mischievously creeps from the backseat of a tour van, the aggressive rhythm lending shape to Payne's slick keyboard riffs that develop the basis of the song. A sly staccato verse about the misgivings of a teenage groupie finally gives way to an extended Bill Payne keyboard liftoff.   The insistent cadence of the track is memorizing as Payne concocts a plethora of melodic statements, manipulated into bends, swells, and crescendos.  A reply of 'heavy' can be heard coming from a band member on the recording, and is a proper analysis of the preceding jam.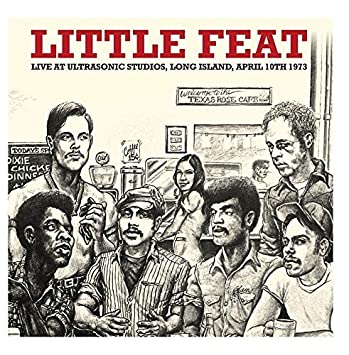 The mood quiets slightly with the slowly sinking Allen Toussaint cover, 'On Your Way Down' being displayed next. A slinky, slightly dark version follows, with Payne's keys again being a focal point, the opening of the song being an acoustic piano saloon salute. George sings the straight up lyric with the soul of a man who has been hurt in the past, Barrere is sympathetic to every sweetly sung line with tasteful statements.
A song suite of three songs as funky as old gym shoes follows and are an obvious highlights of the performance. 'Spanish Moon' starts things off with a sexy stomp created by drums, percussion and bass. Walking with the light of the night, the band peers through the window a dusty, musty saloon to see a dark bluesy beauty playing guitar. The band paints this picture with their sensual reading of the song that eventually slips seamlessly into the Barrere penned 'Skin It Back'. The Feat get six feet deep funky on this one, George lays down hand in glove slide playing that fits perfectly, working with the band in perfect harmony. A short drums and percussion interlude lays the groundwork for the segue into a bubbly 'Fatman in the Bathtub'. Dual slide guitars are prominent in this recording as well as some sudsy Fender Rhodes enveloping the jumpy calypso tinged groove. An ass shaking version of one of Little Feat's most beloved classic tracks.
After some thanks from the band to the assembled studio audience the band breaks into a 'Oh Atlanta' rock and roll romp. Longing for the friendly skies and his lovely lady Bill Payne takes over the vocal chores on this one, also contributing some roly poly honky tonk on the black and whites. George concentrates on his guitar work and lends silvery filigrees of sound from his instrument.
Often thought of as the most well known and popular songs in the Little Feat canon the bootleg recording ends with 'Willin', a song also covered beautifully by Linda Ronstadt. Road weary and on weed, whites, and wine, George sings an intimate version, with Payne's rain on the windshield piano decorations played pianissimo over the top of George's acoustic. High and lonesome the song follows the white lines with the windows cracked to let the smoke out, subject to contemplation, and always looking forward. Beautiful.
The recording that I am listening to concludes here, but during a WILR rebroadcast of the performance a suite of three additional songs were premiered that were not included in the original radio broadcast and on bootlegs, a  15 minute medley of  'Cold Cold Cold', 'Dixie Chicken' and 'Triple Face Boogie'. This jam includes two songs from the 1972 LP, 'Sailin Shoes', and 'Dixie Chicken' from the LP of the same name. 'Cold, Cold, Cold' is an appropriately chilling reading that starts low key, but builds in girth, eventually culminating in a vocal jam and slide guitar spotlight that falls perfectly into 'Dixie Chicken'. Dixie is a celebratory version with grinning vocals, chippy piano additions, and tasty wah-wah'd guitar licks. Barrere and George both bring some riffs to the table, not harmonizing with their instruments like the Allman's but having a conversation like Stills and Young.
After 'Dixie' runs her course she falls in the lap of the 'Tripe Face Boogie', and the tune is off an running. Straight rock, no chaser, the Feat stomp their through the flower garden and sprint their way through this welcome addition to an already legendary concert performance. The song breaks apart in the midsection separating into individual elements briefly, then coming together to blast through into the conclusion soaring on George's hot knife through butter guitar neck navigation. 
This Little Feat performance from 1974 finds the group in the midst of arguably their most creative era. The song selection, sound quality, and energy exhibited by band are all reasons for the eager listener to search out this recording and to spend an afternoon with it.  Little Feat are a highly underrated band full of influence and ability, often lost in the midst of time to larger and more well known names. In a time where glam and disco were becoming king, Little Feat stayed close to home and just kept on jamming.